[Editor's Note: We're not just a (rad) news site — we also publish opinions/editorials from our community & employees like this one, though be aware that it may not jive with the opinions of Destructoid as a whole, or how our moms raised us. Want to post your own article in response? Publish it now on our community blogs.]
By rights, The Adventures of Mega and Master had everything going for it. There was a young, new development duo involved, two iconic looking characters to be exposed to the world and an "indie" shoestring budget that balked at what is considered low by today's standards.
With the proper backing, Mega and Master could have easily been up there with the second wave Sonic The Hedgehog clones that flooded the over-saturated market. Considering that the main protagonists were actually cartoon versions of Sega's Mega Drive and Master System II, that fought a variety of Nintendo consoles in world dominated with mass marketed self-promotion, it was a no-brainer that it would have had cult appeal and an installed audience.
It was disappointment waiting to happen.
Production started during Christmas of 1991, where two developers — Snowy and his (then) long time friend Stevil — came up with a videogame idea over copious amounts of additive-riddled Panda Pop. Recollections of the very beginnings are hazy at best, as I caught up with the ex-developers early this year.
As the bespectacled Snowy reminisces, I get the sense that he's a quite clearly a man who would balk at his naive former self, given a time machine and a book of intuitive insults.
"Yeah, I remember just drawing all these slopes on sheets of A3 and A4 paper," Stevil interjects with a wry smile across his face. "It all just spiraled out from that jagged triangular world. We were on a roll."
Indeed, they had to be "on a roll" since their deadline to get a concept level on paper clashed with a local musical they were both partaking in. With the added pressure of a prior engagement, Snowy and Stevil had to work fast to get everything down and remember their lines every night.
It's probably no coincidence that the initial designs would suffer, despite their boasts of being able to juggle two projects simultaneously. This quickly became evident when the first half of the opening level was completed. To the naive developers just starting out, it lacked the thrills of their then-zeitgeist influences.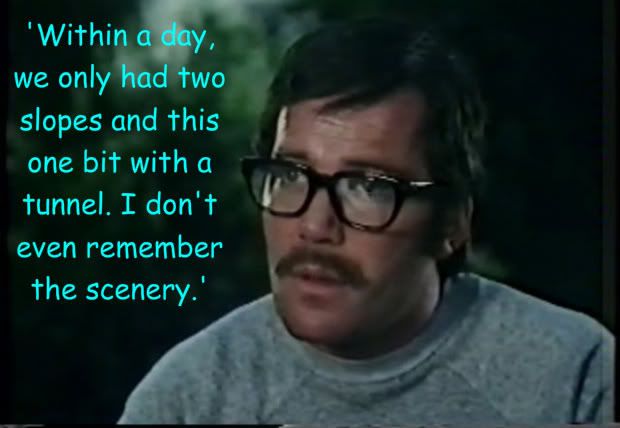 There's a look of disappointment on Snowy's face as he digs up memories of that first day of production. As the lead designer, he admits that he "shouldn't have fully taken the reigns without having some experience under [his] belt".
"I tried to spruce it up with that jump to a moving platform, but it was obvious something was missing. We both agreed it lacked an identity," Stevil confesses. Compared to the stoic Snowy, he clearly holds on to those aspirations of being a "rock-star developer", even though he's in late-twenties and a self-confessed "permanent temp".
His job at the time was to create the characters and enemies for the duo's as yet untitled game. Through sheer inspiration of trying to blow dust out of his Master System's cartridge slot the night before, Stevil settled on Sega's well known consoles as iconic characters.
These characters were sketched in a single draft and soon after their personas extended towards the level design. The game took a more mechanical aesthetic and the novel idea of using Sega peripherals as grappling hooks and long-range weapons were incorporated into the world. The demo level was starting to take shape, but it all seemed soulless. Not because of the pseudo-mechanical nature however, but because it lacked the all important obstacles in the form of antagonists.
"I think after we created the heroes and looked over their designs, it just seemed natural to go with NES and SNES consoles as enemies," Snowy informs me. "Although, there was the inevitability of seeking Nintendo's permission to use their consoles in what was essentially a pro-Sega videogame."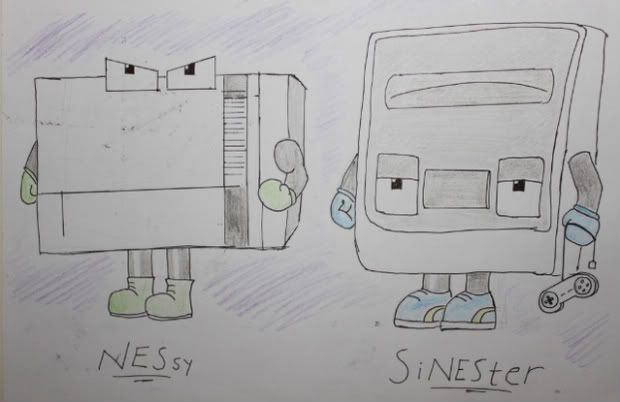 What had started as a fun production celebrating two developer's love for a multi-million pound company, now started to face doubt and a lack of motivation to move on. Tomorrow's Oliver Twins were now starting to look like yesterday's Chuckle Brothers.
"We had that initial level finished, well, on paper at least, with a small cast of characters that weren't blatant rip-offs of anybody else on the market. We had the basics ready to go, but we just came to the realisation that maybe we were stepping on copyrighted toes. Well, that and we had no experience in pitching an idea before, let alone some way to contact Sega for a meeting," Stevil looks genuinely pained to talk about that situation.
It quickly becomes apparent that a bit of innocence was lost that day.
Without contact details and a playable demo, the deadline encroached silently in the lively school musical nights. Snowy and Stevil reluctantly, yet inevitably, made the decision to concentrate fully on their original commitments. For the final day of production, The Adventures of Mega and Master was officially 'on indefinite hiatus'; a phrase that is the death knell for any troubled project.
As I look back through the concept designs and developer notes with a critical gaze though, The Adventures of Mega and Master has been given a fresh new perspective on the project — now in its staggering nineteenth year of hiatus. When asked why The Adventures of Mega and Master didn't work, Stevil is quick to give a blunt and yet brutally honest reply:
Personally, it's my belief that The Adventures of Mega and Master didn't work, simply because it was an already familiar 2D videogame that warped naivety into plagiarism. Beyond their unique grapple-and-swing gimmicks, the main protagonists resorted to using the tried and tested formula of whipping their enemies (already a main staple in the Castlevania franchise) and collecting token power-ups in the form of cartridges.
The fabled opening level shares many aesthetic features of Super Mario Bros., Mega Man and Alex Kidd; where the few moments of 'originality' are sharp 45 degree angles that shot the player through the air once they gained enough speed. During these segments, Mega or Master would have to swing their controllers around their heads to gently float down, thus missing instant kill pitfalls.
The two player mode was meant to add more features, where Mega and Master were required to use combo moves on their enemies and use each other to traverse the pitfalls, e.g. one would hover with their controller, while the other held on and redundantly whipped at the air for incoming airborne enemies that never materialized.
If anything is really at fault in the game, it's probably the unrelenting biased opinion that Sega was better than Nintendo.
It's clearly an early form of "fanboy" mentality, despite the creators' protests of not really understanding the term as children back in 1991. It seems unlikely that Sega would have given the project the green light, despite their penchant for heavy advertising during that period of business.
The ex-developers are quick to share their objections on the subject. Snowy slowly and carefully chooses his words in a style so laconic that you wonder if he knows what he's talking about.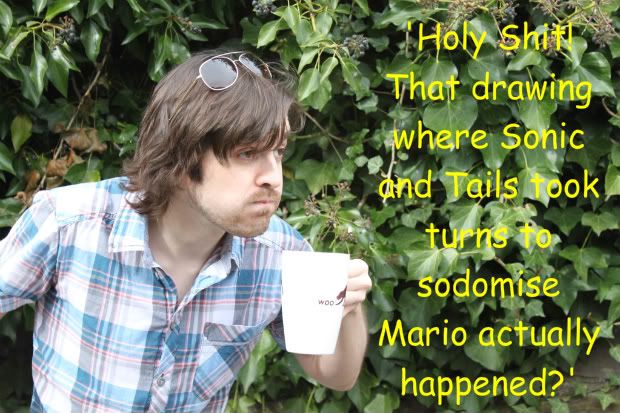 Stevil asks if I knew anything about it and I nod, pretending that I knew all along.
He's completely flabbergasted, but comes to the realization that maybe it wasn't the 'dust blowing' incident that gave him the idea for Sega characters violently attacking Nintendo invaders in their home world; more that it was immature children's art in a magazine's letters page.
Despite my elitist criticisms, I still believe The Adventures of Mega and Master could have been something special given the right timing and it justifies the two developers' delusions of being seen as pioneers of the indie scene long before Jonathan Blow came up with Braid (the production was funded by the school's stationary cupboard and the studio was in a classroom after all), but of course, it lacked the originality of its influences and was involved in copyright issues.
I tell both developers my criticism, but Stevil has the last word, sipping on an endless supply of java. As he speaks, all I can concentrate on is the drops of pure blackness spilt on his chin and trapped in the strands of his beard. Quite frankly, he disgusts me.
"Listen, for the last time, we were nine year old kids drawing a videogame while waiting for our turn in a school musical."
Well, I agree to disagree.
This promoted blog was written for our April Monthly Musing assignment, "E For Effort." You too could get promoted if you write something about games you hate but respect over on the Community Blogs.