[Community member Stevil tells us why Cass from Fallout: New Vegas is so important to the overall game experience. Want your own work on the front page? Write something awesome in the community blogs. –Kauza]
If Red Dead Redemption is a love letter to Unforgiven and The Proposition, then Fallout: New Vegas must be an ode to 50's epics like The Searchers, by way of barmy cult classics Battle Beyond The Stars and Ice Pirates.
Fallout is fantastical with its post-apocalyptic setting, to say the least. Radioactive reptiles, malfunctioning robots,The Road Warrior gangs and the restarting of modern day politics in a medieval world make it more 'Weird' than 'Wild' out West. Yet, if you replaced the science-fiction with the aesthetics of the late 1800's, New Vegas is not that far removed from any Western regularly screened on daytime television.
To make such a concept work, you need believable characters to sell the core principles. New Vegas does so admirably with Rose of Sharon Cassidy and Raul Tejada. Both characters are more concerned with old world values than overgrown killer ants; Raul is particularly haunted by his gunslinger past, while Cass struggles to keep her family business afloat.
So, it's unsurprising that Cass is probably the first potential companion you meet, dressed like a cowgirl, shotgun holstered on her back and drowning her sorrows in a trading outpost's watering hole.
While Raul is entertaining enough, a legend now reduced to being your Tonto, the fascination with Cass revolves around her ambiguous femininity.
Videogames tend to have women in two camps – the damsel in distress or the battle hardened vixen. These are archetypes created through the medium's objectives. The more masculine the male protagonist becomes, the more women have to match the levels of testosterone. Very few female companions break the mould with the more interesting undertone archetypes, like Ashley Williams (Mass Effect) or Chie Satonaka (Persona 4).
With Cass, her masculinity has increased not because of the player/protagonist bond, but because of the Mojave Wasteland. In this regard, there's a similarity to RDR's Bonnie MacFarlane. Both women are surrounded by male figureheads, and to survive the land, they've had to toughen up. Where Bonnie succeeds because of her world-weary father however, Cass is the modern day Calamity Jane, due to her taking on her missing patriarch's role.
Simply put, Cass is a functioning alcoholic.
Addiction is still somewhat a taboo in videogames. Rarely is there any weighty discussion for it, and when it's done, as with Alan Wake's substance abuse, it's through hidden meaning or interpretive dialogue.
Here, you have a companion who follows you everywhere and mentions needing a drink on a regular basis. Yet, in a narrative where you're obligated to be as amoral as The Man with No Name, it's near impossible to be judgemental about her predicament.
It's never entirely clear how she's become this way, other than the references to the pressures of family business, but it's clear enough that Cass is full of short-term goals. Her quest for revenge mirrors your own chase after the man who left you for dead, one that can't end well for her personally, despite a potential peaceful resolution.
Eventually, Cass decides to tag along and helps to regain control over Hoover Dam, thus shaping the future of New Vegas. Considering that this story, for everyone's New Vegas journey is different, featured a bearded (though, smartly dressed with a penchant for hats), amoral Courier – named Steve – who played every faction like chumps in The Long Game, aided by a flying radio and cowgirl with a drinking problem, you'd be right in thinking these protagonists hardly sound like the catalysts for independence.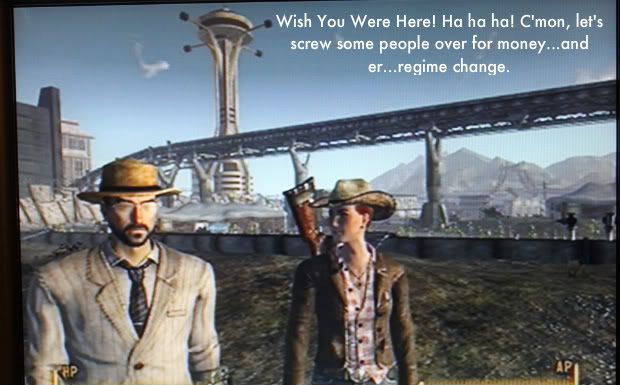 Ultimately, Cass' various endings are just as short-term as her ideals. We only learn of the Dam, with her as witness to New Vegas' future or the fact she sleeps with a soldier out of her re-affirmation of life's little moments. Nothing is resolved beyond Cass' initial reasons for joining, much like The Courier's tale of revenge turning into something greater and uncertain.
Though, truly, that's not the point of her character.
For Cass and the player, her constant mumbles and grumbles make the nomadic journey all the more bearable, revealing bittersweet things about her and the world around them.
There's a melancholy and lament that betrays her uncaring, barfly observations. Primm might be a "shithole" to her, but it's more about the decay of something beautiful rather than the town itself.
It's hard to fathom why a companion such as Veronica Santaneglo is more popular than Cass; usually championed by writers who should know better. Maybe it's because Veronica is that popular gaming archetype – technologically savvy, dry but pretty and vulnerable too – much like Mass Effect's Liara. There's nothing wrong with that, but other than her being a maverick in a strict 'family' that's easier to love than Cass, there's not much one hasn't been seen before.
Maybe it doesn't help that voice actress Felicia Day sounds like she's turned up several years too late for that Buffy the Vampire Slayer audition.
New Vegas ended up as one my favourite titles of all time. It was a long journey through the wasteland, hedging my bets under the neon lights, changing lives for personal gain and bucking the odds with the big iron on my hip. Though, none of it would have been half as fun without a certain woman, who owned a powerful, yet dilapidated, shotgun which summed her up more than these words ever could.