P.S. please alter my pants as fashion dictates
[Boy howdy, the outfits the heroines of recently released games wear are not only cool and elegant but surprisingly doable in real life. It was cool to scroll down this cblog to see video game characters in their default models, then real-life people wearing similar clothing. ~Strider]
The title "sartorial gamer" is perhaps not accurate in many ways. I'm not a huge buyer of designer clothing, rarely wander into second-hand vintage clothing shops, and I sometimes even walk out of the house with my jumper on back to front. Unfortunately, when on a limited budget, I would rather drop coin on my favorite broccoli pizza or some sweet gadgetry than pieces of cloth that will inevitably fade in the wash within a few weeks.
However, I guess that I am in some ways "sartorial" in the sense that I admire clothing, and clothing design, as an art form, even if I don't wear much of that art myself. As the limitations of console and computer gaming have lessened over the years, the ability to depict realistic clothing that moves freely and looks gorgeous has improved.
There have been a few occasions recently where the appearances of particular characters have blown me away, and it only seems right that they are given the attention they deserve. So, here's a recap of a handful of outfits that I thought were particularly spectacular, through seeing trailers, promo art, etc. I'm only going to cover female characters – although there have been plenty of well-designed male character outfits, this probably warrants its own blog post. I've also included some handy real-life looks that may have provided inspiration or which resemble the character very closely, along with links to online stores, where the items are still available.
Probably the most renowned instance of the gaming and fashion worlds joining forces is the use of FFXIII character Lightning in Louis Vuitton's Spring-Summer 2016 campaign.
2B – NieR: Automata
Release date/platform: 3 March 2017 (PAL); PS4/Windows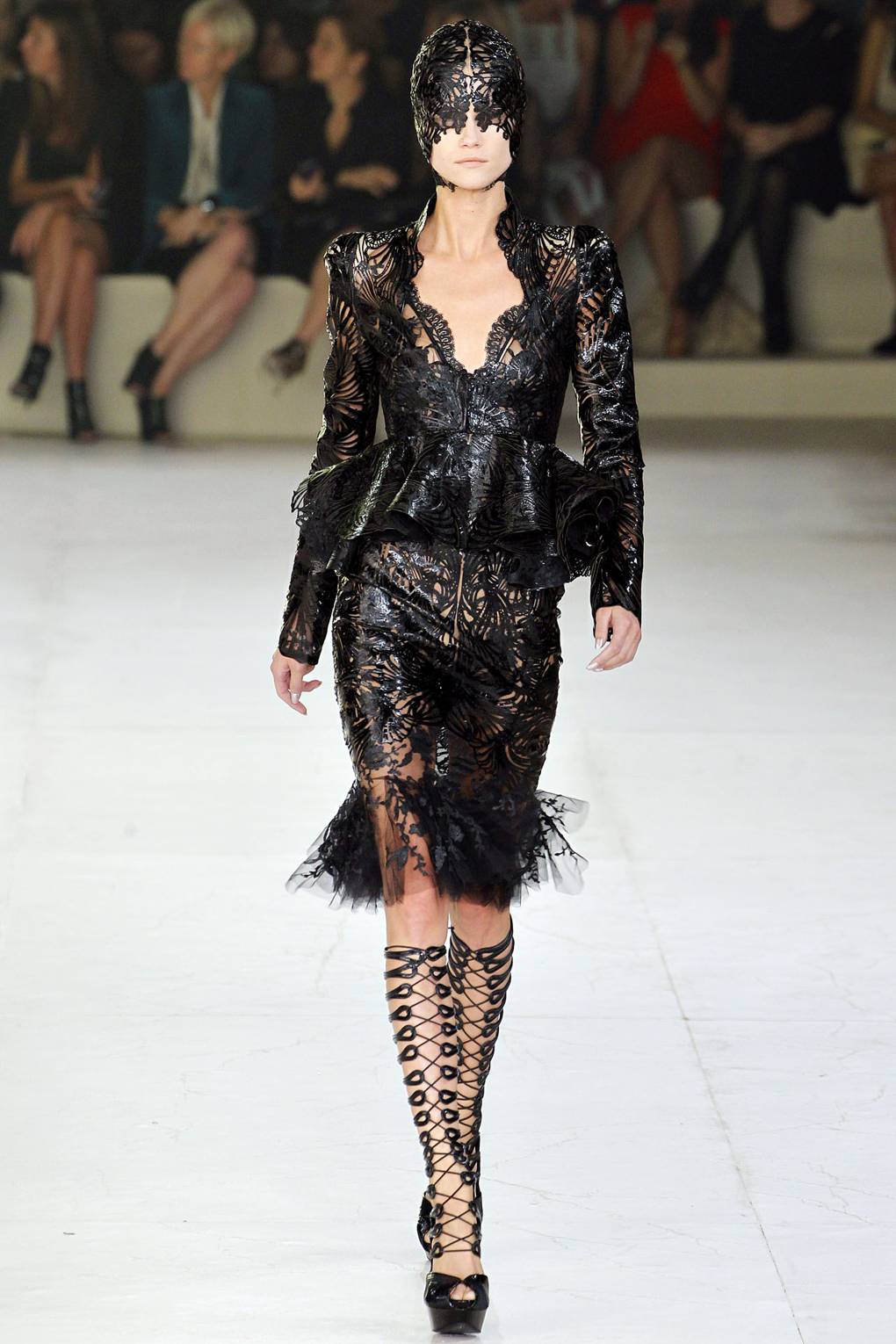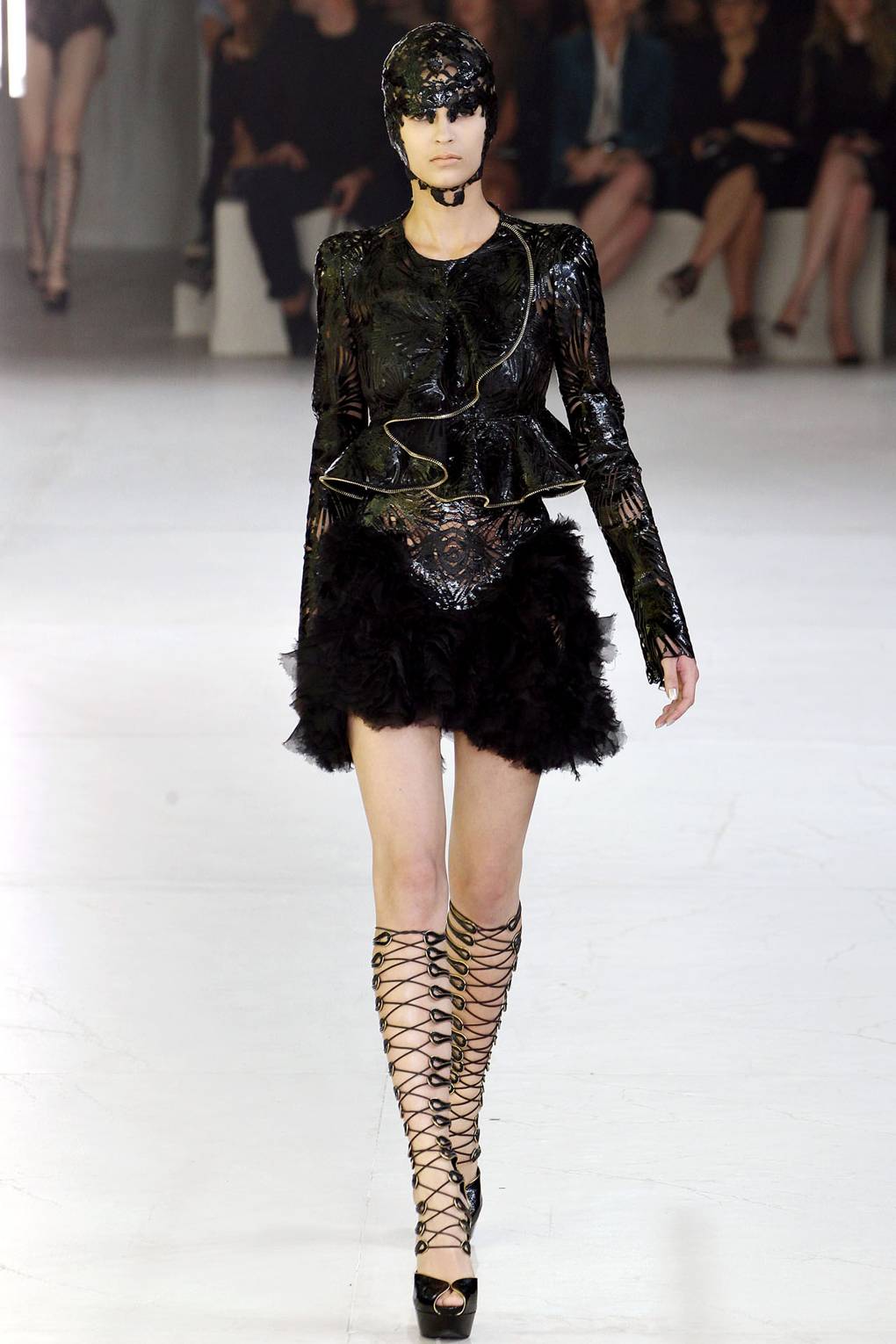 Top: 2B; middle and bottom: Sarah Burton for Alexander McQueen, Spring/Summer 2012 collection (pictures from vogue.com).
2B from the upcoming game Nier: Automata has a striking gothic ensemble which is particularly impressive in its apparent functional limitations, namely her visor. On reading more about the Nier universe as an outsider, I discovered that she is an android, and therefore isn't necessarily impaired by having her "eyes" covered.
Alexander McQueen and his successor, Sarah Burton, have been known for designing daring and often quite impractical outfits – note the obstructive masks above. Similarly to 2B's outfit, they also flirt with the dark side. To be quite honest, I'd rather go into battle in 2B's outfit, since at least her skirt billows out, whereas the Sarah Burton confections appear to constrain leg movement.
(Not that I would look like anything other than a marshmallow in any of these outfits. Sigh.)
Kat – Gravity Rush and Gravity Rush 2
Release date/platform (Gravity Rush 2): 18 January 2017 (EU); PS4
Left: Kat from the Gravity Rush series; center: jumpsuit by Gareth Pugh; right: Haus von Lila Dogma gold gladiator sandal (currently sold out).
Kat's outfit in Gravity Rush is, as the title of the game suggests, struggling against gravity – her dress/playsuit is held down by golden vines. I adore this outfit, and I love the artwork of 2B and Kat trading outfits even more. The playsuit is along the lines of something I would have looked for in a clubbing outfit when I was 18 (back when clubbing meant getting pissed off a 2l bottle of Smirnoff Ice and spinning in circles 'til I near puked in a hedge). The golden "jewelry" adds that extra level of detail that could only really exist in a game character, but makes her look like a fierce, magical adventurer.
Even more playful designers like McQueen and Gareth Pugh can only fight against gravity to a certain extent, hence why it was so difficult to pick out a similar outfit to Kat's attire. However, Gareth Pugh's sleek but still slightly roomy playsuit with a pair of kickass golden gladiator sandals (with long socks, natch) would give off a similar effect.
The kneepads and harness on the Haus von Lila shoes are removable, but maybe it gives off more of a Kat "flying through the air 'at the speed of sound'" kinda vibe to keep them on?
Lunafreya Nox Fleuret, Final Fantasy XV
Release date/platform: 29 November 2016, PS4/Xbox One
Above: Lunafreya from Final Fantasy XV; below: Hervé Leger Extrella sleeveless gown.
Lunafreya's look is more ethereal and snow queen in nature than 2B or Kat's look, yet it is just as pretty. Her formal look as an adult is a simple white bandage dress with wide straps and wedges, which is admirably unfussy for a member of royalty. As a person who tends towards republicanism, I am glad she is not squandering her taxpayers' money on sapphires the size of a toy poodle's head.
However, for a real-life dress which matches Lunafreya's formal look almost to a T (sans flared hem), you would have to put down some serious cash. Hervé Leger is known for being the pioneer of the bandage dress, so it makes sense that there would be a similar dress in his past designs. It's without fanfare, it's classy and it can be matched to an array of accessories – it's the perfect item to stash in your wardrobe for official events.
Note that Lunafreya's wedding dress was actually designed by British punk designer Vivienne Westwood and can be viewed as part of a side quest:
Nice bit of product placement, there. To be honest, I would have thought Lunafreya would be more of a Vera Wang person.
Emily Kaldwin, Dishonored 2
Release date/platform: 11 November 2016; PS4/Xbox One/Microsoft Windows
Left: Emily Kaldwin from the Dishonored series; right: wool trench coat by Chloé (sold out).
All of my examples so far have been notably feminine, so it's high time to introduce a pinch of androgyny to the list. Emily Kaldwin is merely a child in Dishonored, but by Dishonored 2 she is a fully grown, trained assassin with a cut-throat look to match. Her style is a lot boxier and less free-flowing than some of the submissions above; you would be served just as well looking through men's collections to find a matching look.
Burberry stock a lot of unisex-appearing outerwear, but this long Chloé coat I found appears to have a similar feel (despite missing the purple lining and gold fringing). It almost looks military and looks best with a chunky pair of black boots. Throw on a patterned Hermès scarf and you're not far from being a throat-slashing empress yourself.
***
Which outfits worn by female game characters have impressed you in recent times? Let me know in the comments below!