[Stevil brings us some fascinating thoughts on survival horror games, how the genre has declined, and how we're getting away from the horror antagonists that made games truly scary. Give it a read and let us know what you think in the comments! – JRo]
Survival horror was always going to head for a decline as soon as it was invented. The action horror we see today was an inevitable result of combating the poor sales of niche ideas and high development costs; horror aimed at a necessary broad audience. Hordes of enemies create great spectacles but hold none of that isolated fear, while characters that start off under-powered become walking armouries that can deal with any given situation.
That's not a gloomy outlook, though, and there are still videogames like Forbidden Siren and Condemned that prefer to keep things minimal.
Still, it's sad to see survival horror taking the 'slay everything route' in order to conquer fear. Maybe it would have been better if a majority of survival horror videogames took the idea of a solitary antagonist and ran with it.
As discussed before in greater detail, videogame antagonists are created to serve as a way of keeping the player interested. For example, Silent Hill 2 would have been an empty experience without the inclusion of numerous monsters, symbolism or not. Out of all the creatures on display though, the most feared is Pyramid Head – a nightmarish stalker who pops up in the most unexpected of places.
That one invincible enemy can be found in a plethora of horror videogames, e.g. Dead Space's Regenerator, Deadly Premonition's The Raincoat Killer and Resident Evil's Nemesis. They're the ones that carry with them unpalatable anticipation and yet they seemingly cannot carry the entire experience on their own hulking shoulders.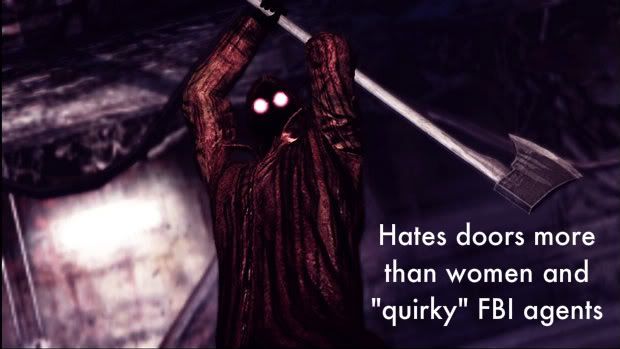 It's a difficult balance between interaction and storytelling. Sometimes, the intentional lack of variety enemies, like with Alan Wake, fails to keep an interest in the eyes of others.
Not that the idea of a solitary antagonist can never be achieved.
Atlus' only true survival horror offering, Hellnight, was a simple game of cat and mouse. All you had was a companion with a sixth sense or a stun weapon, while the sole antagonist continually evolved into a faster, larger and more adept killing machine. Even with the minimal audio and low-end graphics, the creature's unique appearances and vented breathing were enough to make every exploration of a tunnel and its subsequent dead-end a harrowing proposition.

Clock Tower is another survival horror that relies on a sole antagonist giving chase, much like the 'slasher movie' genre that it emulates. Structurally, it's an adventure game broken up by unscripted moments of 'fright and flight' terror. You can't fight the Scissorman, so you have to keep on the move and solve puzzles before he tracks you down. When he does, you have hide or knock him down like 'the last girl' in a horror movie.
Once the coast is clear, you can carry on with what you were doing, but with the knowledge that investigating the nearby fireplace might reveal a serial killer's new hiding place.
The formula was eventually repeated in the subsequent sequels and Capcom's Haunting Ground a.k.a. Demento. Yet, horror videogames with this niche sub-genre fail to ignite mainstream interest. It's actually quite frustrating to see a game with so much potential in this kind of horror, only to side-step it for something familiar.
ObsCure was a solid B-movie videogame that involved a group of students being trapped in their school after dark. Instead of them being systematically bumped off by a deranged Scooby Doo caretaker, we get the usual assortment of mutated monsters and weapons.
The developers clearly missed a trick there.
These little set-ups or invincible antagonists are flickers of what some developers desire if they weren't tied down by intensive interactivity and the increasing importance of sales. Unfortunately, that direction is probably long gone.
Nobody said it was a dead and buried idea though. Well alright, permeating the soil at the very least.
An unstoppable force can be invisible, part of the interaction, one that indirectly changes the environment and impedes progress. An idea perfectly staged in SOS: The Final Escape and its sequels. You can't fight against an unpredictable earthquake tremor, nor will you ever overcome it with the equipment you collect and it relentlessly follows throughout the entire story.

All of these examples have shown that a horror game doesn't have to be about numerous enemies that impede progress. They can be about a foreboding presence and sporadic appearances that keep you on edge. That nearby cupboard might be a safe haven, but it's also a necessary evil that sets out to reset the status quo and begin another chilling cycle.
For all the artistic praise, independent developers haven't realised how well this would work for their short games. If Limbo touched upon it, how come there's never been a videogame where you're a school kid being chased though an isolated area by a local bully?
It's easily imaginable for that idea to be turned into a 'survival horror' without needing to be pretentiously abstract either. In fact, here is a challenge to anybody out there to make this idea into a survival horror using Sleep is Death or RPG Maker without adding a superfluous twist or any other monsters.
What's the matter? Scared of the unknown? Well now we're getting somewhere.