Bless 3D printing and NFC
When Nintendo unveiled its miniature Nintendo Entertainment System a couple weeks ago, one of the recurring reactions was that a hobbyist could make something similar but better. Well, someone has!
Creator daftmike originally intended to make an NES-style shell for his Raspberry Pi running an emulator, but "this project turned into more of a love-letter to the NES than just printing a case. I learnt a lot of new things about Linux, 3D design, wrote my first Python program and had a blast doing it…"
The most impressive part has to be the functional front-loading slot, which takes in custom-made "cartridges" and reads them using near-field communication (NFC). I mean, just look at this. Oh my GOD!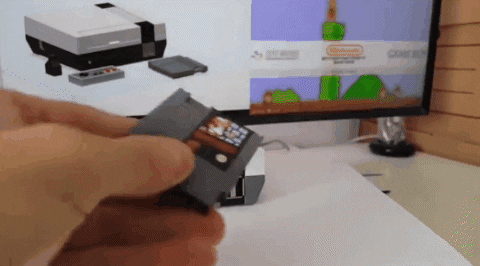 While it isn't shown in this gif, Mike also printed a ridiculously small controller to match his console. If you don't have time to watch the full video rundown embedded above, I highly recommend at least skimming through this project overview to get a sense of the work that went into it.
Nintendo was smart to make its miniature NES a no-frills system (it's gonna sell), but the novelty of this custom build that takes lil carts is undeniably cute and cool. Well done, Mike.
NESPi – my NES Classic Raspberry Pi games console [daftmike's blog via NeoGAF]