The "bimbo" resurgence follows a decade of explorative body mods
For the past few years, aided by the glamorous memory of Paris Hilton's miniskirts and a reassessment of sex work by internet people who realized that money is cool, the word "bimbo" has flipped from meaning "brainless Barbie" to "savvy, powerful hot girl." But for some makers and users of game mods, this positive spin on the bimbo isn't exactly news.
Popular mod destinations like LoversLab and Tumblr have offered a decent selection for at least a decade, tucked away but not entirely hidden, like good cherries swinging from the top of a tree. Want to be a dirty homewrecker in the Sims? Check out SkillfulSimmer340's "Homewrecker Aspiration Pack" that requires you to have several partners, find out one of them is married, and buy an expensive object in order to receive the Master Homewrecker trait. Wish you could rule Final Fantasy XIV as a bikini-wearing himbo? Who doesn't! Just download Sko514's "Thicclander" mod and let your tiny shirt, big abs dreams come true.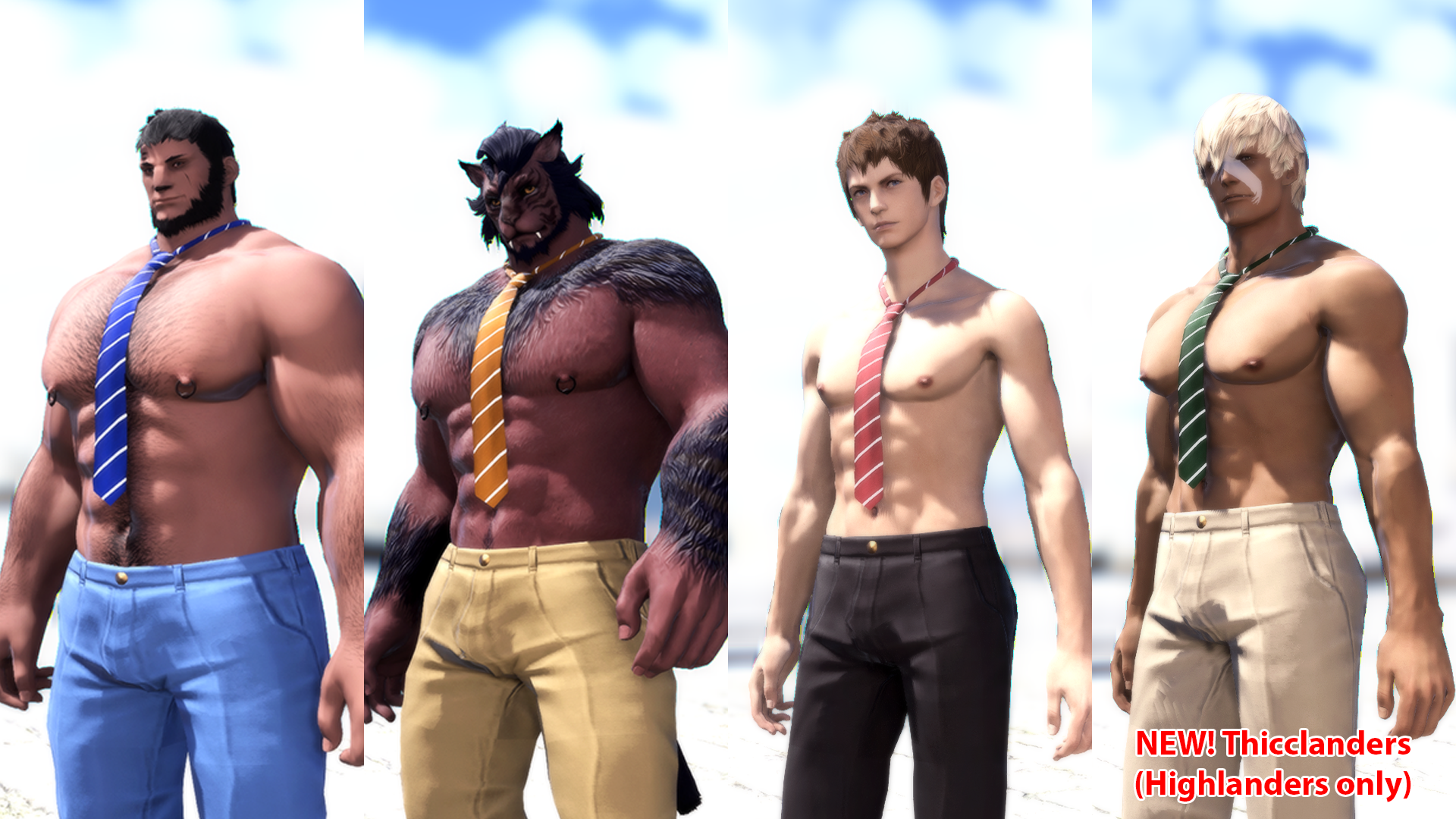 [Image credit: ograyrei]
At first glance, these mods might feel like new iterations of the highly criticized, hypersexualized video game woman. But just like the reclaimed "slut," "bimbo" and its aesthetics shift to cater to the people they were originally meant to harm. Now, a lot of makers and users of these hypersexual mods are women and/or queer, and it's evident in the mods, which never vilify or attempt to disenfranchise their slutty users.
Just take a look at TikTok user and streamer @queefzilla, who describes themselves as "the Bimboborn." As such, their videos are usually Skyrim-centered and feature curvy girls in skimpy clothes, all perpetually sashaying towards the throne, cruising past bad guys, and generally winning. To make it even more explicit that these videos are intended for the queer community, they typically feature music by beloved artists like Azealia Banks and Nicki Minaj and use #lgbt hashtags.
These queer and female-created mods are exciting (and amusing) for two communities that aren't often catered to with mainstream video game design and historically, have been belittled for their exploration of gender and sex. These mods give that exploration an outlet, and since they often incorporate heavier and hairier body types into their design, they also provide users the added bonus of body diversity. Despite what male video game developers might believe, the modern bimbo does not only equate to a thin, white girl — bimbos are a varied demographic.
Lili, a Twitter user I DMed about their use of bimbo mods who self-described as "a girl-loving, nonbinary gamer juggalo from New Orleans," explained that they gravitate towards more natural-looking bimbo mods because they understand the human body in a way "vanilla games" do not.
[Image credit: fiszi]
"Most bimbo body-replacers give you a bodyslide option, and it's something that really allows you to customize your character (hilariously) to be more realistic," they said.
"In vanilla Skyrim or Fallout 4, you get skinny or slightly bigger skinny. When you go online and get yourself a body replacer with bodyslide options, the way your character looks is completely in your hands."
They continued, "I even have a body replacer for male [Skyrim] characters called 'Schlongs of Skyrim' that I'm pretty sure was intended for Skyrim porn purposes, but the bodies really do look awesome and realistically hairy, which is something I like."
And on the bimbo reclamation in general, Lili told me that "The bimbo uprising is beneficial to women everywhere. People have turned [the bimbo] into something more important." I totally agree, and, really, think the bimbo revival can benefit anyone. Something as seemingly-superficial as a hottie male Skyrim character with a hairy chest, for example, is a fun, low-stakes way for anyone to experiment with the ridiculous beauty of gender performance. So why don't you reevaluate how you think about what a protagonist looks like and turn those body sliders up high?
[Lead image credit: cowhand1880]