Three-button bliss
A glance at Downwell's tricolor palette in still shots doesn't really do it justice. Watching it in motion gives a better idea what it does, but not until actually playing it does it all click. It is built around a simple mechanic: press the button to jump; press it again in the air to fire gun boots downward.
The recoil doesn't act as a double jump exactly. No extra height can be gained from the shots, but the little protagonist's descent can be slowed. The catch is that the boots have limited ammunition in a magazine and reloading requires a stop on solid ground. Those simple mechanics produce a surprising depth in the trip down the well.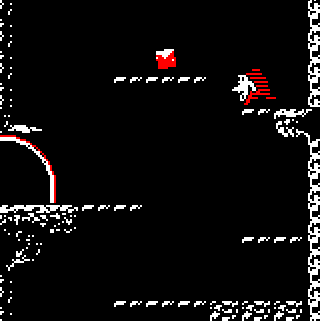 In the well, there is an assortment of enemies to shoot. In the first area, frogs hop, bats fly, and spike-shelled snails climb up the walls. Some of the foes can be stomped, but the more dangerous ones must either be shot or avoided.
So there's a lot of shooting involved, and the shooting serves a dual purpose: keeping from falling and defeating enemies. However, there's also a drawback. Platforms can be fired through, but most of the blocks are destructible. Fire too much and the nearest safe landing will disintegrate, leaving the player to plummet into unknown territory.
Still, there are reasons to destroy blocks. Nestled inside some blocks (and all enemies) are gems, which also serve a dual purpose. Collected gems can be spent at any of the randomly-occurring shops that line the well. Here, the player can restore or increase health or increase the magazine size on the gun boots. The more interesting function for gems is a system wherein a steady gem income will result in more powerful shots to be fired.
What falls out of that is a constant risk/reward assessment, where the player can opt to advance downward quickly, chaining together gems to keep the power shots fueled. Another approach is to take it more methodically, carefully dispatching enemies to avoid taking damage, but at the cost of reduced firepower. The impressive thing is that both are equally valid philosophies, though I found the most success with a hybrid of the two.
Downwell is releasing for PC and mobile platforms. I tried it on both, and while the controller and the big screen were ideal, it only took a little bit of time to get used to playing it on an iPhone. The big pitfall with the mobile version is that a lot of the action to keep an eye on is at the bottom of the screen, precisely where the controls — and therefore the player's thumbs — are set up. That said, the mobile version still worked well enough to dig into.
Perhaps ironically for a game about a semi-chaotic descent down a well, Downwell is built on a solid foundation. Like other recent lo-fi games, it focuses on gameplay, and it really nails it. I had a ton of fun playing, so much that developer Ojiro Fumoto commented on how long I stayed at his booth. The PAX weekend is still young and there is still a lot to see, but I can imagine going back just to get a few more rounds of Downwell in.