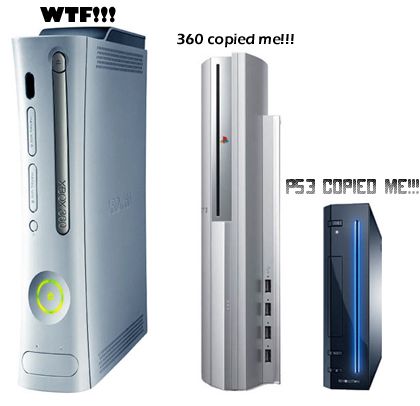 OK, so now we know the Console Wars are REALLY on! 
This article
from Megagames shows how Sony, via SCEA big boss Kaz Hirai, is doing whatever it takes to prevent Microsoft from holding Sony back on launch.  This is nothing new for console wars, but I find it amusing that this time around is the 'you're copying me' game.  Mind you, Nintendo hasn't officially claimed that Sony is copying them with their controller setup, in fact Nintendo has pretty much made jokes about how Sony is trying to copy but didn't come close so they're not really trippin'. Now Sony is claiming that Microsoft is copycatting their business practices.  I love Megagames for comments like, "Sony was not the creator of console gaming, and in fact followed another company's strategy into the business."  Basically, we're about to witness the schoolyard bullshit of the business world. Megagames also nails Sony at the end of the article, saying, "It is, of course, obvious that Sony's decision to include Blu-Ray on PS3 was not made with gaming in mind but was meant as a way of capitalizing on the Playstation name to infiltrate a large number of consumer households with the device." My personal opinion is that no matter what system(s) you choose, make it for the reason that's right for you.  Research everything and make an educated decision.  The question I feel needs answering is this: Is it possible to copy other consoles at this point?  I mean, new technology becomes more of a neccessity as time goes on.  At some point I bet all console controllers will be wireless motion sensing with vibration and GPS.
You are logged out. Login | Sign up
Filed under...
You're not expected to always agree, but do please keep cool and never make it personal. Report harassment, spam, and hate speech to
. Also, on the right side of a comment you can flag nasty comments
). For everything else,