This month's band of blogger's prompt is all about extreme sports and since I was a child of the 90's, I consider myself something of an expert on the extreme. Well maybe not an expert: I was never really good with a skateboard or roller skates but I had some fun on ice skates and that leads me to think that I'd likely be pretty good on rollerblades. I'm never going to find out about that though because I'm old and one bail away from shattering my hips. I guess instead of going out and trying to skate again, I'll just sit inside, in the air-conditioning, and play some extreme sports video games!
I have a few extreme sports games on hand that I could have played...well, in theory. I have 2 of the Extreme-G games on the N64, Destruction Derby 64, San Francisco Rush, Wave Race 64 and Hydro Thunder but I don't actually have my N64 on hand so these extreme motorsport games are going to have to just sit on my shelf and look pretty for a while longer. Road Rash was another potential choice for me: It's a motorsport that utilizes a rudimentary fighting element thus, I would argue that Road Rash and Road Rash II are both extreme motorsport games. Road Rash 2 is actually my favorite game on the Genesis but these are also games that I have chosen to pass aside for this month's prompt. I just wanted to point out that Extreme Motorsports are just as extreme as the sports that require you to use your weak, meaty body.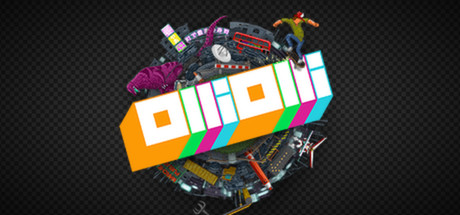 (Sugar...Oh, OlliOlli...You are my...)
What I've actually played this month, well, for the first week of this month, has been Olli-Olli. This game is available on just about every console as far as I'm aware and I've had my copy on the 3DS for years and years. So what actually is Olli-Olli? It's a downhill skateboarding game in an 8-bit style with very simple controls. Each level has five stages and each stage has a challenge mode and both versions of each level can be played in such a way that you could place on a global high score board. Jumping (that is, performing an olli, heel flip or, kick flip) is performed by holding, and then letting go of, the 3DS' circle-pad. Pressing the 'A' button when you hit the ground allows you to land any trick you might do while you're off of the ground and failing to press 'A' will result in either a sloppy landing (and significantly fewer points) or just a bail (your player hilariously falls off of the skateboard and potentially bounces along the remainder of the stage until you completely lose momentum).
The only other thing of note that I don't think I've mentioned yet is how Olli-Olli has a daily grind challenge. You have 24 hours to perfect your technique on whichever random level is chosen and one chance (and only one) to put up and give it your best shot to grind for as long as possible and get the highest score possible. Since so few people are playing this game, especially on 3DS, I've managed to bail horribly and still place in the top 20 over the past few days. So long as you're familiar with the stages that are thrown up you should be fine. Thinking about it, there really isn't a whole lot to this game. Make it from one side of a stage to the other, jump over uneven ground and obstacles, do cool tricks, repeat.
Considering how extreme skating can be, Olli-Olli is a game that I've been playing quite casually. It's easy to just jump into and out of it, play for a few minutes than go on with the rest of my day, especially if all I'm interested in doing is seeing what the daily grind is for today. I still strongly recommend this game if you haven't played it though and if you're interested, there's a sequel: Olli-Olli 2: Welcome to Olliwood. I've never played it but it looks like more of the same type of gameplay but with more exaggerated, over-the-top stages and levels. Happy skating you extreme peoples, try not to beef it out there on those mondo...rails.
---
LOOK WHO CAME:
Shoggoth2588
Boxman214 101
LaTerry 42
Agent9 15
Sharukurusu 13
Roager 8