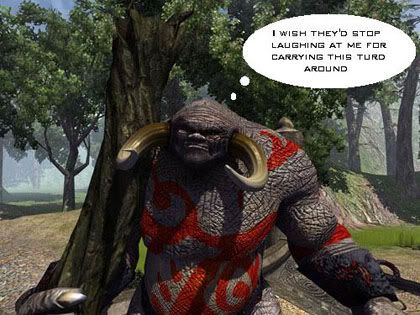 It having been my birthday yesterday, I felt the need to come to my favorite blog and post about something I'm genuinely excited about. :) What you see above is NOT "
When Elephants Attack!
" on FOX... It's a Behemoth in the upcoming
Savage 2: A Tortured Soul
and it's going to rock your sucking socks off. The
first game
was a mix of RTS and and FPS. We're not talking Battlefield 2, where the commander just sends off bombardments and gives commands, no. We're talking the whole RTS shabang. Imagine playing an RTS and each of your grunts are actual players. Yeah, it's big. Of course that only accounts for one player on your team. The rest of you have to put some work in and follow orders, because if you don't your team will suffer and you will ultimately meet your demise. Sure, you get your NPC grunts to build, but players can help the buildings grow faster or attack the enemy in packs. The second game is set to capitalize on the great idea of mixing RTS and FPS with the addition of better graphics,
more objectives
and WALLS! Now, you might think that walls isn't worth mentioning in a game, but here it is. It was one of the biggest complaints in the first game. We were allowed siege units but only for buildings... Well not anymore. In war, one of the first things to be built are walls, right? The first game was pretty much just a primer for the real deal, Savage 2. So how many of our readers have played the first Savage? Any of you ready for Savage 2? Any of ya think the game or the concept is all bad? Let us know!
You are logged out. Login | Sign up
Filed under...
You're not expected to always agree, but do please keep cool and never make it personal. Report harassment, spam, and hate speech to
. Also, on the right side of a comment you can flag nasty comments
). For everything else,