So, my lovely 'Toiders, it's Monday! Exciting, right?!? Actually, it's probably Tuesday now. Is that exciting? I don't know. Let's find out.
The blogs were pretty busy today, and that
is
exciting. There were a ton of blogs today, so thanks for making
my
Monday a lot nicer. I actually wanted to Topsauce more things. Either way, 'twas a good blog day.
Between applying for jobs that I'm not sure I'll get, I played a few games. The Starhawk and Gotham City Imposters betas, for a couple. They're both great multi-player-only games. Starhawk is surprisingly good-looking, especially with all the things going on.
Gotham City Imposters is a concept I wasn't
quite
sure about at first, but in practice, it's loads of fun. With actual discernible classes, great movement options, and a nice smattering of silliness, I can see it being a staple of Friday Night Fights. (Starhawk also)
I've just received Darksiders from the awesome Dtoid fantasy football league. My first go 'round, when it first came out, lasted about 45 minutes. I quit. Today, I watched my brother play it for longer than that, and am willing to give it a fair shake. Looks alright, actually. (It helps that I have an HD T.V. this time)
Well, we should recap, don't you think? I'll prattle on next week, surely with gushing about Twisted Metal. Blog on, my people. <3
* - A great blog on the racial hierarchy and political dichotomy in Tamriel.
* - A guilty pleasure is always so much better. (Protip: Amy Jo Johnson = Instant Topsauce)
* - Masochism Monday.
* - Episode 3 of Secret Moon Base. It's quite a delight for your night. Come listen to some of our lovely members talk about porn, alcohol, childhood, and hating Steezy. Special bonerific guest included!
* - Masochism Monday entry 2.
* - My favorite new idea. NickCull comes up with a fantastic angle for the next Duke Nukem.
* - A great read on criticism, and the consequences of speaking your mind.
A - Bibbly thinks Amalur is a lot like tofu. Interesting... At least it's colorful-ass tofu.
A - NPCs do have a tendency to have a short memory. In most games...
A - Look down. Now look up! Bitch, I'm a horse. Gunsage likes to fuck mountainsides. But he hates Skyrim. Probably becuase he can't fuck mountainsides.
M - ChaosTheSniper has some ideas for Dead Island. Do they involve getting champagne for some asshole?
M - Animal Crossing needs some sprucing up. It's the truth.
M - Another new face! (lots of those today) Kingdom Hearts is in there; in that wall of text. Actually, if someone could look into that, that would be great. Wait, that doesn't go here.
M - Improvement: Pizza Time!
S - A rather fascinating new series about Resident Evil games that didn't get the chance. His name is Tobii.
M - Fixing up this game and getting it to be successful should be a...should be easy. Bonus Professor Oak photoshop inside.
M - mada7 wants to love Darksiders. Come read his ideas for improvement.
M - Skyrim. On one hand, a masterpiece of a videogame. On another, unplayable shit.
M - The first of our weekly musings. AceKnight21 gets detailed about Rock Band.
C - Don't worry, yeroooc. The madness will take you soon. Breathe it in. Don't stop trying, no. But let the guilt go.
I - Welcome Jared Ramone Burks! He likes slightly larger text.
T - Dooshkin doesn't have his wires crossed ANYMORE!
T - Sioux has some thoughts on what I think is a pretty common complaint. A bit o' Dark Souls might help ;)
R - So, this is a copypasta review for Skyword Sword. It's his first blog on Dtoid. Maybe let him know how you feel about that. If you're reading this, Airship Over Water, know that we would like some original content from you. You somehow escaped failtoid today. Learn the lesson. *Sharpens sword*
T - Some quick thoughts about recent 3DS purchases.
T - It's worth taking a look, I guess.
R - A somewhat bizarre case of mistaken internet identity.
? - Spam? Maybe. MYSTERY!!
R - mrplow8 has an idea for helping combat piracy. I like it, seeing as many games already shove ads in your face, even post-launch.
F - An impressive, and telling, list, but not a whole lotta blog.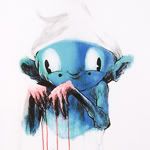 FPotD
---
LOOK WHO CAME:
CblogRecaps
ChillyBilly 1
Marcel Hoang 1
VenusInFurs 1
Ben Davis 1
knutaf 1
Phoust 1
Occams 1
BlinkingPixels 1