Ever since taking a temp job in Gamestation over the Christmas period, I have developed an interest in games that are rated E for Everyone. Well, actually, it's an interest in good games that are rated E for Everyone.
Over these last few months, as adult or gamers in our late teens, we have had some brilliant games come our way, such as Mass Effect 2 and Dante's Inferno. Yet here is Sega and their latest game: Sonic and Sega All-Stars Racing, to challenge the hoe-slapping, drug-taking and alien love-making we have grown used to, with a game that is (legally) accessible by everyone and might actually be good.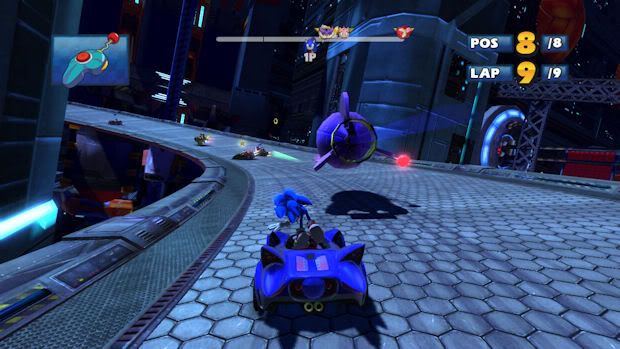 Sonic and Sega All-Stars Racing (Xbox 360 [reviewed], PlayStation 3, Wii, Nintendo DS)
Developer: Sumo Digital
Publisher: Sega
Released: February 23, 2010
MSRP: $49.99

The game itself does exactly what it says on the box. It is a racing game devoid of realism seen in games such as Need for Speed, that is packed with some of Sega's biggest and best known characters. It includes Samba de Amigo's Amigo, Ulala of Space Channel 5, Beat from Jet Set Radio, and -- if you are playing on the 360 -- your avatar, or for the Wii, your Mii. Sega caters to all players pretty well. If you are a casual gamer only vaguely aware of who Sonic is, then the fact that I feel the need to jump up and shout "SPAAAAAACE CHANNEL 5" when I win will be utterly lost on you, but it leaves me feeling pretty damn cool. It feeds my inner nerd.

Each character has one of three types of vehicle: car, motorbike or hovercraft. Naturally each comes with positives and negatives depending on the track you are faced with. For example, the motorcycle driven by Ryo Hazuki is fast, but easily knocked around by bigger foes like Dr. Eggman, who trades in speed for raw power. This balancing of characters helps to stop people from sticking to one favorite and dominating over the others. A large portion of the characters have to be unlocked by earning points while playing the game, which is easy enough to do and will certainly keep players with OCD busy for a while. Each character also has access to an 'All Star Move' -- a ridiculously powerful special attack that has the ability to trounce others and often throw you into first place ... or last, if you are a victim.

The tracks themselves are bright -- very bright (with one exception). Most are an explosion of primary colours that, in some instances, can induce seizures if you forget to blink for long periods of time. The tracks are themed around Sega games that match with each of the characters available. Naturally, there are many Sonic-themed levels designed around the classic Emerald Hill; players can also tear through Jet Set Radio's downtown Tokyo or attempt to traverse the utterly annoying tight corners of the Super Monkey Ball levels. The tracks themselves are well designed, yet they lack polish and can appear rough. As expected, these tracks are littered with obstacles: robotic crabs from Sonic, trucks on the Tokyo streets, or monkeys in balls. The music is a mix of what sounds like utterly addictive but shameful Euro-trash dance, but even I found myself singing along, especially on the Samba de Amigo level.


Throughout these tracks -- and as seen in similar games -- there are speed patches that give the driver a short boost, large corners where 'drifting' is encouraged to earn further boosts, and of course boxes containing power-ups. These boxes provide the expected basics: rockets, bombs, speed bursts and all-star power-ups. The majority of the power-ups contain very little originality and those that try to think outside the box are pointless or annoying, such as smearing a rainbow across your screen or turning everything upside down. Unlike similar games, getting hit by many of these objects causes you little problem, as the recovery from a knock is too quick. Often, those 3 rockets you have been saving will probably not have the impact on the rank that you hope it will. In the instances where you get a little too eager and drive off the side, instead of screaming at the television while you are slowly and gently placed back on the track, you appear almost instantly, past the corner/obstacle of your demise and already moving. In fact, this is actually quicker in some instances than actually driving, something that's exploited in online multiplayer and time attack modes.

Besides just racing single circuits, racing for cups (earning the most points over four games) and multiplayer, Sonic and Sega All-Stars Racing includes the obligatory Time Attack modes and 'missions'. There are 50 of these missions, each one unlocked by completing the one prior. They can be simple, such as driving as Amy and trying to beat Sonic, or unbelievably frustrating, like trying to drive Fat Cat around a lap without breaking any pots ... while timed. They give the game something different to do for a while, but when stuck, it is too easy to simply ignore them.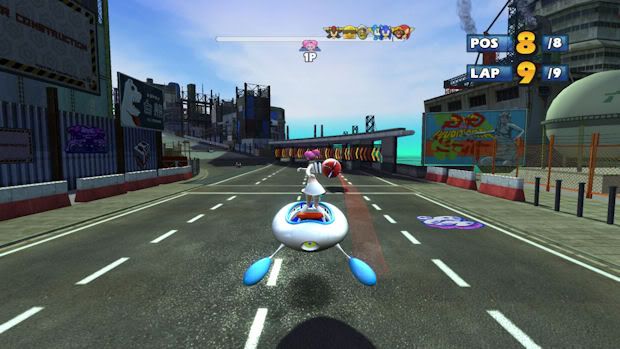 Sonic and Sega All-Stars Racing suffers from being compared to other comical racing games like Mario Kart, and it is unlikely that you'll prefer it over those games. However, it manages to bring enough of its own flavor through its design to make it feel like a strong competitor. This game is perfect for anyone of any age with difficulty levels being easy to adjust. Whether this is a game for yourself or for a younger gamer, this offers enough pick-up and playability to be a good, fun and exciting all-round entertainer.

Score: 7.0 -- Good (7s are solid games that definitely have an audience. Might lack replay value, could be too short or there are some hard-to-ignore faults, but the experience is fun.)
You are logged out. Login | Sign up
reviewed by Hollie Bennett
Filed under...
You're not expected to always agree, but do please keep cool and never make it personal. Report harassment, spam, and hate speech to
. Also, on the right side of a comment you can flag nasty comments
). For everything else,