Complexity and simplicity, all in one
Necrosphere is a very charming and very challenging platformer, a game that is basic in its controls, but complex in its design. This game tells the tale of Agent Terry Cooper who, after being killed, has fallen into the realm of the Necrosphere, a place where people go apparently regardless of being good or bad.

But, soon after Terry arrives, he learns of portals that can potentially bring him back to the world of the living and thus begins his journey that spans a little under three hours. This game features a unique control scheme in that you can only use two buttons: the left or right arrow keys, or the "A" and "D" keys. Much of the game's level design, and its charm, revolves around this, but that wasn't enough to hold my attention for very long.
Necrosphere (PC)
Developer: Cat Nigiri
Publisher: Cat Nigiri
Release Date: August 31, 2017
MSRP: $4.99
Since you can only move with two buttons (left or right essentially), you'll be utilizing bubble-like objects to jump into the air, or anti-gravity panels to navigate, as well as dealing with, enemies in the environment. With the lack of an actual dedicated attack button in this game, you'll instead be either luring enemies to their deaths, or later on once you find the dash upgrade, dashing into them to kill them. Much of these segments that involve luring enemies or navigating the environment in general, become a puzzle all unto themselves.
To balance this, the checkpoints are also very forgiving -- most of the time. There are a few segments where I wish the checkpoints were placed elsewhere or midway through. Much of these platforming segments are trial-and-error based, and having to redo an earlier part over again constantly just to get to the section I'm having trouble with became grating pretty quick.
But, with that said, whenever I did die (which was a lot), I never felt like the game was at fault, as the controls are extremely tight and responsive. The level design is also open-ended in nature and filled with plenty of areas to explore and up to 4 power ups to discover. These, in-turn, then encourage you to traverse to previous areas to discover alternative routes with your new abilities.
In short: It's another Metroidvania.
The game also boasts that it's "deliciously frustrating!" as one of its main features on the Steam page. And in many aspects this is evident, as a lot of the challenges you'll stumble on are addictively challenging and frustrating. However, I think this game also becomes frustrating for unintentional reasons, based on the fact it's a Metroidvania.
What makes similar games such as Super Meat Boy so great, for example, is the fact they're broken up into bite-sized levels. Once you've overcome that incredibly difficult level or challenge, it's a great feeling of progression -- and chances are -- you'll never have to worry about doing it again.
However in Necrosphere, I had a number of instances due to the open-ended level design where I got lost and accidentally stumbled on an incredibly difficult platforming segment I'd already done. Which I then, of course, had to redo just to get back to where I originally was. On top of that, not having an in-game map didn't help much and could have made these mistakes avoidable.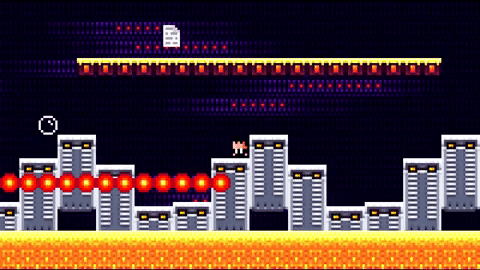 In terms of presentation, this game is more or less what you'd expect from a retro-inspired platformer by now. It has to-be-expected 8-bit visuals and sound design, I'll admit though that the soundtrack in this game is pretty damn great, but I honestly can't say the same about the overall visuals.
I think Necrosphere is a solid platformer with an interesting control scheme and mechanics based around them, but I personally don't think the Metroidvania open-ended level design does this form of extremely difficult gameplay any favors. But, if you're another masochist looking for an addictive and challenging platformer for a low price, Necrosphere might be your calling.
[This review is based on a retail build of the game provided by the developer who reached out to me over social media.]
You are logged out. Login | Sign up
Necrosphere reviewed by Dan Roemer
ALL RIGHT
Slightly above average or simply inoffensive. Fans of the genre should enjoy it a bit, but a fair few will be left unfulfilled.
How we score: The Destructoid reviews guide