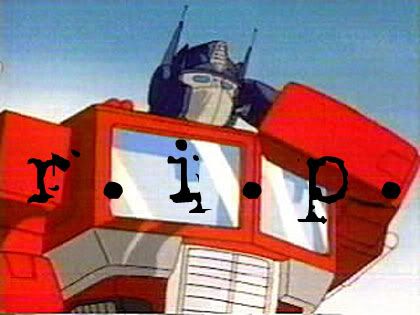 Please be advised, the following Video may be too graphic for younger robots. Robot viewer discretion is advised...
Click here
to see the sad story of a robot who gave everything, only to be destroyed by mother nature's wrath... More O.P. News after the jump! According to
this news video
, O.P.'s death has been attributed to 'Chocolate Salty Balls.'
Wassup!
O.P., in his young days, did do a little
crack...
O.P. was also found with a contagious case of
Dance Fever!!!
O.P. was sighted
killing Hairy Freaks
And finally,
Optimus Prime's final words...
You are logged out. Login | Sign up
---
Filed under...
READER COMMENTS LOADING BELOW...
---
LET'S KEEP THE COMMUNITY GREAT
You're not expected to always agree, but do please keep cool and never make it personal. Report harassment, spam, and hate speech to
our community team
. Also, on the right side of a comment you can flag nasty comments
anonymously
(we ban users dishing
bad karma
). For everything else,
contact us!