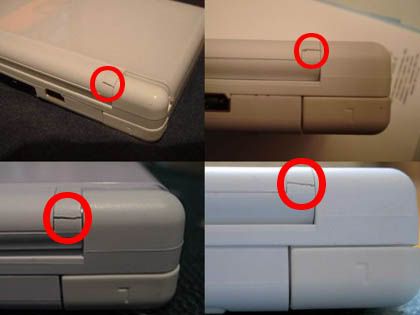 So, we all though Nintendo was untouchable after the Wii, eh?  Not so, as
Megagames reports
 that there are quite a few people reporting a crack in the same location on a hinge of the DS Lites.  Now, not all of these bad boys come like this -- there are certainly more that are not cracked than are.  I'm sure that soon Nintendo will either refund, exchange or recall, if they haven't already.  They've got a good track record. So, stop telling me I'm just hating on the PS3, lol.
You are logged out. Login | Sign up
---
Filed under...
READER COMMENTS LOADING BELOW...
---
LET'S KEEP THE COMMUNITY GREAT
You're not expected to always agree, but do please keep cool and never make it personal. Report harassment, spam, and hate speech to
our community team
. Also, on the right side of a comment you can flag nasty comments
anonymously
(we ban users dishing
bad karma
). For everything else,
contact us!