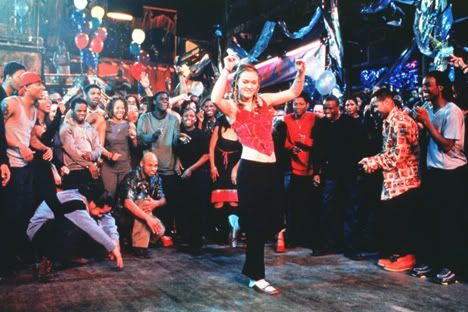 On Sundays, ya really gotta dig deep to find stories and this one should probably be buried. The only dance game I've ever played was
Bust a Groove 1 & 2
back in the day for the PS1. Never got into that whole
DDR
craze thing, though it would seem that craze is going to get a bit bigger. Apparently Acclaim is keeping the dance game genre going by creating an MMO dancing game called
DANCE!
The game will not be subscription based, but rather implement the strategy of in-game advertising and paying for items. The fact that you don't ask for money every month could be a good selling point, as
Guild Wars
has proven in the past. From what I could gather in the forums, you will be able to join a "team" and have dance-off competitions. I'm starting to get a strangely interesting vibe from this game. You can sign up for the beta on the above link and check out the forums
here
. This could be to
DDR
what MMORPGs were to RPGs. Now if I can just figure out if that's a good thing or a bad thing. Oh, and you can get married too! *sigh* [Via
ActionTrip
]
You are logged out. Login | Sign up
Filed under...
You're not expected to always agree, but do please keep cool and never make it personal. Report harassment, spam, and hate speech to
. Also, on the right side of a comment you can flag nasty comments
). For everything else,