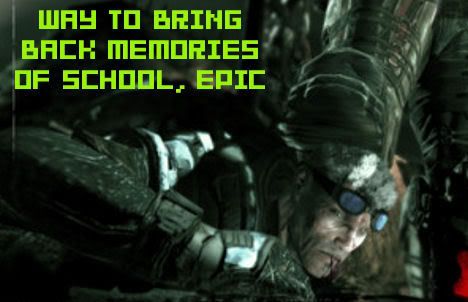 A cynic would accuse ratings boards of restricting information, but considering how many details about a game have leaked from public ratings in the past, one can't say they're that restrictive. This time, it's the turn of Gears of War 2 to have its contents revealed, as the BBFC has made all of the bonus disc's details public.
God bless the obsessive compulsives who troll ratings board Web sites, hitting F5 twenty four hours a day to find the latest fresh intel. I really can't fathom that level of dedication to knowing things about videogames, but I thank those lifeless souls willing to put in such legwork for the rest of us to enjoy.
Anyway, hit the jump for the BBFC's bean spilling.
This work was passed with no cuts made.
The BBFC has placed this work in the DVD Extras genre(s).

The main spoken language in this work is English.

When submitted to the BBFC the linear elements within the work had a running time (eg cut scenes) of 148m 40s.

This work was submitted to the BBFC by Microsoft.

This work is made up of a number of separate components.

Note that since February 2001 the BBFC has measured each component separately, but older works may not have the exact details, only a list of titles.

n/a GEARS OF WAR 2 BONUS DISK

00:34:29:00 BENEATH THE SURFACE (NO SOUND UNTIL 3M30S)(FREEZES AT 6M50)
00:01:05:00 RENDEZVOUS
00:01:28:00 BARE YOUR TEETH
00:07:30:00 E3 2008: GEARS 2 DEMO
00:03:38:00 GTTV SPOT
00:11:56:00 CHARACTERS - MARCUS FENIX
00:07:40:00 CHARACTERS - DOMINIC SANTIAGO
00:07:40:00 CREATURES - BOOMER
00:07:10:00 CREATURES - KANTUS
00:15:55:00 LOCATIONS - HOSPITAL
00:13:01:00 LOCATIONS - THE HOLLOW
00:07:08:00 VEHICLES - CENTAUR
00:06:10:00 VEHICLES - REAVER
00:13:00:00 WEAPONS - LANCER
00:10:50:00 WEAPONS - HEAVY WEAPONS
n/a MAIN THEME
n/a CINEMATIC OPENING
n/a ASSULT INTRO
n/a MARIA
n/a COG SQUAD PACK (5 IMAGES)
n/a LOCUST SQUAD PACK (5 IMAGES)
---
You are logged out. Login | Sign up
Filed under...
You're not expected to always agree, but do please keep cool and never make it personal. Report harassment, spam, and hate speech to
. Also, on the right side of a comment you can flag nasty comments
). For everything else,