[For his Bloggers Wanted essay response, The Silent Protagonist tackled both the Dreaming and Collaboration assignments simultaneously in his pitch for a new Gumshoe game. Want to see your own words appear on the front page? Get writing! --Mr Andy Dixon]
Gumshoe is a game long-forgotten by Nintendo and probably by fans of their arcade classics as well. These days it only gets mentioned in a Smash Bros. trophy gallery and that's about it. It's hard to blame people for forgetting, too, as Mr. Stevenson is not the most memorable of characters, but it's also sad to see one of the forerunners of the "runner" genre get left behind.
Growing up, Gumshoe was one of my arcade favorites, and a game I was actually proud to rule the high score on. (Well, that and the fact that Nintendo coin-ops often confused nickels for quarters, so I had plenty of chances to practice. I think I've more than made it up to Nintendo since then.)
Today games like Bit.Trip Runner, Jetpack Joyride, and many others carry the "runner" genre's torch, but I still think there's a place for Gumshoe. Perhaps Gumshoe just needs a new face and story to go with it to give it a place in gamers' hearts again.
Gumshoe features a rather jumpy detective -- the aforementioned Detective Stevenson -- who is out to save his daughter from some kidnappers holding her for ransom. To save his kid, he needs to collect the five Black Panther Diamonds, but he's going to need some help. He's too oblivious to his surroundings to get along on his own, so you, an altruistic antagonist, must use the light gun to guide him to safety and protect him.
Yes, in this game you shoot at the protagonist -- because you care. He can't defend himself from incoming attacks, as he's too focused on figuring out the next path to one of these diamonds. Actually navigating said path is not one of his strong points either, but for a guy who can't see projectiles coming at him on the 2D plane, he's luckily got a rather psychic ability to avoid the ones coming from the fourth wall.
So you shoot at Mr. Stevenson to make him jump over obstacles, to prevent many potential pitfall deaths, to help him collect items, and to protect him from incoming attacks. And that's about it. (The game also featured a can-juggling bonus game that was rather fun, and allowed the gunner to take a break from manipulating the runner.)
In the end, though the gameplay was fun, Mr. Stevenson and his plight were not all that memorable. In fact, I had to wiki the game just to write this. The good news is, we don't have to go too far to find a likeable, oblivious and moronic detective to replace him (and he's got some rather charming friends as well).
Detective Dick Gumshoe of the Ace Attorney series is a shoe-in for this role. He's an errand boy and tool of justice that simply won't rest until the bad guys are locked up, even if you do have to point him to the right perp, as certain defense attorneys and prosecutors often must. Dick Gumshoe always gets his man... with the proper support.
But for all the legwork he ends up doing, we never get to see Dick Gumshoe in action. Which is a shame, as he seems rather passionate and driven once he's put on the scent of a perp, or even when he's just being sent out to fetch Miles Edgeworth some coffee and bagels. And I imagine that, regardless of the task, there are many perils along the way to which he is completely oblivious.
Oh, and thanks to the cracks of Ms. Von Karma's whip, I'm sure Dick Gumshoe is also very jumpy these days.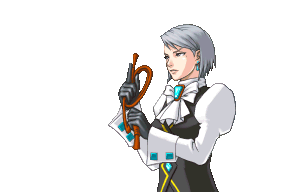 But you know what? Gumshoe's also a guy people can get behind. Because for all his density, flaws and disagreements he's always there to help a friend out of a jam, even when faced with rejection. You can't help but feel proud of him when he gets the job done, or bad for him when people are cruel to him. Additionally, Dick Gumshoe has one of the best character themes of the Ace Attorney series, and every time he shows up and his music cues up it brings a smile to my face. His theme reflects him: a bit slow, but certainly driven.
Now that Phoenix Wright is crossing into other worlds, meeting Professor Layton and She-Hulk, and now that Miles Edgeworth has gotten his own spin-off series, Dick Gumshoe should also have his own game to shine in, and what game more fitting than a reboot of Gumshoe? Having the characters of the Ace Attorney series on board would mean he'd have plenty to do and a potentially entertaining story to be conveyed between levels. It's time we have a game where we can look out for Dick like he looks out for his friends, even if we have to shoot (or tap) at him to do it.
I think he'd understand.
If Nintendo and Capcom could get together to mix this arcade classic with a character that is a fan favorite in the Ace Attorney series on 3DS, I think fans of Ace Attorney and those with a love for Nintendo's arcade originals would turn out in support of it. Maybe once Phoenix Wright is back from whatever dimension he's fallen into, Capcom and Nintendo could work something out to give an old game a fresh face and the loads of character it always deserved.
One can dream, anyway.
You are logged out. Login | Sign up
Click to open photo gallery:
ONE OF US WAS FRONT-PAGED! HOW THIS WORKS:
This story was submitted via our
Community Blogs
, and ultimately made it to the home page! Anybody can get on the homepage of Dtoid when you piss excellence. Want in? Write a longform blog with photos and senpai may notice you (our
community committee
picks the promos). It happens all the time: read more
promoted stories
Filed under...
You're not expected to always agree, but do please keep cool and never make it personal. Report harassment, spam, and hate speech to
. Also, on the right side of a comment you can flag nasty comments
). For everything else,