Oodles and noodles
Ugh. Mondays, am I right? They're a day that people don't like because you have to do stuff and things after (maybe) not having to do those things, you know? Lame. Let's turn our frowns upside down and instead talk about something positive: videogames we are real keen on playing this year.
2015 can't be any worse than 2014, where most of our most anticipated games ended up not coming out at all. Plus, there's Metal Gear and Persona to look forward to. And all those games that got pushed into 2015 like Batman and The Witcher. And cool stuff like Hyper Light Drifter and the full release of Invisible Inc and that waifu bartending game.
Plus The Last Guardian, Half-Life 3, Agent, Final Fantasy XV, Prey 2, God Hand 2, MediEvil 3, Bushido Blade 3. Man, it's going to be a great year!!!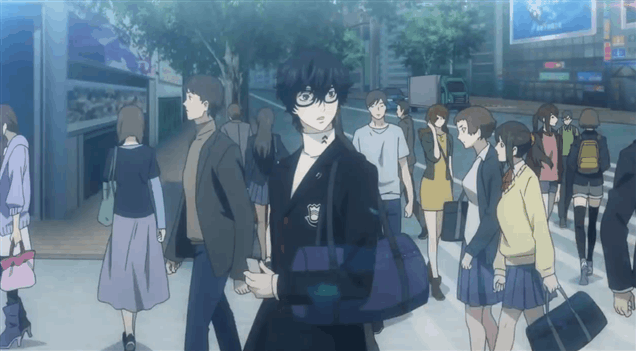 Steven Hansen, Persona 5
Release: 2015
I had two options here. Talk about Gravity Rush 2, a game we still know nothing about save that I will love it, for the second year in a row. Or, talk about Persona 5, a game we know little about save that I will love it.
Gravity Rush and Persona 4: Golden came out in the same year. It was a good year for me. Looking for that to happen again. Also looking to see if the Persona team's writing on the series has matured at all post Catherine, another game I love to death. Everyone's problems will still probably be solved by your being the ultimate listener (a patient mute) and the power of friendship will win out in the end. That's fine as long as there are good characters, good music, and I can mainline dungeons in one day to get back to what matters, virtual friends.
And holy shit Metal Gear Solid V looks weird and good, full of fine detail and idiosyncrasy.
Runners-up: Gravity Rush 2, Metal Gear Solid V: The Phantom Pain, Kentucky Route Zero, getting decapitated, Tetsuo & Youth, baseball
Chris Carter, Bloodborne
Release: March 24, 2015
Every year in one of these things I choose a Souls game and every year I am happy with my choice. Everything about Bloodborne looks great so far. On top of the From Software patented atmosphere, I'm loving the idea of randomly generated dungeons. The biggest thrill of the Souls games for me is the notion of exploring completely unknown and uncharted territory. Once I've done a few New Game+ runs, that bit sort of loses its luster. But with Chalice Dungeons, I may be playing this game for the entirety of 2015.
Runners-up: Gravity Rush 2, Metal Gear Solid V: The Phantom Pain
Darren Nakamura, SeaFall
Release: 2015
Back in 2011, Hasbro released Risk Legacy, which accomplished what I thought was impossible: it got me to enjoy Risk for the first time since 1996. The key to its critical and commercial success was the invention and implementation of legacy mechanics. Where other board games start over from session to session, Risk Legacy "remembers" things that happen over the course of a campaign. Particularly brutal battles scar the world (literally--stickers and Sharpies are used to mark the board), and new rules are introduced as the game progresses. It was such a wild idea with so much potential to expand upon that I said it would be the next big thing in board games.
And while it hasn't caught on as quickly as I had expected, there have been other games that have adopted the idea. The most notable currently available title is probably Viticulture's expansion Tuscany, but the one I'm looking forward to most is an original game by Risk Legacy's designer Rob Daviau called SeaFall.
SeaFall is set to be a 4X (explore, expand, exploit, exterminate) strategy game that takes place on uncharted seas. Past that, there is not a lot of information out there aside from a press release from 2013 and sporadic reports from playtesters that it is totally rad. It was originally scheduled for release last year, but as time went on with so little news (except for the announcement of Pandemic Legacy, developed in part by Daviau), it became clear that the release would be pushed back. I can only hope now that it does release this year.
Runners-up: The rest of Tales from the Borderlands, Heart Forth, Alicia, There Came an Echo, Paradise Lost: First Contact
Laura Dale, Broken Age: Act 2
Release: Early 2015, apparently. I really wish they'd give a solid date already.
I finished my first playthrough of Broken Age: Act 1 and instantly started over from the beginning of the game, not taking so much as a break to grab a glass of water. As someone who at all times has a backlog of games to tackle for work and too little time to cover them all, that's saying a lot.
Broken Age: Act 1 was a really well-written comedy point-and-click adventure with charming memorable characters, hilarious writing, great world design, and a fantastically interwoven pair of nontraditional hero narratives. The pair of protagonists broke a number of expected tropes, they had layers of depth, and were consistently interesting to play as.
Oh, and the last five minutes or so completely threw the entire experience on its head for me, forcing me to replay from start to finish so I could see all those well-hidden clues that changed the tone of the experience. While Act 1 worked incredibly well as a standalone experience, I can't wait to see where the universe-flipping changes will send the plot of Act 2. Seriously, such an amazing cliff hanger to tease a narrative sequel with.
Runners-up: Zelda Wii U, Persona 5, Life is Strange, Bloodborne, Xenoblade Chronicles X
Bill Platt, Splatoon
Release: 2015
I spent just about an hour going over all of the currently known game releases for 2015 to see which game I am most excited about playing. I already have a game in mind, but I wanted to make sure that I wasn't missing anything, especially with how jam-packed 2015 is shaping up to be. My choice will most likely come as no surprise to most of you, particularly if you had a chance to read over my favorite games of 2014.
Without question, the game I am most excited for is Splatoon from Nintendo. From the very first time I laid eyes on those cute little squid kids, running around and inking each other, I was hooked. This is the Nintendo I love, when they are at their silliest and taking chances on something new.
There are certain things you can always be sure of when expecting to play a first party Nintendo game. These include quality, polish, fun, and solid controls--all of the makings of a good game. From the videos we've seen as well as all of the hands-on impressions, I have no doubt that we are in for one hell of a good time.
Runners-up: No Man's Sky, Zelda Wii U, Kirby and the Rainbow Curse, Adr1ft, Xenoblade Chronicles X, Uncharted 4, Yoshi's Wooly World.
Josh Tolentino, No Man's Sky
Release: 2015
One of the first games I ever played was Moonvasion, a Defender clone on the Apple II. After playing it, the first thing I ever wanted to "do" beyond what a game allowed was to land that ship, get out, and walk around on the damn moon. That in mind, even if Hello Games' new baby turns out to be nothing more than the bare minimum of what's been shown in the trailers, No Man's Sky pretty much has me covered.
Granted, it's not the first game ever to have exploration, planetary landings, and space, but only a few have done it and looked that pretty at the same time.
Runners-up: Persona 5, Bloodborne, Satellite Reign, Metal Gear Solid V, Heat Signature, Naruto Shippuden Ultimate Ninja Storm 4, Flagship, Uncharted 4
Caitlin Cooke, Hotline Miami 2: Wrong Number
Release: Q1 2015

Hotline Miami came out in October of 2012, but I didn't end up playing it until a year later. In an alternate universe I would have waited until this very day to start, because a year without animal masks and pixelated murder is unacceptable. In the meantime I've survived off the amazing soundtrack, but I still yearn for that sweet adrenaline rush I get every time I kick open a door. Thankfully, Hotline Miami 2 unleashes upon us soon with even more sweet tracks in the mix.
Fun fact time -- did you know that 6,858 people played Hotline Miami on June 24, 2013? Were you one of them?
Nic Rowen, Bloodborne
Release: March 24, 2015
I can't wait to get splattered with gore and assorted monster viscera in Bloodborne. The latest spiritual successor to the Souls series is taking all my favorite masochistic adventure action out of the fantasy milieu and dropping us into a Gothic-Victorian inspired nightmare city. As much as I love fighting dragons and manticores, I think the new setting will do the series some good.
I'm excited to hear that Bloodborne features a much faster pace, ditching the gigantic tower-shields and huge sets of armor of the Souls series for a riskier and more offense-based take on monster slaying. I'm really hoping it shakes things up enough that I'll be just as terrified and lost as I was the first time I played Dark Souls.
Mostly though, I'm excited by the return of lead designer Hidetaka Miyazaki. While Dark Souls 2 was one of my favorite games of 2014, it lacked some of the special je ne sais quoi of the original Dark Souls. I'm hoping Miyazaki will bring back the magic, and with everything we've seen so far–horrifying feral werewolves, unsettling mobs of villagers, and spooooky ghost doors–it looks like he's right on track.
Runners-up: Star Citizen, Evolve, Batman: Arkham Knight.
Brittany Vincent, Metal Gear Solid V: The Phantom Pain
Release: Probably Pretty Sure Definitely 2015
Hideo Kojima's opus is and always has been the Metal Gear Solid games, and the fifth entry in the series is heading our way in 2015—at least, we're hoping it will. Metal Gear Solid V: The Phantom Pain looks to combine every single thing fans love about the series, from the epic cinematic touch Kojima lends to every inch of the production to the characters that we yearn to hear from again and again. If the near-perfect "Nuclear" trailer is any indication, this is going to be one of the most cryptic and engaging departures for the series and hopefully tie up some loose ends we've had for quite some time. It's going to be a thrill ride from start to finish, but hopefully it won't break our hearts like Metal Gear Solid 4: Guns of the Patriots did. Or if it does, hopefully it's in a good way. Hey, I sang "Snake Eater" before. Maybe I'll sing "Nuclear" for you guys, too.
Runners-up: Persona 5, Final Fantasy Type-0 HD, Amplitude, Kirby and the Rainbow Curse, Criminal Girls: Invite Only, Day of the Tentacle
The Badger, Drawn to Death
Release: Who-the-fuck-knows o'clock
More game "journalists" had more to say about David Scott Jaffe's fucking dumb use of the word "fucktard" during the announcement of Drawn to Death than they did the actual videogame in question. Hopefully everyone will get their priorities straight before the game is released on the PS4 later this year, because getting Jaffe back into the third-person character action/deathmatch genre is a big deal.
Jaffe on an action/deathmatch game with a decent budget and total creative freedom has never happened on consoles like this. It could turn out to be the game equivalent of Green Day's American Idiot, or that semi-shitty Metallica orchestral album. That's worst case though, and a semi-shitty worst ain't bad. It's more than you can say for most of the games people are hyped about for 2015, let me tell you.
Jonathan Holmes, Zelda Wii U
Release: Whenitsreadyvember 14, 2015
I have enjoyed every new 3D Zelda game more than the previous one, so I have every reason to be excited about the upcoming Wii U title and its Nausicaa-esque interpretation of Link. There are a lot of other games coming in 2015 that I'm even more sure of, like Wattam, Majora's Mask 3D, Resident Evil Revelations 2, and the final build of Nuclear Throne, but Zelda Wii U is the game I'm most on pins and needles for. It's got me feeling incredibly optimistic and curious, which isn't always an easy combination to pull off. Zelda Wii U looks both alien and familiar in just the right order. That's my favorite formula for adventure.
Like with Splatoon, Zelda Wii U looks to take a genre that has been largely dominated by Western developers and "Nintendo-ify" it. They are clearly taking inspiration from the first game in series while pushing the core concept of Zelda in all new directions. While Skyward Sword worked to make your physical interactions with the game the star of the show, Zelda Wii U puts the spotlight on Hyrule itself. Thanks to the amazing art direction, interplay of serenity and excitement, and incredible sense of scope and scale, Zelda Wii U could be the Zelda game to end all Zelda games. Hopefully we'll find out for ourselves before 2016 rolls around.
Jordan Devore, Metal Gear Solid V: The Phantom Pain
Release: Not soon enough
When Steven first prompted us to contribute to this list, I expected to land on Bloodborne for many of the reasons Chris and Nic have described. I've played an early build of the game, and it feels terrific in the ways you'd expect -- also quick, brutal, and even unnerving. I actually jumped!
But The Phantom Pain has the slightest edge.
Kojima's lead-in game, Ground Zeroes, marked the first time I made it to the credits of a Metal Gear Solid. I've flirted with the series before -- most notably Peace Walker -- but never committed. Everything I've seen of The Phantom Pain makes me want to commit.
We know it's going to be a grand, eccentric adventure, but how grand? How eccentric? Kojima has my curiosity like no one else.
Runners-up: Yoshi's Woolly World, The Witness, Splatoon, Hotline Miami 2, Just Cause 3
Kyle MacGregor, Persona 4: Dancing All Night
Release: God dammit Atlus, give it to me now!
I like weird Japanese games, and they don't get much weirder or more Japanese than a dancing rhythm game based on the Persona franchise. My real answer is probably Persona 5, but Steven already talked about that and I don't have much to add aside from "HNNNNG PERSONA!"
Shoji Meguro, it's your time to shine!
Runners-up: Xenoblade Chronicles X, Titan Souls, Majora's Mask 3D, Evolve, Splatoon
Brett Makedonski, Life is Strange
Release: January 30, 2015
Man, I can't even explain the feeling I get when I think back to my gamescom 2014 demo of Life is Strange. It's this weird combination of giddy, anxious, nervous, and calm. It's completely inexplicable.
I was just so immediately invested and entranced in the lives of the young women on screen that I had completely drown my own world out. Mind you, this is at the world's largest videogame convention when I'm supposed to be acutely alert. I can't say that 20 minutes with any other game has ever had that exact effect on me.
That's why I'm impatiently anticipating my trip to Arcadia Bay, Oregon. I don't know if five episodes of time-travelling, indie-tinged self-exploration will live up to my initial exposure. Frankly, I don't care. These girls have so much life to discover, and I want to do it right alongside them.
-
What are you looking forward to?
Ciao, amiche
Filed under...
You're not expected to always agree, but do please keep cool and never make it personal. Report harassment, spam, and hate speech to
. Also, on the right side of a comment you can flag nasty comments
). For everything else,