LONG BLOG
A long time ago, like last year, I made a posted about how I was talking video games with this Autistic kid at my father-in-law's house. Well I just got back in town after a week of visiting them and the whole trip pretty much sucked except for when I let this kid play WoW.

The first thing he did was create an undead rogue named "Undersneaky". When I asked the nine year old why he picked that name he informed me that "when The Undertaker and sneaky combine they form... UNDERSNEAKY!". I found his answer satisfactory.

I showed him the basic mechanics of the game and within five minutes he was running around having a good time. Then he came across some monsters that attacked and killed him. As he looked at the corpse on the screen he said the greatest thing I've ever heard a nine year old say...

"Those guys just started attacking me... they are maniacs... like cops".
---
About youkilledmyguy
one of us since 8:30 AM on 10.23.2007
Twitter = @GlockNRollin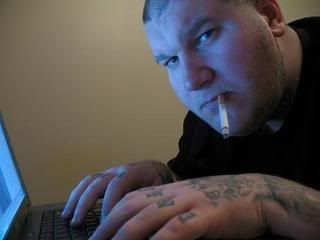 I'm an amatuer sociologist. What that means is that I study groups of people, learn their ways, their customs, and their traditions. I then use this information to make fun of them.