Elex is a wonderful mess of a game. Two parts awesome, one part broken. Rather than do a typical review, I thought it would be more interesting to chronicle my adventures with the game, warts and all. If you have it, or interested in having it, maybe you would enjoy playing along with me?
This blog is from the perspective of the main character. He isn't like this in the game, I am adding a lot of my own humour – though Elex has plenty of it's own humour. If something sounds insanely odd though, it's probably a bug. Or maybe not. Ask me in the comments.
My name is Jax, I am an all powerful Alb. Well, I was, until some jerk shot down my totally awesome spaceship. Well, it doesn't go into space. I guess it's more of a super powerful advanced Jet Plane, though calling it a Jet Plane doesn't really do justice to how gosh darn cool it is! Semantics aside, having my ship shot down meant I failed my mission. Which is bullshit, I totally could have fulfilled my mission without it. Or at least I think I could. No one ever actually told me what my mission was, which I'm starting to think is somewhat of an oversight.
Anyway, the Alb's have a very strict protocol about failure. So I was shot off a cliff. No one checked to make sure I was alive, and of course, I was alive or you wouldn't be reading my tale. Now, I have some questions about their "shoot anyone who fails" policy. Does that mean the person who sent me on my mission failed because they sent someone on a mission and they failed? Will he have to be shot? Then the guy who put him in charge, will he have to be shot? This seems like if they followed their letter to the law, there would be no Albs left. I guess they're like those Clerics, always choosing which laws to follow and which not to on a whim.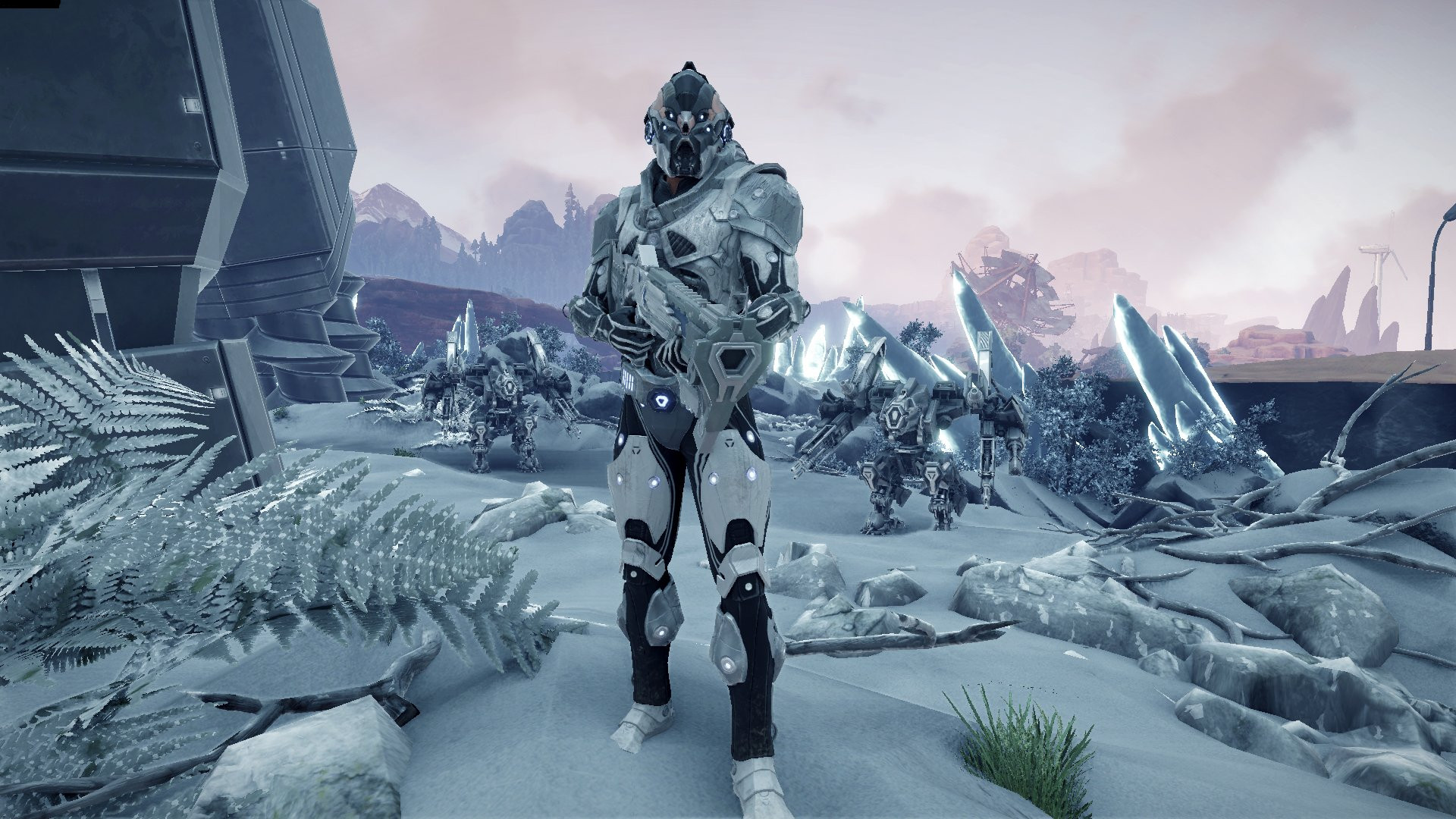 I'm getting ahead of myself. While I was out, some asshole stole my weapons and armour. Meaning, I'm alone, scared, and defenseless. Wait, fear, that's new. Why am I feeling fear? I guess I've been out for a while meaning that I've run out of Elex, which is a drug that makes you an emotionless badass, the likes no medium of entertainment has ever explored before! So I have emotions now! I have no idea how to deal with any of them, but hey, time to learn!
Fear. I don't like it. The fact that I don't like something is also troubling. I dislike troubling things. Man, people with emotions dislike a lot of things, which I find troubling. Oh golly gosh this emotions thing is giving me a headache!
Anyway, I meet some friends in a rundown ruin, and I bludgeoned them to death with a pipe. Don't worry, they were just radioactive rats. I checked to see if they had any money on them, but they just had bones, so I shoved them into my pockets. You never know who'll buy rat bones these days. I made it through, took an elevator down and discovered my jetpack – and man, when you have no emotions, you really don't realise how monumentally fun jetpacks are!
Jetpacks are so cool. It's like you can walk, but vertically – with fire! Cliffs? I laugh at cliffs. Literally, they look odd and cause me to have an involuntary reaction whereupon I feel ridiculously happy and have to express it verbally. I've changed my mind, EMOTIONS ARE AWESOME!
Then I met a man named Duras. He's a Berserker. That basically means he's a tree worshiping hippy/viking hybrid who knows magic. I stole an axe from a dead guy and vowed to follow this stranger into the death that awaited us in a nearby ruin. I don't know why I followed him. Maybe because he was nice. Maybe because he had shiny things and I was hoping whatever killed some Clerics in the ruins would kill him and I could take said shiny things. Man, friendship is complicated! Like emotions. Is friendship an emotion? It's one of life's great mysteries.
Anywho, he didn't die, but I found tons of shiny shit that I'm sure will make me tons of shards, including some badass Cleric laserguns. Duras doesn't like guns. He tells me I should throw them in a pit. I tell him he's a crazy insane person who doesn't understand profit. He agrees, and lets me keep my newfound shinies.
What a babe.
Eventually, we arrive at Golliet, home of the tree humping viking folk, and the first thing I do is go talk to a guard who is clearly busy peeing on some food. It seems to be his food. Maybe he like it better this way. Maybe it was some weird preparation thing that gives you the power to be a super guard! Maybe I should try it some time.
When I initiated conversation, he turned and started pissing on me. Neither of us mentioned it. Sometimes you just need to pee on random strangers to make your life a little more bearable. Or to show dominance. Or maybe he found me attractive? Either way, I was confused, because his pecker wasn't out and he was just peeing through his pants. Either he has some serious power hidden within his pants capable of shooting jetstreams of urine through fabric, or he has magic pants. If that's the case, I want them, because this is a whole new level of convenience!
Anyway, magic pants aside, this guy is clearly going a little loopy on guard patrol. He keeps talking about Rotbears in the ruins, but we killed them. I told him that, and he was like "Oh great, now there'll be more of them. They never stop!" They're just animals dude. Chill out. He wanted me to find the guy who was supposed to take over his shift, and said some rather nasty words about him before he left.
So I went on a missing persons case. I'm a goddamn detective!
Using my newfound powers of deduction, I went and talked to the guy at the front gate, who was buddies with him. He told me that he usually hangs out at the tavern, which fit the nasty words that magical pants pisser had slandered him with. Off to the tavern it is! Wait. Where's the Tavern? This town is a lot bigger than I was expecting. So many levels, so many people, it's too much!
So I wandered around a little bit, became a kleptomaniac, and kept getting in trouble for checking my watch. Man these people are vigilant. It's almost as if they hate technology or something. They hate my jetpack too. These are literally the most boring people I've ever met, and I used to be in a faction full of emotionless killing machines!
Anyway, I finally found the tavern, walked in and accidentally stole a beer. It must have been a nervous tick, because I went to talk to the bartender, but instead I grabbed a glass of beer and stuck it in my pockets. It's magic beer too, it never spills! Wait, if it never spills, is it actually drinkable? A question I shall find the answer to later. Anyway, Tavern Man punched me in the face.
After Mr Manly Tavern Manson Mann calmed down about my kleptomania, he told me that my missing person wasn't there, and in fact, him and his buddy are banned for life for tearing the place up. He told me to talk to his buddy at The Pit I was supposed to dump my shinies into, so I knew I had to find a place for them. I found a not so secretive secret agent recruiter for the clerics who somehow knew I had the weapons. I don't know how, since I saw Duras go straight to his designated standing point and stand there until I found fit to speak with him again. Maybe he's also a shiny sniffing dog trapped in a man's body. Maybe, we need to help him get back into his dog body- no, that's probably the insanity from Elex withdrawals.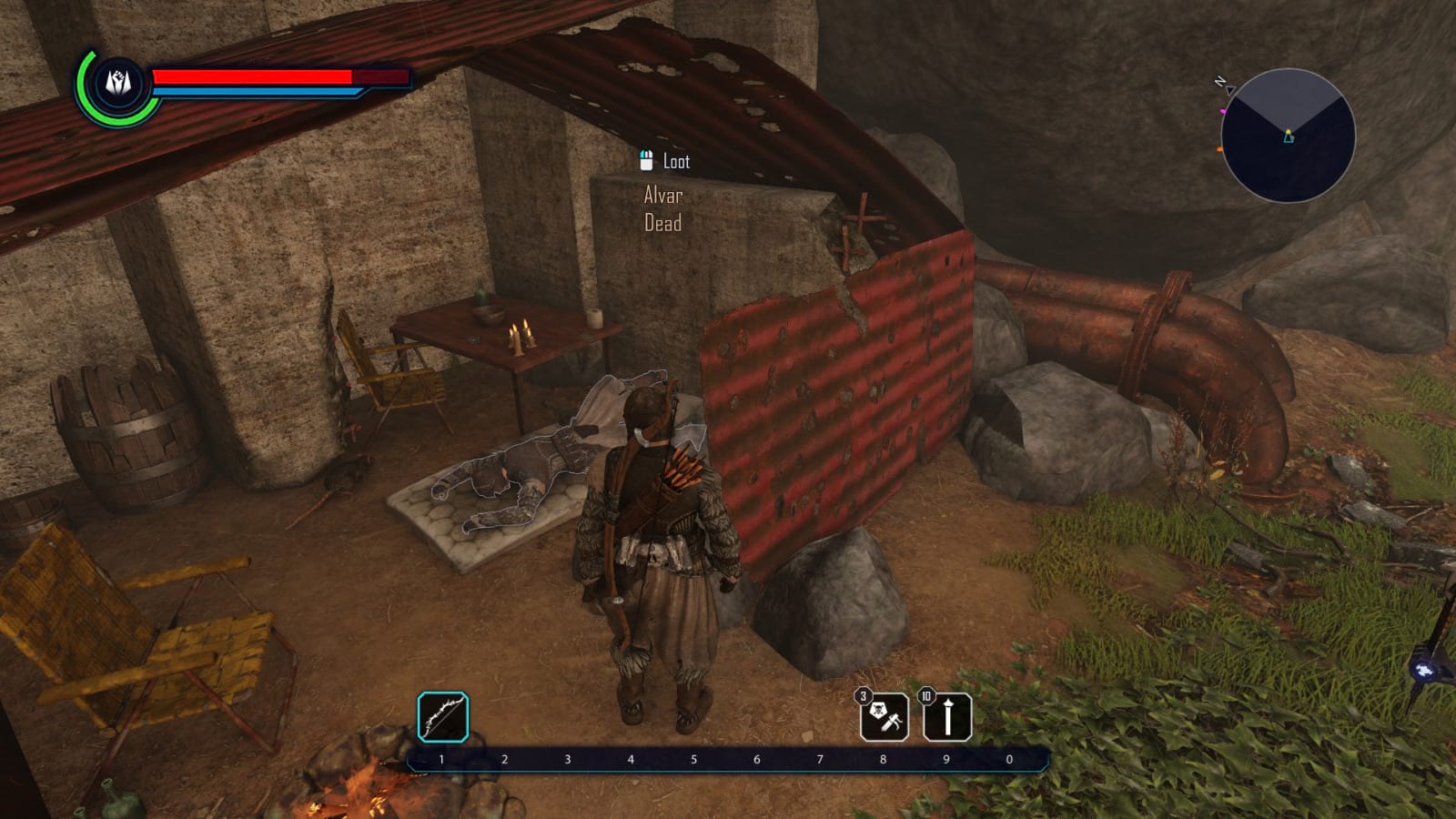 Anyway, I sold the not so secret cleric secret agent my shinies for like 500 shards. Then I went to the pit. The guy there was still super hungover, but he told me where his pal Alvar was. That's it, the guy I was looking for! So I went to his super secretive hiding spot and found he had overdosed on drugs and was very much dead. Naturally, I took everything he had on him, and went to tell everyone Alvar was dead. The guard at the gate didn't take it so well. He said he'd arrange a funeral when he got off guard duty, though I'd been there for a full day's cycle and hadn't once seen him leave his post. Maybe he urinates into his food as well?
Well, that's taken care of, so I went back to the Whizz Kid himself, and told him about the situation. His response - and I kid you not! - was to slander him more by saying he was so useless he couldn't even take drugs properly. What a lovely fellow! He paid me for my services then told me he had to go off and investigate who was dealing drugs immediately, but then turned around and started hammering nails into a plank of wood that wasn't attached to anything. Either this guy was insane, or they've invented an entirely new wood bashing communication device! Man, this village really does have everything.
Then, naturally having heard of my detective abilities from the wood hammering guard's magic wood based communication device, my old buddy Duras sends me to investigate a murder. So I buy some armour from a friendly lady who also teaches you how to talk good. Actually, funny story, I got the funds to buy things from her by stealing everything in her shop and selling it back to her. It's the perfect crime! Well... it shouldn't have been. Maybe everyone in this village is insane, or stupid, or insanely stupid. Or stupidly insane. Well, regardless, I have a murder to solve!
Join us next time for the murder investigation, where I meet a hunter who hates his apprentice, a man who maybe loves a tree too much, and a man who detests trees so much he wants to become a serial rapist. Bye!
---
LOOK WHO CAME:
whatsacow
ikiryou 40
LaTerror 22
Gajknight 10
Agent9 9
Wes Tacos 1