Yup.
I am the Trippiest of Tips. I have no idea why I picked that name. It was the first thing that popped into my head. It's amusing tho.
I play garmz sometimes still....ok rarely. Mostly just read about them anymore... ._.
Currently playing:
Nothing! :D
But when I get the chance:
Maybe some jrpgs or retro games.
Favorite series:
Final Fantasyyyy (which you'll likely see me posting on FF articles all the time. Sorry if I annoy you, but things bug me about peoples views on those games.)
YAKUZA
Mega Man
Streets of Rage
Sanic
The Legend of Zelda
Other interests: Dragonball Z/GT/Super, WWE, Super Sentai/Power Rangers, One Piece (tho I'm behind), Batman, Marvel movies, Star Wars, X-Men, martial arts movies
I've never blogged before, and I don't think I will...lol
I'm weird.
I lurk.
Weee.
Ty Bass for the fancy Dtoid Magic card~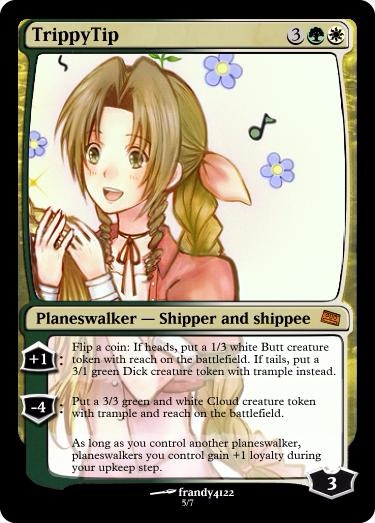 And because my card requires it. um... yep. o_o