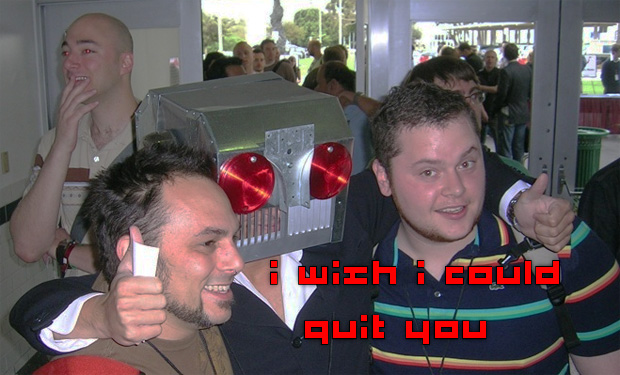 I'll keep this short and sweet:
Thank you all for coming over to my place and making a fucking great party happen. All the prerequisites were there: breaking fake instruments, passing out on random pieces of Winnie the Pooh furniture, and having the neighbors yell at you because they just don't understand those damned kids! I'll take credit for turkey burgers and cookies (and let's be honest, Chan was a big part of making all of that happen), but I feel humble, to say the least, in the face of that kind of gratitude.
I got more than my fair share of "thank you"s tonight, and plenty of offers for free drinks - believe me, I will gladly take advantage of all of them - but the truth of the matter is that the party was Destructoid in a microcosm: a community of people came together, connected with each other, and - in the end - made something greater than the sum of its parts. (If you don't believe me, ask Dorian for the pictures that came out of R Place; "straight" men CAN have a good time at an all-male underwear contest, it turns out.) Really, though, I would like to thank each and every individual present tonight, regardless of where you came from or how long you stayed. This party would not have been remotely close to the same without you.
So, once again, thank you all. I'm really looking forward to meeting more editors, too, over the next couple of days (Niero, Hamza, Burch: I'm looking at you), and the rest of the remarkable individuals who make this more than just another place to get your gaming news. Bunny convinced me tonight more than ever that this is more than a blog, and it's more than community; it's a phenomenon.
Remember when I said this was short and sweet? Well, I hope you find it sweet, at least.
See you this weekend, space cowboys.
PS: I shouldn't be looking for any British corpses, right? You all made it out with a heartbeat?
---
LOOK WHO CAME:
thepelkus
Jesse Cortez 1
VWGTI 1