If the IRC images are illegible, as is the case for some people switch browsers or Right-click and view to make them bigger and clearer.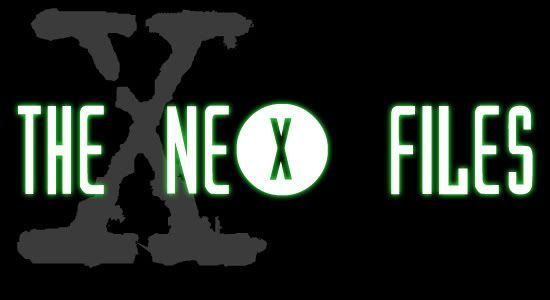 This Monday's investigation: Necros (The shitty Cop Drama)
**** "None of this was staged or rehearsed in any way. The other parties in this story had no idea I was writing this epic cop drama, so the reactions of everyone on the IRC are genuine." ****
I visit the online tavern known as the IRC quite a bit. Not lately, as my matlock skills are on overdrive, but I happen to stop by once in awhile. You see, the man that controls this joint is none other than King Necros. Necros and I go way back, ever since I stole his games for orphan children. And then he killed me. But I have grown to love the guy, respect him for the king that he is. But In doing so I overshadowed his real intentions and the dastardly plot that thickened by the second.
The rabbit hole goes deep here folks. I wouldn't even believe it myself unless the cold hard facts were there. What I'm getting at is: Sorry, friend, but this ternary must be exposed to the public.
A normal chat with some IRC regulars turned into something much more in an instant.

My curiosity sparked, and I asked more questions directed to one that goes by MaxVest.

This is the complete and unedited excerpt from the events that took place in the private room: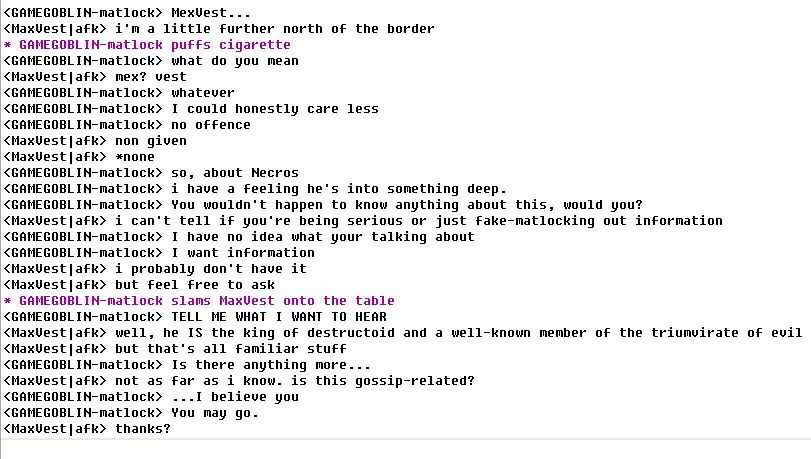 Theories and ideas began to swirl around my head. I wanted to stop but I couldn't. I did not want to find out something about my friend that could make us enemies, yet my curiosity would not let me go to sleep. I then decided that I had to press on with my investigation. This was no longer for friendship. This was for
JUSTICE.
I started at the bottom of the chain. Lowly thugs, drug dealers and prostitutes. A drug dealer's description of a man he talked to about the drug trade went as follows:
"Jeah mein, he had long hair or somethin' with glasses. Dark skin too. If yous wanna get into this shit ya gonna have to rap with him ese."
I them proceeded to beat his face in with a dictionary in hopes that he would learn to talk like a human being.
I pulled out a picture of my buddy Necros out of my wallet, reflecting on the man's description. I didn't want to look at the picture to reveal the truth but really I knew it already. I knew that I would have to bust someone tonight. I knew that I would have to bust my friend. I knew, but I wish I didn't know.
I arrived at the IRC. I knew what it really was now. King Necros's palace was none other than a drug factory. I looked at Necros' picture one last time before dropping in on the ground. SWAT team behind me, I rushed in.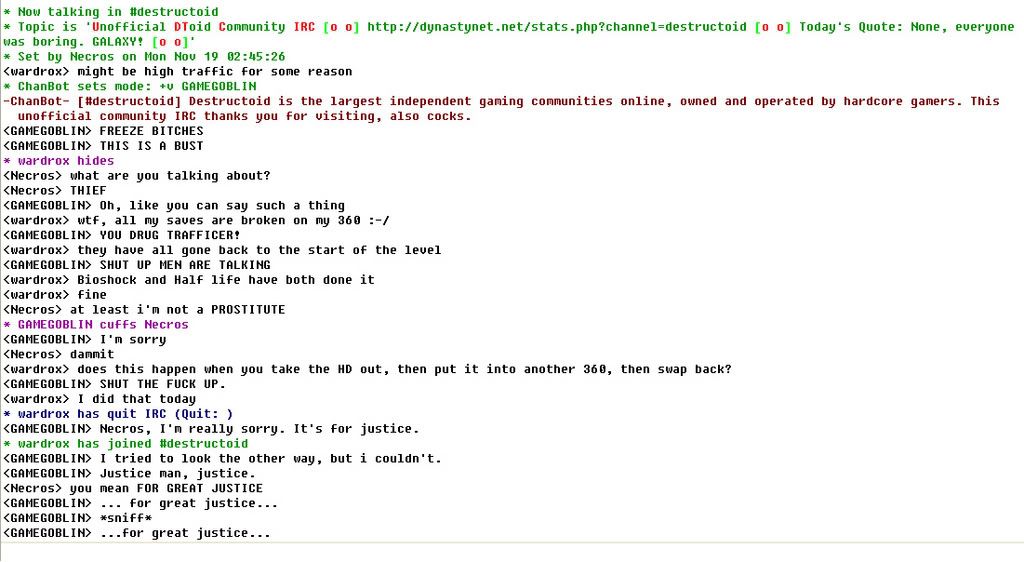 As I dragged him to the car, he nay said a word. He knew that his ass was going to be sore after this was over. I tried to avoid eye contact, but the tension in the air was too thick. He sat in the back. I in the front seat. I turned around and gave him a cold stare in the eyes. "Thief." He muttered. I smiled, turned around, and drove down the road. Silence filled the car the rest of the trip. I knew he escaped out the back of the car half way to the precinct. I just didn't stop him. I thought it's the least I could do after I stole his games way back when.