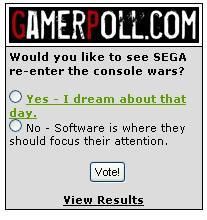 I've posted about the great stuff going over at
Chase
the Chuckwagon
before. I'm a big fan of what those guys are doing and pretty active in their community. I
feel like chasethechuckwagon gives a great alternative to ebay and other sites.
Today I noticed that chuckwagon founder SoCal Mike is coming up with a new way to help gamers and
consumers.
He's starting a new site called
Gamerpoll.com.
Essentially Gamerpoll.com
will be a platform that will host video game related polls on various sites around the net. The data collected from
these polls would then be used by game publishers to help make improvements to their games and services. The
sites hosting these polls would get a share of the revenue that gamerpoll.com brings in from selling poll campaigns
to game publishers. It's not final which sites will host these polls yet, but from what the SoCal has indicated it
looks to be a pretty good spread of the sites I have in my RSS feed.
If you want to check out the sort of polls that this network will eventually be posting you can had over to the
prototype site currently housed on "Chase the Chuckwagon". One aspect of the way that the polls are currently
designed that I think could turn into an intereesting feature is that if users click on the poll choices, they can see
more information on the subject of the poll question. That sort of thing could go a long way toward helping
gamers explore aspects of our hobby in greater detail.
Anyway, check it out:
link