Let me preface this by saying that "The Deadliest Catch" is one of my favorite television
shows and in my opinion, it's one of the best shows on TV. So you can imagine how
disheartened I was to discover that they were making a game based on the show.
I tried to console myself and thought: "OK, this isn't nessecarily a bad thing. I wonder
who's making it."
Answer: Liquid Dragon Studios. Yes
that
Liquid Dragon Studios. The one that made the
amazing
Word Krispies
.
Fuck.
Well. Maybe
Word Krispies
is a fun game. Here's the description on the website: "Eat
your breakfast by combining floating cereal letters to make words. The longer the word the
higher the score. Don't let letters get too soggy or they will sink. Eat your way through each
box to get to the surprise toy at the bottom. "
Fuck.
Ok, I bet it will have some nifty graphics and physics. I bet it will be fun to sail around on
the nice big ocean. After all, there isn't much to focus on except the boats and the ocean...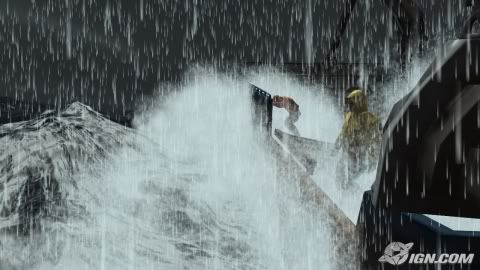 Fuck.
Damn you Sig Hansen. Damn you.