Everyone and their mother is doing this. So I figured I'd hop on the bandwagon. Its easiest to categorize this into two setups. The last gen shit tv in my room. And my next gen setup (aka the love of my life) in the living room.
First we have the corner of my room dedicated to cds and all the last gen storage: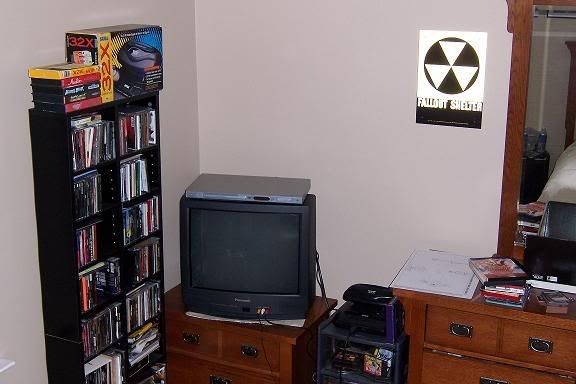 Nothing too exciting. Just added the 32x to my collection. Could have just as easily not bought it, but thats neither here nor there. I would honestly say I spend just as much time huddled in this corner as I do with my 360/PS3, and I'm awfully proud of that. That brings us to the old collection:
This is where I have my nintendo, dreamcast, gbc, ds, n64, and ps2 stuffed in that container, along with most of the games I have for each console. The PS and PS2 games are stuffed in the cd case in the first picture. And my atari is stuffed in one of those original entertainment center boxes they use to sell. Buried lovingly in my closet. I also have a plastic bag with every instruction manual I've ever come in contact with. Atari through dreamcast. To the right of the storage case is my dresser, which adorns Halo advertisements from the Target setup. It looks more like an alter now.
And that brings us to my lover:
61" 720p Samsung.
Got a nice shit little sony surround sound setup and the 360/PS3 duo hooked up.
Bought the PS3 last week and I have to say its working out nicely. I don't really feel like putting up pictures of my 360 collection, cause thats just silly. And the ps3 has only adorned Warhawk and UT3, along with an Uncharted rental.