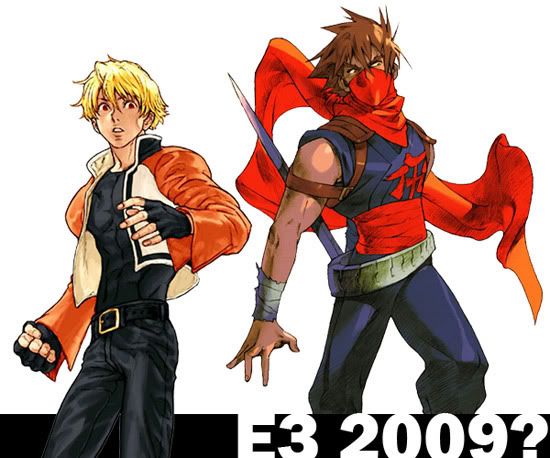 Overall, I'm not that excited about E3 this year. That's probably because there are so many good games out now and on the way that I don't really care what the big 3 have to say. In fact, I'm sure that Nintendo will tell us that they have not forgotten the core gamers, Sony will tell us that great things are on the way and Microsoft will boast about the attach rate. Now that we have that out of the way, let's think about the 2 companies that have me excited: SNK/Ignition and Capcom.
Capcom has Tatsunoko vs Capcom to show. From what I've read, it will be enhanced. I'm hoping for some new characters and, maybe, some new stages. I would love online play but the Wii doesn't have the infrastructure in place for it. The guys at Aksys spelled that out when asked if Guilty Gear XX Accent Core Plus would have online. Even more exciting is the rumor that Capcom will be reviving an old property. As they're really fond of pleasing their fans lately, I'm praying for Strider. It's time for Strider's return. I still remember fondly the first time I saw Strider in an arcade. It was a religious experience. The other possible franchise resurrection is Final Fight. I would love to see that game return but Strider is preferred.
Ah, SNK,you own my soul, lately. I've been playing King of Fighters games on my PS2 non-stop since receiving the Neo Geo stick. Furthermore, KoF XII is probably my most anticipated game of the year. The rumor here is that SNK is close to releasing a new 2D fighter. It won't be the grand majesty that is King of Fighters but the sprite work is rumored to be better than Arcana Heart. We know that SNK has been working on Garou 2 for years so I'm hoping that's the announcement. If it is, and it's on PS3 and 360, SNK will own E3. Hands down. The same is true if the new game is Last Blade 3. I own SNK a great deal as they are the company that kept the 2D fighting game torch going when everyone else abandoned it.