Whoa, underboob! That's a first in the series. In fact, there's a lot of firsts that's coming with this game.
Here's something that Sega's
7th Dragon site
had that EO III's decided to have of their own; make your own guild!
http://sq3.atlusnet.jp/special/sp_blogparts.html
Here's mine: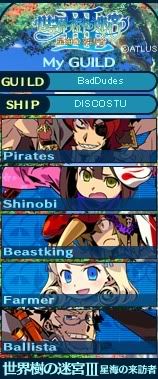 The BadDudes name I use is something that goes back to the original games. Unfortunately, my original posse won't be included in this installment, but they're giving you a chance to meet some of the new characters that you'll be sailing the seas with in the
wallpaper section
.
Oh, man, those little farmers are giving me
Children of the Corn
vibes! They were considerate enough to add the stats of the new classes. This all would have been helpful when I
first attempted to post
news about them.
Here's another
new feature
; if a silver tiara don't tickle your fancy, press on the Y button and get a gold one - along red eyes to give you a hellish overlord look!
Sorry for the coverage drought, but more updates are on the way! For now, if you're interested in what the Nano! Etrian Odyssey figures look like, I gave a quick impression at Tomopop
here
!
---
LOOK WHO CAME:
matty125