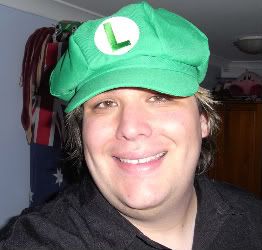 Age: 30
From: Perth, Western Australia
Systems Currently Owned:
Atari 2600, Atari Lynx, 2 NES (neither work however, I could get them to work by meh), SNES, N64, Gamecube, Wii, Game Boy, Game Boy Pocket, Game Boy Color, GBA, GBA SP, 2 game Boy micros, DSi, 3DS Neo Geo Pocket Color, Wonderswan Color, Wonderswan Crystal, X-Box 360, PSPGo and a PC.
Currently Playing:
Legend of Zelda Skyward Sword (Wii)
Final Fantasy 4 Heroes of Light (DS)
Sword of Hope 2 (3DS VC)
Upcoming games I'm looking forward to
Paper Mario Sticker Star(3DS)
Adventure Time (3DS)
Epic Mickey Power of Illusion (3DS)
Hey Hey, abit more about myself I guess, I've been playing games since as long as I can recall, my first love was my C64 and have many fond memories of it such as Jumpman, Archon, Aliens, Mario bros & some weird game involving Camels. After that int he early 90's I got my first real taste of Nintendo with the Game Boy and have been hooked ever since. I'm a loyal Nintendo fanboy through and through and while I may hate them sometimes I'll always return because damit because thats just how a fanboy is meant to be. I would consider myself more of a handheld gamer then anything. I enjoy consoles and all but I just find it easier to lay back and get out my DSi or one of my various Game Boys for some awesome Handheld gaming fun.
Top 5 games of all time.
5. Kirbys Canvas Curse (DS)
4. The Legend of Zelda: Links Awakening (GB)
3. The Legend of Zelda: Majoras Mask (N64)
2. Tetrisphere (N64)
1. Secret of Mana (SNES)
A few links
The Vookcast
: An Australian Nintendo Podcast that I host for Vooks.net the oldest and best Australian Nintendo site on the net.

I love my Nintendo Handhelds.