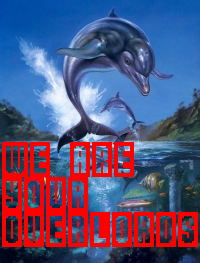 JOIN THE DOLPHINO REVOLUTIONARY ARMY TODAY AND JOIN THE WINNING TEAM!
Do you really believe pandas are near extinction? They are most certainly NOT! They are totally hiding in underground cities WAITING to enslave the human race. When they rise will YOU be ready?!
join the dolphino revolutionary army. laser eyes.... want some? join the revolution and in only a few short years you will have your own set of laser eyes to take on the red panda menace!
Be proud, Be fierce, Be moist, Join the dolphino revolutionary army and join the future!
DISCLAIMER.
To address a couple issues, firstly i can't type correctly. my right wrist was severely damaged in an accident so if i don't punctuate or or capitalize please remember im typing with two index fingers here ok?
secondly, im not an artist. im a writer and now a writer without an editor so there is going to be mistakes. get over it! my pictures won't look anywhere near as cool as the stuff i've seen around here and im not very familar with photoshop and currently with my job it's going to take a while for me to learn. if anyone has any tips or links that are easy to follow for noobs id love to see them.
I truly believe i fall into the hardcore category. i play all sorts of video games on all systems. the only games i dont play a full spectrum of is sports games. at the moment the only next gen console i have is a wii and will be getting a 360.... as soon as i possibly can.