I went to Japan back in 2005, and am going again in...
38 days. So, to help prep people for the inevitable deluge of annoying posts from me about me being in Japan and you not being in Japan, I have a short photo blog of my previous trip. There are many, many, many, many, many fucking minutiae posts I could do about bukkake or used panty vending machines, and I'll try to roll them up here.
As many of you already know, Japan is located here:
It's about a 12-16 hour plane ride to Japan from most of the US, and it's located past the international date line, so visiting Japan results in you being in the future when you arrive, having lost a whole fucking day riding on the plane.
For example, I left DFW airport on a Wednesday morning, and arrived on Saturday afternoon.*
*-which is a lie
One of the first remarks I made to myself at seeing Japan when flying into Narita was, "Holy shit! It's so tiny!" Then I landed and it got bigger.
After blowing through customs (just don't tell 'em it's in the shampoo bottle...) and snagging my JR rail pass (which for the low price of $400 gives you a full 2 weeks of train rides anywhere you want as much as you want...) I made my way onto my first train. Little did I realize that this train line was operated by one of the editors of D'toid.
I also need to point out that leaving Dallas at 10am, and a 14 hour flight meant that it was midnight when my plane arrived, Dallas time. This is 2pm in Japan. I was on the train at 3:30, and my eventual destination's train would not leave until 7pm Japan time. So, I would be awake until 5am Dallas time, to take a 3 hour train which I stayed awake on as well. I didn't go to bed, basically until about 10am Dallas time that night.
I arrived at Tokyo station to wait out my 7pm train to Yamagata, my destination.
Tokyo station is full of people. People who don't appreciate personal space.
After locating and procuring McDonalds from the basement of the train station (another 4 floors below), I managed to reverse-vomit down some McD's burgers and fries.
I also ventured out onto the street and take a gander at Japan in all it's glory.
It's basically like this, but with much less Bill Murray and Scarlett Johansen.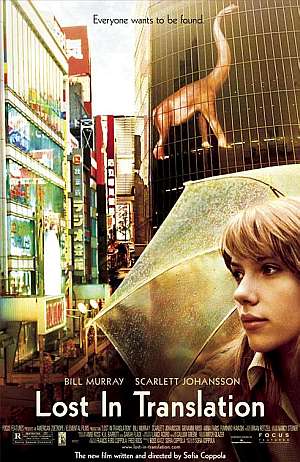 So after taking the train, I arrived in Yamagata. Yamagata is about 3 hours north of Tokyo, about 1 hour west of Sendai. Yamagata is like a theme park version of Tokyo, where it's even cleaner and more compact that the bigger version, and the people are nicer.
Yamagata seen during operating hours.
I'll have more on this later tonight when I have access to my non-flickr pictures and I can post pictures of video game stores. (Hint: They sell ecchi games in there...)
---
LOOK WHO CAME:
BluDesign