I'd like to preface this post by saying thanks to all the people and companies that helped make this NARP possible, as well as putting in the time to really care about all those in attendance.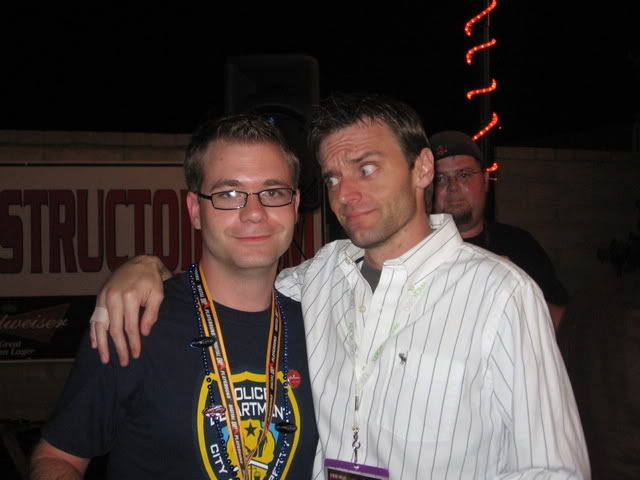 Ron, thanks for the call as we were heading back home, it meant a lot and I'm sure you'll think to yourself "fag", but it made the final couple hours on the road much easier knowing that you were thinking of a carload of people you'd only just met a few days earlier.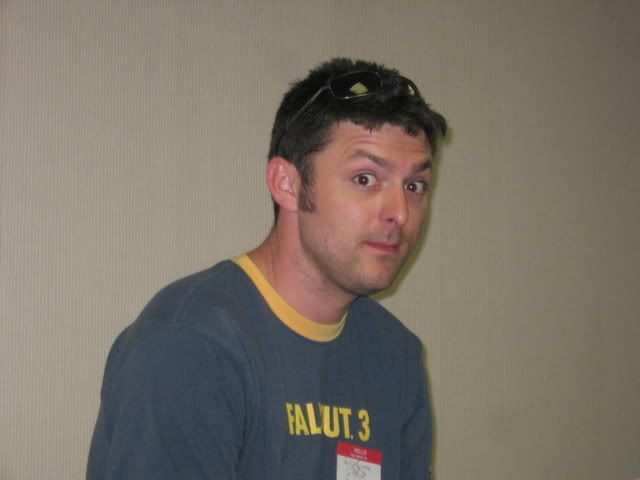 Joe, thanks for giving some people that were really road-weary a place to chill before the hotel would take us. It was pretty badass hanging out with everyone and I'm totally jealous of your fucking TV.
Nino, thanks for all the hookups throughout the weekend on everything, and you're the fucking man for having a good time with a bunch of game nerds you've never met in your life. We'll have to do beer bongs again very soon. Hope you liked the cigar.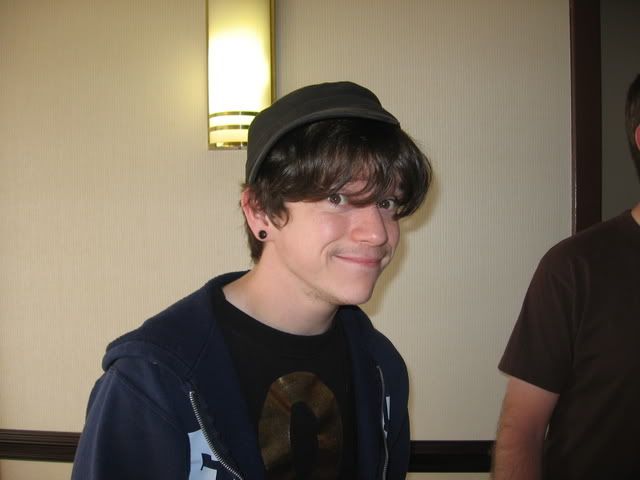 Miguel, you're my Spanish brother from a different mother. It was amazing having you in my home and in the car constantly cracking me the fuck up. Indiana Downs? Subzero is a queer? HEY GIRL!? Ripping farts in a pirate ship and laughing uncontrollably and sleepy talk. I can't wait for PAX.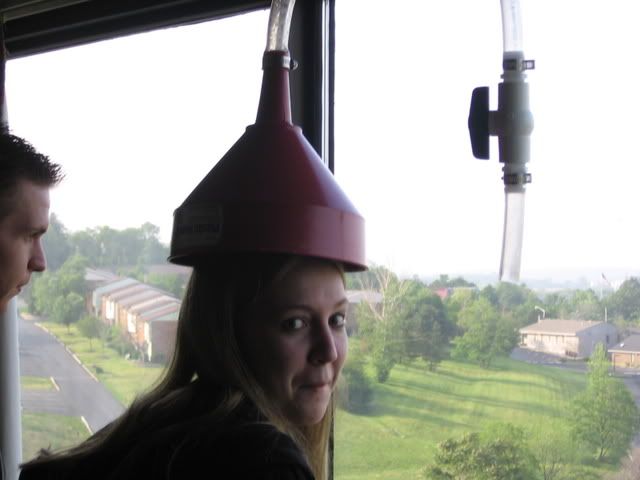 Rio, you have an insane basement that feels like walking into the coolest damn comic book/toy shop/game store in the entire world. I only wish I could have taken a pirate shit in your pirate ship. Tell your mom thanks again for the hospitality and getting us pizza that gave me and Miguel bubbleguts that made us laugh our asses off. I hope you never find his ninja fart landmine.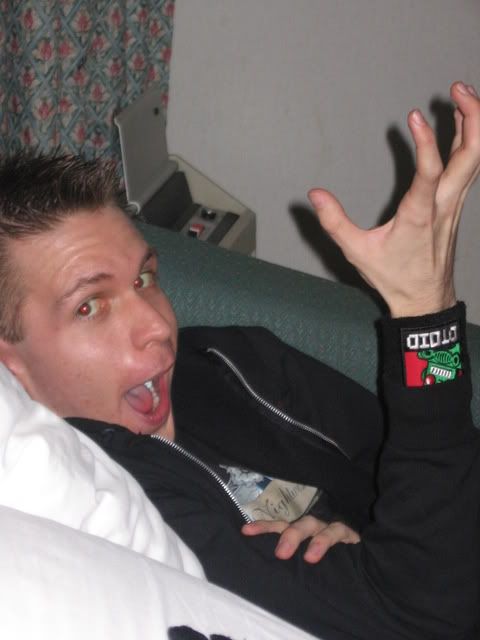 Andrew, thanks for helping DJ and keeping my ass awake on the road. I can't wait for PAX so we can slay more orcs and become sword masters together. I'll constantly be throwing up metal hands in your honor. We NEED to play more Rock Band together very soon.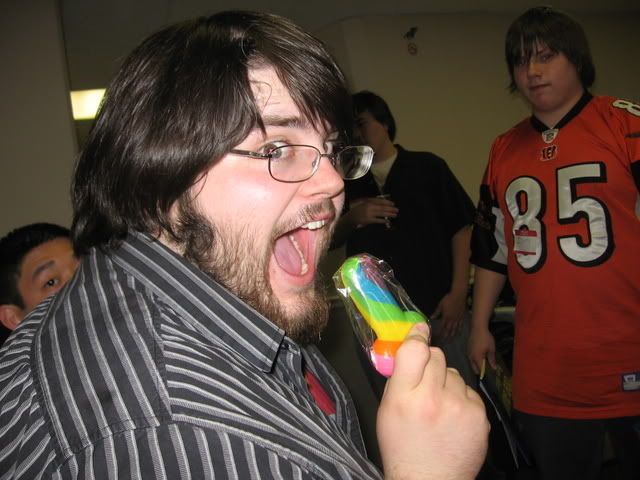 Tazar, you're even more amazing in person than online. I hope you had an amazing birthday. Treasure my special presents to you forever, except for the cock-shaped rainbow candy... I hope you've already chugged that down like a good little Vietnamese prostitute. I want to make love to your mouth.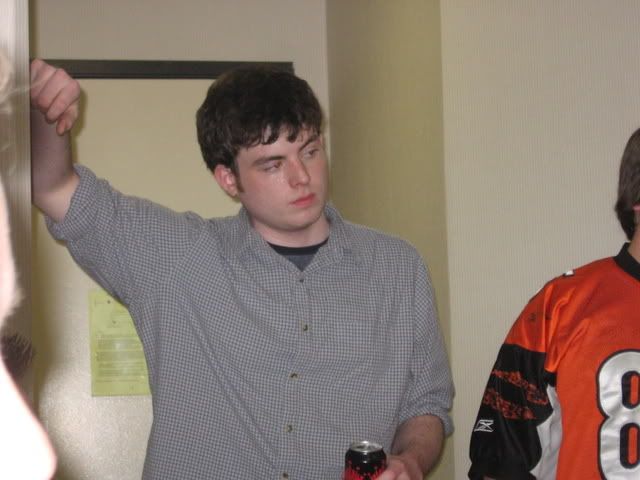 Riser, it was great meeting you. Take it easy on the booze next time so Ron won't take advantage of you. Remember to keep putting out the vibe when we throw these parties. You also had the most "win" of all tshirts at the whole event. Puppet, SteamyV, Phist, Pedro and everyone else that put time into making the event great, thanks a bunch. I hope we all thank you in one way or another for missing out on parts of the party to actually make it run somewhat smoothly. Great job to you all. Guitar Atomic and Cosbytron, thanks for putting on a couple of badass shows that kept us all singing along and entertained. You guys both rock fucking hard and I'll be looking forward to your music in the future. Zserv, it disturbs me how much you wanted to see me naked. Calvin... pink hats and gay raves forever. It was great to finally meet you. I'll have to get Rio to make me a little pink hat for my "canvas". Petie, Samit, and the rest of the NYC-area travelers, thanks for coming out and helping to make this event so epic. Samit, we can talk sports anytime. Petie, thanks for showing me the guido fist pump IRL. Chee, you're cool as hell, even if you wear girl pants. It was great to have you hang out with us when you did. I hope you didn't catch any STDs from close encounters. Itemforty, Big Poppa Gamer, Coonskin, Blehman, Pangloss and the rest of the Texas Road Trip crew (sorry if I forgot anyone): You all were amazing people and I had a blast looking around for Cigars with you all. Coonskin is a gentle giant of a drunk that likes to touch people and break pre-broken chairs. Nihon, Lark and the rest of the northern-bound travelers, thanks for coming out and it was a pleasure meeting you or seeing you again. Hope to see you guys at PAX or another Dtoid NARP. Grim, you're too damn quiet. Keener, happy birthday to you too, bro. We need more cigars and more stickam. Hope to see you at the next gathering (PAX?). Joseph, Nathan, and Andrea, you're all great people. Thanks for making the trip up. Hope to see you guys at PAX this August. Everyone else: I'm sorry that I forgot you by name/screen name, but thanks for coming out and contributing to the best damn NARP for the best damn gaming community ever. Each and every one of you help make Dtoid the great place that it is. I think it's safe to say that both Friday and Saturday was a blast, and the things that didn't go as great as planned will be lessons to learn from that will make future NARPs even better. I feel very priviledged to be a member of this great community, and thanks to all the staff that helps keep it all going. Now, a few more amazing pictures.