Gaming Info:
Gamertag: kaizokukitsune
SteamID: donkeyspaceman
Kongregate: tsunamikitsune
Raptr: noisetank
3DS Friend Code: 4811-6947-1994
Other Websites:
Virtually Competent on itch.io
donkeyspaceman on Twitter
Eric Neuhaus on Youtube
Notable Moments on Destructoid:
-
I was a guest
on everyone's favorite
unofficial community podcast,
Failcast
!
-
One of my blogs hit the top 10
because
Audiosurf is really fun to play while high
!
-
One of my blogs made it to the front page
because
bear and bird are good at building
!
-As of December 6, 2014, I've been a member of the
best gaming community ever
for eight years!
-I
discussed review scores
and why they suck with some of Destructoid's greatest!
Reviews:
Crisis Core: Final Fantasy VII (PSP)
Kirby Super Star Ultra (DS)
Banjo-Kazooie: Nuts & Bolts (360)
Child of Eden (360)
Rhythm Thief & The Emperor's Treasure (3DS)
XBLA Games That Deserve Some Lovin':
Volume 1: The first of many
Volume 2: I'm a sucker for a sale
Volume 3: Free is such a bittersweet word
Volume 4: No skimming zone
Volume 5: Shooter heaven
Volume 6: More fun than a barrel of unfun games
Volume 7: Now you're thinking with grappling arms
Volume 8: Super Hyper Ultra HD Remix Deluxe
Volume 9: I swear I will write more if someone shows interest
Currently Playing (until the end of time):
-Spelunky HD (PC)
Favorite Games of All Time:
-Animal Crossing (GCN)
-Banjo-Kazooie (N64)
-Banjo-Kazooie: Nuts & Bolts (X360)
-Bubble Bobble (NES)
-Burnout Paradise (360)
-Burnout Revenge (360)
-Castlevania: Symphony of the Night (PS1)
-
Cave Story
(PC)
-Chocobo's Dungeon 2 (PS1)
-Dead Rising (360)
-Diddy Kong Racing (N64)
-Doom RPG (Cell)
-Dragon Quest Heroes: Rocket Slime (DS)
-Earthbound (SNES)
-Elite Beat Agents (DS)
-Excite Truck (Wii)
-Fantasy Zone (TG-16)
-Gex 2: Enter the Gecko (PS1)
-Gitaroo Man (PS2)
-God Hand (PS2)
-Grim Fandango (PC)
-Harvest Moon: Back to Nature (PS1)
-Ikaruga (DC/XBLA)
-
Infiniminer
(PC)
-Jet Grind Radio (DC)
-Jet Set Radio Future (Xbox)
-Jump Ultimate Stars (DS)
-Katamari Damacy (PS2)
-Kid Icarus: Uprising (3DS)
-Kirby's Adventure (NES)
-Kirby Air Ride (GCN)
-Kirby Canvas Curse (DS)
-Kirby Super Star (SNES)
-The Legend of Zelda: Majora's Mask (N64)
-Luigi's Mansion (GCN)
-Mario Kart DS (DS)
-Mega Man Battle Network 3 (GBA)
-Mega Man Legends (PS1)
-Metal Gear Solid 2: Substance (PS2)
-Meteos (DS)
-
Minecraft
(PC)
-Mother 3 (GBA)
-N+ (XBLA)
-The Neverhood (PC)
-No One Can Stop Mr. Domino (PS1)
-Paper Mario (N64)
-PaRappa the Rapper (PS1)
-Phoenix Wright: Ace Attorney (DS)
-Pokemon Puzzle Challenge (GBC)
-Pokemon Snap (N64)
-Portal 1/2 (PC)
-Psychonauts (Xbox)
-Putt-Putt Goes to the Moon (3DO)
-Resident Evil 4 (GCN)
-Rez (DC)
-Rock Band 1/2/3 (360)
-Sam & Max Hit The Road (PC)
-The Simpsons Game (360)
-Snatcher (Sega CD)
-Sonic Generations (360)
-Sonic the Hedgehog 2 (Genesis)
-Spelunky HD (XBLA/PC)
-Super Mario World 2: Yoshi's Island (SNES)
-Super Metroid (SNES)
-ToeJam & Earl (Genesis)
-Tony Hawk's Pro Skater 2 (PS1)
-WarioWare: Touched! (DS)
-WarioWare: Twisted! (GBA)
-WarioWare Inc.: Mega Party Game$ (GCN)
-The World Ends With You (DS)
My Rock Band 2 Info (thanks, Cutie Honey!):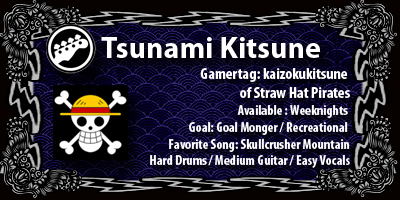 My childhood hero, unleashed:
My childhood hero, riding a donkey (thanks, GAMEGOBLIN!):