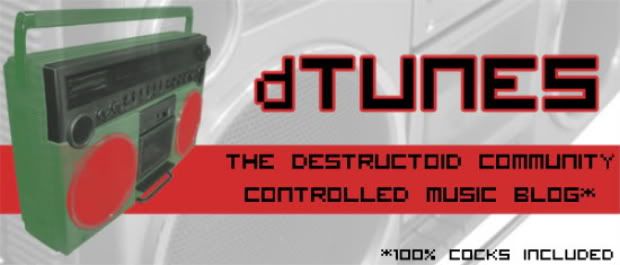 Like the rest of us, being without Destructoid wrecked my life yesterday. Consequently, it also managed to wreck my plans for this week's dTunes. I'll go ahead and make this one extra long to make up for yesterday. Also, I'm writing this intro paragraph last, and while reading through the body below, I notice that this is a lot less about music a lot more about me. That really wasn't my intention, but it appears as though I enjoy rambling on about myself. Read on for things.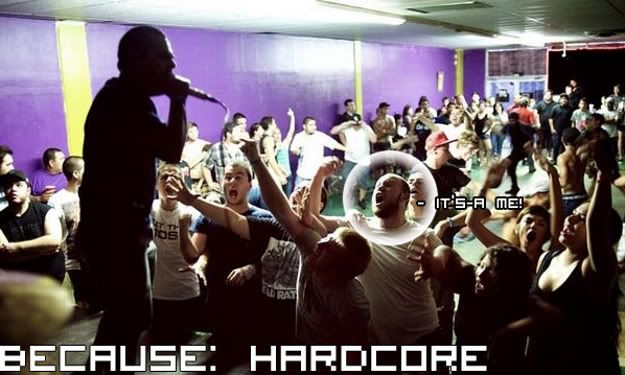 Ever Onward – "Dido and Aeneas"
This is a bit of a primer on me and my history with music. Ever Onward was a band in Corpus Christi, Texas that I started in 2002-2006. I was the vocalist and songwriter, and the "onward" portion of my name is an extension. We were part of the popularizing wave of hardcore bands in Corpus Christi along with Far From Jane, The Contender, xTrip Wirex, They Came Burning, The Golden Age, and quite a few others. Hardcore was just becoming a genre that kids outside of major scenes were starting to notice. Ever Onward had the distinction of being one of the least traditional hardcore bands in Corpus Christi. We weren't the most popular, or the most talented, or the closest friends, but I loved doing it. Before I became part of the scene in Corpus Christi, there were very few national hardcore bands that would book shows so far south in Texas. If we wanted to see a band we liked, we'd have to go to Austin. I decided to take a pro-active approach and start booking national acts myself. "Dido and Aeneas" was the last song we wrote together. It borrows thematically from the Greek tragedy "Dido and Aeneas." The song basically sums up my own desires to be remembered for the work I've done. I had originally intended to cover each of the local bands and do a whole dTunes day dedicated to locals, but missing yesterday kinda threw a wrench in that. If you're interested in good Texas hardcore that you probably haven't already heard, check out the following links:
Far From Jane:
http://www.myspace.com/farfromjane
The Golden Age:
http://www.myspace.com/thegoldenage
The Contender:
http://www.myspace.com/thecontender
Lie and Wait:
http://www.myspace.com/lieandwaithc
xTrip Wirex:
http://www.myspace.com/xtripwirex361
Ever Onward / Burn These Thoughts:
http://www.myspace.com/everonwardtx
Shai Hulud – "Given Flight by Demons Wings"
Shai Hulud is one of my favorite bands for a number of reasons. In my case, getting older in the hardcore scene meant becoming more socially aware. You could listen to the hardcore bands that were fairly misogynistic, or you could stick with the positive stuff (we call it "posi"). Shai Hulud isn't necessarily posi, but their negativity stems from not being able to control and erase the negative aspects of life. Shai Hulud provided anthem after anthem for the cynical hardcore kid in me. Whatever aspects of me that were, and still are, misanthropic or virulent are effectively summed up by this band – and this song in particular. Parts of the lyrics to the ending refrain of this song are "you were once a gentle man." By nature, I am a gentle person, so I couldn't understand why I was unable to contain this hostility for government, religion, and authority in general. It all has to do with feelings of powerlessness, which I could either accept and move on or just get angry about. Sometimes it's good to allow yourself to get angry over things you can't control – or just get angry for any reason. Shai Hulud creates a more intellectual approach to vocalizing that anger.
Set It Straight – "Percent"
I've been straight edge since I was 15, so I'm getting close to 9 years of being substance free. I grew up in the small South Texas city of Aransas Pass. We didn't have much by way of entertainment, so the kids would start drinking and using at astonishingly young ages. I never understood the appeal of being inebriated, and it wasn't enough for me to just abstain for engaging in it. Straight edge bands like Set It Straight were important for me because it helped realize that not only is it ok not to drink, but that it's important to set positive examples (especially for my younger siblings). "Percent" expertly embodied my sentiment at throughout high school. Every social gathering, every party, every holiday was just an excuse for my friends and acquaintances to get together and drink. Really, it's still that way. "Percent" was Set It Straight's way of reminding me that there were other people like me who couldn't relate to that way of living.
Casey Jones – "1 Out Of 3 Had An STD"
Admittedly, Casey Jones is a bit of a joke band. They're not quite as posi as Good Clean Fun, but they are a straight edge band that doesn't really take what they're doing too seriously. The lyrics to this song might sound a bit tongue-in-cheek, but they're actually quite good. The song takes a jab at the hardcore kids that extol life's excesses, particularly those that involve to sexual objectification. Part of the straight edge "tenet" has always been to avoid promiscuity, something that straight edge kids have forgotten as the "movement" has become popularized. Casey Jones is a fun band, and a lot more fun if you're sober.
Love is Red – "Everything You Love"
I actually have a lot of "favorite" bands; Love is Red being one of them. Love is Red is probably more responsible than any other band for making want to shift my musical focus away from the more metal side of hardcore towards a more traditional brand. This song is special because it laments the abandonment of ideals by friends who have "broken edge" (quit being straight edge by drinking, smoking, hooking up, etc…) and become something they once rallied against. Essentially, this song is about the kids that sold out and gave in to societal pressures and/or general excess. It's not about hating the kids, but about hating the choices their making.
Stretch Armstrong – "For the Record"
Great song, or greatest song? I don't really listen to this band all that much, but this song is one of the best I've ever heard. "Read the lyrics," is all I have to say.
I'm not exactly pround of the place I'm from / but I've been here my whole life so I guess I'll call it home. / In South Carolina a flag still shows the enslavement of our minds / but in South Carolina I learned from all the times / We went to all-ages shows, Sunday matinees / hanging out wondering if the bands would show and even play. / The bands would come and we would all sing along (sing along sing along). / Would they ever know their impact would last so long? / The world is full of lonely places no matter where you're from. / A crowded show, familiar faces make me feel at home. / Many kids have come and gone but I know what kept me here. / The magic of those songs has sustained me through the years. / I heard the word sincerity and I know now what that means. / I learned it first with Black Flag, mohawks, combat boots and torn-up jeans. / We were more than just a tour date. You were more than just a song. / We sweat and sang together and that helped us to carry on. / We were more. You were more. For the record.
Strike Anywhere – "Extinguish"
Did I ever mention me being a Marxist? Well, yeah, so are these guys. Amongst the more posi hardcore kids, you'll find a wealth of leftist intellectualism and activism. Bands like Strike Anywhere, Ignite, Good Clean Fun, etc…, are hardcore's answer to more mainstream acts like Rage Against the Machine. This song also features one of my favorite lines – "Disrupt and disorder at the empire's borders United by what we do not who we labor for."
There are quite a few other bands I wanted to list, but I didn't have much to say about them. If you like modern hardcore, look up the following bands:
Ambitions, Bane, Betrayed, The Carrier, Carry On, Champion, Comeback Kid, Count Me Out, Count the Hours, Crime In Stereo, Dead Hearts, The First Step, Go It Alone, Have Heart, Holding On, Ignite, In Remembrance, It Prevails, Kids Like Us, Killing the Dream, Legacy, Life Long Tragedy, Mental, Miles Away, The Miracle Mile, Reaching Forward, Ruiner, Saints Never Surrender, Set Your Goals, Sinking Ships, Strife, Ten Yard Fight, Trial, Verse, The Warriors, Where Eagles Dare, A Wilhelm Scream, With Honor, xLooking Forwardx, and any band that these bands link to.
Leave a comment if you have any interest in checking out more of the stuff my old band did.
---
LOOK WHO CAME:
dTunes
Batthink 1
stevenxonward 1