Donkey Kong Country is one of the best series in all of videogames. In fact, every gamer should play or at least try Donkey Kong Country 2. Produced by Rare, the original trio for the SNES, are considered instant classics and gave Donkey Kong a name after his arcade days. A few years later....well a long time Donkey Kong Country finally got a sequel from it's third and final installment on the SNES DKC3, Donkey Kong Country Returns made by Retro Studios.
As a huge fan of the series and a serious gamer I was more than excited to continue playing one of my favorite series, be it co-op or single-player DKC a platformer among platformers. One little irk I had about Donkey Kong Country Returns for the Wii, was the idea of, if the game is too difficult, we'll play the game for you aka the Super Guide. While I understand the Wii brought the "casual" gamer to videogames this was a bit ridiculous. In fact, this may have hurt Nintendo's image at first, but now I just realized it is gamers of today's fault it is like this.
sorry guys I used DKC2 GBC version
First off, every disses Nintendo as "lame" or "not cool" because it isn't CoD for the Xbox along with Madden. So, in turn the "gaming market" aka hipsters and bros tend to miss out on great games because they are too cool for it. Alright, that's fine, but the next fact is apparently you are a casual gamer if you are not in that crowd, meaning you fall into the "dumber than dumb" mobile game category, or basically just a gamer. I for one hate labels, especially in the gaming community, all it does is divide gamers and fanbases even further rather than having people expand their libraries.
You may not understand where I am coming from yet, but what originally disappointed me for Donkey Kong Country Returns was the fact that it is considered "insanely hard". I don't know if my copy was bad or something, but 110 or 117%-ing (I can't remember I haven't touched my DKCR considering my Wii cannot read discs) seemed pretty easy to me. In fact, I think I only had trouble with one or two Temple's for the idol's but that was about it. Even the secret level, was a big disappointment.
Once I heard Retro Studio's was working on 3DS game, I first thought a 2.5D Metroid game, marking Samus' Return to handhelds, though after rumors of a new Donkey Kong Country Returns game started to make rise from the internet, I thought it was a great idea to make a sequel. So, boom, I was disappointed when I heard the Wii game was getting a port, but that's not all too bad with 8 new stages and an addition world, I may pick the game up when it's cheaper although I already beat the first.
But, then I heard about the New Mode to make the game 'easier'. It says that, players will receive two additional health slots, allowing them to take more hits from enemies without having to restart a stage or checkpoint. Secondly several new helpful items have been introduced like the Portable DK Barrel The Green Balloon, The Crash Guard to help prevent dying.
WHAT!?
This literally upset me greatly, as not only a "purist" but a gamer in general. Has the gaming community fallen so low that they need all this? Is Nintendo still looking after it's casual crowd more than it's regular fanbase, or is it that kids don't have skills today in any type of game that isn't a shooter or a ridiculous castle-crasher type game? If you can't beat a game, keep trying and get better, THAT'S HOW YOU GET BETTER. Seriously, I was never good at Marvel vs Capcom 2 and I constantly played and played and now I can pull an infinite out of my butt anytime I want to. I was never always able to run through any Super Mario Bros game at any time, but with practice and a few deaths along the way I mastered them. It's just natural law, the more you practice the better you get and the harder you work, the more you appreciate something. I didn't just buy mega man 9 and 10 and beat it on hard mode (for a worthless bronze trophy) on my first play. No, I tried and tried and practice and boom with patience and time I'm mastered the game...not an easy feat
Maybe I'm too old school, maybe it's all my years from high school to college sports, maybe I'm just amazing and didn't even know, who knows? But to see that games are offering easier and easier modes upsets me. It's basically showing to me that these game companies think that A) we don't have the skills to play if we aren't MLG or B) that we are basically dumb people who need help all the time. A fun fact for myself, you ever see those tutorials or those button manuals that say 1001 things but you can never read it on time; yeah I don't do use those and I'm sure 90% of you readers out there don't either. What we usually do is pick up a game and learn how to play...but I guess that is too much to ask for in today's society.
I guess I should be MLG of platformers....oh wait only FPS and fighting games BRO.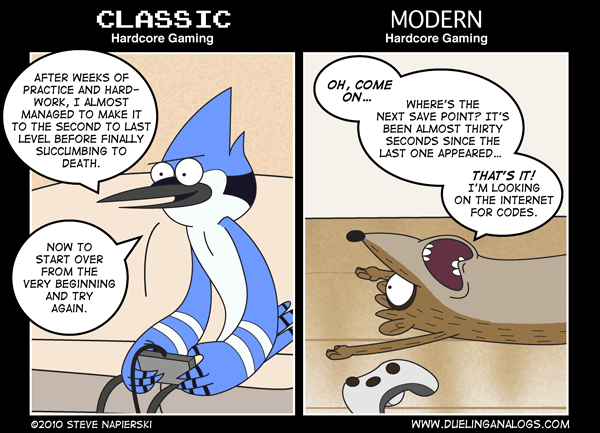 --
If you guys got some time like my
gaming channel on Facebook
Or
subscribe to TLMB
or
myself at STB
---
LOOK WHO CAME:
TroyFullbuster
solidturtleman 1