Alrighty, for those of you just joining us here's what's going on:
I'm making cards.
A lot of cards.
I never expected the kind of response that I got yesterday after deciding to open up shop for requests, but the community has spoken, and it is HUNGRY; Hungry for personalized cards!
Now just because there are approximately 10000 of these things to get through doesn't mean I won't work on it, in fact because there seems to be so much demand I'm feeling that much more motivated! Now because I'm obviously not going to spend 8 hours a day working on these things, I'm going to do them in groups of 5 (a card takes me anywhere from between 15-20 minutes depending on a few things), mostly in chronological order of request from my original c-blog post.
Mostly? What does that mean? (I love rhetorical questions)
While I'm not going to only make cards for people that I know or who are super popular on the site etc. I will be letting my personal bias influence my decision on which cards to make when. So Sharpless, Evil Chad, Naia, Surf, Mr. Gamgee, Neonie, DJ Duffy, and several others: you will probably get your cards "bumped-up" the to-do list.
Think that's unfair? Well it's my party and I can cry if I want to.
Well that's enough talk! Let's get on with the first GHost-made booster pack:
Mix-card notes: Not only does he also visit the forums, but the dude lives in my hometown. Represent Canada yo! Take a look at his PC case pics in his c-blog, shit looks DANGEROUS :D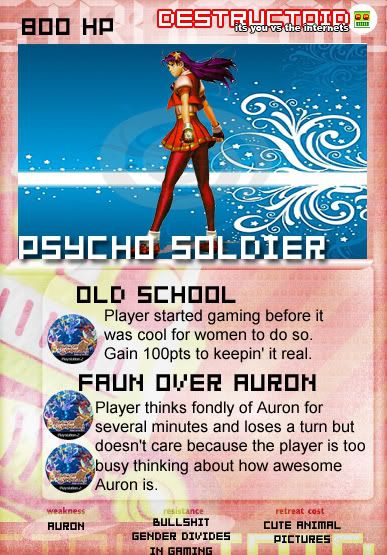 Psycho Soldier-card notes: Another fellow forumite. Although it's pretty much impossible to tell, the ability symbols are Tales of Symphonia discs. Character is Athena from the King Of Fighters series.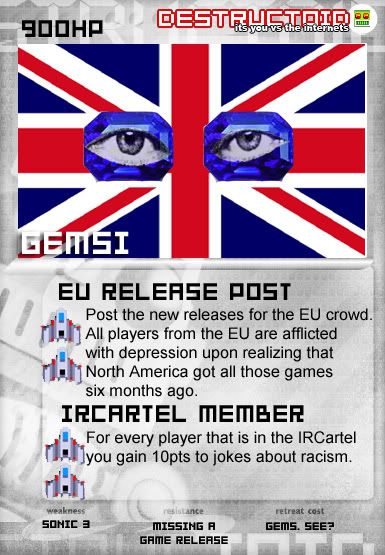 Gemsi card notes: A member of the IRCartel, a group I don't really know all that well, so I had to make an (poorly) educated guess as to what an ability would be :D. Gemsi also regularly posts all the new EU game releases.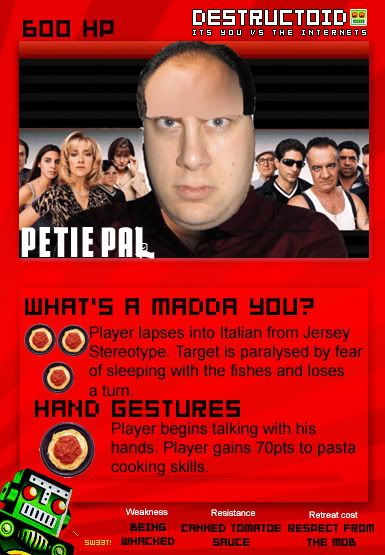 Petie Pal card notes: This one was a little tough at first since I don't really know anything about the guy and he doesn't really have a "hi, this is who I am" post, but once I read his c-blog sidebar, I knew what I had to do :D Ability icons are plates of spaghetti (natch!)
Aerox card notes: Practically shooped itself. As a TF2 regular, Aerox gets to share in the joy of hearing Kors sexy voice on a regular basis. The character Aerox uses as an avatar is called a Nu, which appears in Chrono Trigger in several different places, making he/she/it the obvious choice for the ability icons and portrait. Aerox also happens to have done a great series of
point/counterpoint blogs
in conjuncture with
Caffeine Powered
, I would highly recommend going back and reading them.
Well, that's all for now kids, I'll probably have another 5 up tomorrow and another 5 done for Saturday, after which I'll probably do 5 every second day or so until I either run out of requests or decide that I'm not going to do any more.
P.S. I'm not going to PM each individual anymore, goddamn flood control makes it take forever. You'll just have to check the
forum thread
or my c-blog to see if I've done yours.
Random quote... EXECUTE!
"Each player must accept the cards life deals him or her: but once they are in hand, he or she alone must decide how to play the cards in order to win the game."
~Voltaire