DESTRUCTOID CARDS: JOLLY SNOWFLAKE DAY EDITION
If you don't know what Snowflake day is, please
educate yourself.
Anyways, I hope that everyone is enjoying the holidays as this will probably be the final holiday season before the complete and total collapse of the world economy sends us spinning into the dark abyss of anarchy and destruction. Considering that, what kind of pre-apocalyptic holiday would this be without some more Destructoid cards? A depressing one, that's what.
Enjoy!
Booster Pack 14: The One Where Banj and Serp Corrupt Everyone That Comes Into Contact With Them
Banj card notes:
This was a tough one because it's like trying to make a card for a force of nature; a force of nature that makes some of the best sexual innuendo you've never heard. Seriously: he takes it to places previously explored only in the most sensual and elaborate poetry. If you've never heard of this guy, then you've never been in the forums, in which case you've been missing out on another awesome facet of the greater Destructoid community. Case in point: if Destructoid was a city then a must see attraction would be the
interplay between Banj and Serpentish.
Just be careful that you don't get caught in the middle, unless of course that's what you want.
Unfortunately Banj has recently
been reamed out by the man
for the holiday season. At least it led to an awesomely derailed thread!
Sometimes Banj and or Serp will toss out an awesome
quiz
that will no doubt make you its bitch. Don't be afraid; just let it happen.
I know he rubs some people the wrong way, but I love this guy :)
Oh yeah, here's a related picture...
Serpentish card notes:
Speaking of related; Serp and Banj are the second cards that I've ever added some sort of interaction between (the first being Atheistium and Pheonix Blood), which just makes a lot of sense. As I mentioned in Banj's card writeup, these two guys make the forums a much more interesting place to hang out, and by interesting I mean erotic. Both Banj and Serp were supposed to show up for PAX '08, but
Banj decided to piss in an alley.
Do you believe the story? WE REPORT: YOU DECIDE. (I've been away for a while, does FOX still use that slogan?)
The time warp thing is a reference to both the phenomenon of some forum posts appearing above previous posts (you reply to someone before they put their post up) and Serps ability to go back in time and bang your mom.
Who's your daddy?
Portrait picture was provided by Detry/Aerox, and is fucking AWESOME, and the ability icons are the ubiquitous foxes that Serp uses as his avatar. Did I mention that I love this guy too?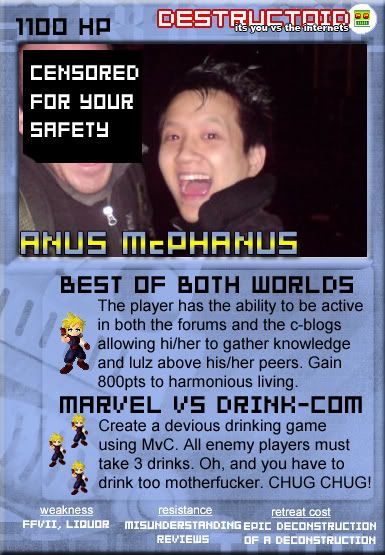 Anus McPhanus card notes:
There seems to be a running theme here. You see, I also love this guy. You see, when I went to the UK, McPhanus was basically a case study in how to be an awesome person. He was very accomodating, allowing myself and Justice to stay at his place when the tubes were shut down for the night, he was a lot of fun to hang out with and talk to, and I beat him in some wacky Japanese arcade game using only one hand. PERFECT! :)
Not only is McPhanus awesome in the real world, but he's pretty great with them innernets that the kids seem to like. For example: take a look at his
deconstruction of Rev Ants deconstruction
, or his
feel the hatred article,
which might look at reviews a little differently than you might be used to. Really all you need to see though is his
MvC drinking gam
to realize that this little AZN packs plenty of win with him.
Now many people qualify for the "Best Of Both Worlds" ability, but I figured it's as apt in this case as it is in many others, so why not use it here? We also talked a bit about that whole subject in person when I was in the UK, so that also makes me associate the idea with him a bit more than others. Regardless, as the ability (and really most of the rest of this booster) suggests: the forums are a fine place to hang out too :)
P.S. For your protection I've removed my ugly mug from the picture :)
Nintendoll card notes:
One of the coolest ladies of both Destructoid and
Negative Gamer,
something I can personally attest to after having met her at the amazingness that you're all sick of hearing about: PAX '08. On the interwebs Nintendoll holds it down by posting
front page worthy memories of Harvest Moon 64
and giving us powerful insights into the workings of her sometimes
booze addled brain.
Nintendoll is also a founding member of what I'm going to call the Black Yoshi Brigade. It's a coalition of coolness made up of Nintendoll, Suff0cat, Wardrox, and ScottyG, all of whom bought matching Black Yoshis at PAX.
Black Yoshi also
has his own blog!
Now, on her c-blog sidebar Nintendoll says that she hates the Atlantic Ocean. I can only
guess
as to why that is :)
Afterthoughts
I had some stuff that I was going to write here, but it's Christmas eve and I'm going to go get drunk now instead and post this on Christmas day*
*Or the day after, whatever.
Random quote... EXECUTE!
"MERRY CHRISTMAS!"
-Me