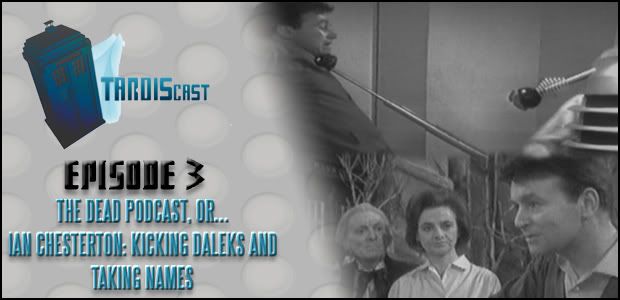 With no more new episodes of Doctor Who for a while, TARDIScast is going to keep on doing our serial-by-serial review of classic Doctor Who. This week, we cover the very first Dalek serial from 1963 (appropriately called
The Daleks
), where Ian Chesterton continues to prove that he is the best male companion ever! He's a science teacher who also knows how to: convince pacifists to become warriors, go spelunking in caves, pull off Metal Gear Dalek, and pretty much do everything that's needed to save the TARDIS crew's lives. As well, we also have a segment where we tell our personal stories about how we first started watching Doctor Who.
(
Direct Download
)
(
Get it on iTunes once it's up!
)
Show Notes:
Cast:
Derek
(Guncannon)
, Jack
(JackShadow)
, Molly
(Mollygos)
, Matt
(blindchef)
, David
(Hei)
, and SPECIAL GUEST STAR, Chris
(Scion of Mogo)
.
0:50:
Intros.
3:30:
Segment 1: How we discovered Doctor Who.
6:30:
K-9 BattleBots and Vacuum Daleks!
9:55:
Derek's a historian, so he has a long story about Doctor Who.
21:53:
Some Doctor Who histories from our listeners.
27:55:
Colin Baker: Bad Doctor, or bad scripts?
30:48:
How does Molly pronounce Eccleston?
32:30:
Segment 2: Classic Who Review: The Daleks.
36:00:
The Thals, wearing Sub-Zero costumes and tight leather pants!
41:50:
Dalek tipping.
44:55:
More mispronounciations: Brimley, Alydon, Darlings, and (48:53) Anti-radiation gloves!
1:12:50:
Badass teacher Ian.
1:14:18:
Tangential topic: Can Rory be the next Ian?
1:21:00:
Ian always saves the day!
1:26:13:
Closing and Links.
1:28:47:
BONUS DOCTOR WHO COCKTAIL RECIPES!
Next Week
: Some strange psychotic shenanigans inside the TARDIS, in
The Edge of Destruction
. As well, we'll go over our favorite episodes of modern Doctor Who. Which episode(s) are your favorites?
Check out our forum thread!
Follow us on Twitter!
Email your questions and comments to:
[email protected]
Music and Clips Copyright BBC.
---
LOOK WHO CAME:
TARDIScast
ProperlyParanoid 1
odber 1
Guncannon 1
mollygos 1