Originally I was thinking about reflecting on Smash Brothers' in the interest of Smash 4's hype and release. I wanted to talk competitive retrospect on some of Smash's characters. But what I really want to talk about is winning. In the past, I've talked about the metagame for Pokemon. I've talked about the layered variety of strategies, counters, and heavily used ideas that shape the way how trainers plan their teams in order to win at all costs. I've talked about the overall climate surrounding Pokemon that dictates the best chances for winning. Today I'm taking a more direct approach to talking about Pokemon battles: how to build you own winning team.
More specifically, I'm to walk you through how I build a team. I have several boxes of potential battlers ready to fulfill a variety of functions on a team. Some are gimmicky but work when you catch people off guard. Others play it safer with strong choices and safety nets in cases mistakes happen.
Overall though, building a team to win needs a foundation; a unifying pivot that the entire team can get behind on or support universally. A team is much more than just several strong Pokemon. A strategy or purpose needs to tie the whole team together in order to take them to victory. Let's take the process behind this particular team as an example.
Now these days, not taking the time to incorporate a mega evolution into your team is a waste of potential. Megas have ridiculous specs and bring ridiculous powers to the table. This team starts with the question, "How can I bring my Aggron into battle successfully?" Of course, Aggron won't be battling as himself as Aggron as he is can be pretty underwhelming. No, the center piece of this team is Mega Aggron.
Pain means nothing. Pain is an illusion. [source image]
Let's look at what Mega Aggron is good at. He's great, no, incredible at taking physical hits. A combination of through the roof defense and the ability Filter means Mega Aggron doesn't even fear Earthquake or Close Combat. With respectable investment in attack, Mega Aggron is the very definition of a tank, shrugging off attacks while dishing out pain as well. Mega Aggron also has access to some decent support options like Stealth Rocks or even Thunder Wave, so he doesn't have to think on his own. On the other hand, Mega Aggron can't take special hits well and has bad options at recovering health. Being a mega automatically means he can't hold Leftovers, which is a crucial blow to him as a tank.
So we have a peerless physical tank who will get worn down over time with even the simplest switch ins. When we've decided on a prime strategy, we now have to work on complimenting it so that we can maximize our returns while minimizing the damage. Mega Aggron isn't a be all, end all foundation to rely on for winning, so our particular Aggron will return the favor to his teammates by being knowing Stealth Rocks for hazards and Thunder Wave for crippling sweepers. With Mega Aggron's physical defense, he can paralyze opponents with Thunder Wave when they decide to switch out after realizing how little damage they're doing to him. Stealth Rocks and Thunder Wave is how Mega Aggron supports his supporting allies.
Togekiss and Tyranitar are Mega Aggron's primary support core. While not immediately obvious, Tyranitar functions as the special wall Mega Aggron needs to tag team with. Tyranitar has mediocre special defense but it gets a 1.5 boost as a rock-type under the effects of a sandstorm. TTar becomes a bonafide special wall when you slap an Assault Vest on him, giving him another 1.5 boost in special defense, meaning TTar can take a Hydro Pump as well as Mega Aggron can take Earthquake. Which is exactly the purpose for TTar to switch with Mega Aggron; to take threatening Fire Blasts or Hydro Pumps so Mega Aggron doesn't have to. By using Assault Vest, TTar cannot use support moves of any sort but fortunately has a very strong offensive move pool to mitigate this pigeon holing. Moves like Crunch, Earthquake, Stone Edge, and more, allow TTar to tank special hits and truck through with his own powerful attacks.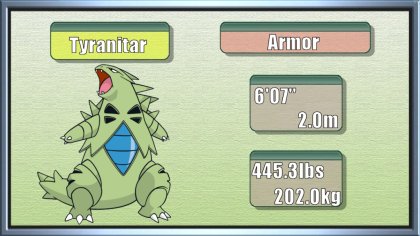 Pictured: a truck
Now we move to Togekiss. Togekiss has two primary functions that fit neatly for what we now need. One, Togekiss fits as a Wish passer, using Wish and switching to the other two tanks to help restore. Both tanks on this team lack the ability to recover health in any way, including Leftovers but Togekiss functions as a healer here. Second, Togekiss is a third defensive wall that gives the other two tanks time to breath. Fairy/Flying with an emphasis on special defense allows Togekiss to resist or ignore many attacks that would normally wear down the other two. With Wish, Protect, and access to Leftovers, Togekiss can wall by itself, heal teammates, and fight back with its unique STAB attacks such as Dazzling Gleam or Air Slash. Togekiss' STAB attacks don't have good coverage by themselves though, so most of the offensive lift goes back to the other two tanks.
So we've established the bulk of our offensive presence. We've also established that the bulk of our team is rather defensive. So now the rest of the team is left up to choice as to how you want to fill in the gaps for specific threats and problems.
Trevenant was chosen as another defensive wall for this team. Ghost/Grass provides great defensive utility while also providing an important role: spin blocking. Passive damage from Stealth Rocks is important as it makes the opponent pay a price every time they realize their attacks do minimal damage and decide to switch out. Having a ghost-type block Rapid Spin from clearing the field is a bonus, not to mention Trevenant continues to fit the defensive theme and has several other bonuses to contribute. Will-O-Wisp can burn targets, especially if you guess switches right, you can score double burns and cripple more then one physical attacker. Leech Seed is a great tactic here though, as it not only offers residual damage but also recovery that compounds for your defensive formation. Switching is the only way to get rid of Leech Seed which of course opens more Stealth Rocks damage. Espeon is present to prevent rocks or other hazards from going up on your side with Magic Bounce. Dual screen support also helps in providing longevity. Honestly, providing defensive buffs isn't optimal though, so switching out Espeon for something else that can also deal with hazards would be better, like a Mandibuzz with Defog.
Living forever on all these fucking berries
The last slot is a strong position that every team, regardless of composition should consider: a revenge killer. More appropriately in this case, its a sort of haymaker position, capable of launching quick and powerful strikes that can knock your opponent off balance if they're not prepared. Crawdaunt with its hidden ability, Adaptibility, and its new egg move, Aqua Jet, can arrive off a knocked out Pokemon and provide a strong blow when your opponent isn't ready for. Its important for revenge killers to have access to priority so that they can always moves first and threaten critically weakened enemies. With Life Orb, Adaptibility, and Aqua Jet, Crawdaunt can surprise enemies with a sudden surge of power. If you can predict a moment when Crawdaunt has a free turn due to resistance or simply a fearful switch, he can use Swords Dance to attempt a sweep and leverage Knock Off or Crabhammer against anything that isn't a fast sweeper if it has decent speed investment.
And there you have it. This is my Mega Aggron focused team. Just one of many teams one can construct but it all starts with one main idea and then it receives support in dominoing waves. First, major support that fills in major problems. Then comes secondary support that either provides a minor bolster to the core or helps the primary support branch. In most cases, that leaves space for one or two freelance positions which would usually be a guaranteed revenge killer. Hopefully you can take this quickie as a frame work to building your own teams. This defensive team is certainly more complicated to utilize then a team with a straight set up sweeper team. But trying to focus on building a team around your favorite Pokemon also leads to a more varied team contraction.
- Show me your moves
---
---
LOOK WHO CAME:
Marcel Hoang
Everyday Legend 1
Retrofraction 1
Nic Rowen 1
ShadeOfLight 1
PK493 1
kingsharkboi 1
pk fire 1
Hyper Lemon Buster Cannon 1