What's this now? ANOTHER Stereotoid post with MORE reviews? I believe it is! Just because we had a bit of an off week doesn't mean we get to sit around and be lazy. We have two more reviews from our Video Game Theme week from editors Occam's Electric Toothbrush and Sentry!
Please read on to find out about Occam's love of Final Fantasy VI's orchestrated OST and Sentry's adoration of the soundtrack for Stubb's the Zombie.
---------------------------------------
Album:
Final Fantasy VI Original Sound Version
Artist:
Nobuo Uematsu
Released:
March 25, 1994
Label:
NTT Publishing
Genre:
Video Game Soundtrack
Sounds Like:
As close to perfection as a video game soundtrack can come.
Most of us know this game and its music by heart. We played it growing up or after the fact. This soundtrack is a fond memory and one that is easily recalled, like your first kiss or a hug from a grandparent. Series composer Nobuo Uematsu had garnered acclaim for his previous work and was known for producing outstanding soundtracks for video games. However, Uematsuís work on Final Fantasy III (VI, whatever) shows the apex of his genius. He was able to breathe life into the game by giving it a soundtrack that immerses the player into the lives of the characters and the world of the game. For a soundtrack to a 16-bit video game to be able to capture the hearts and minds of a generation of gamers and beyond is a testament to the power of the music. This composition set the bar for what music could do to enhance a video game and though a few games have come close, none have surpassed the music of Final Fantasy VI.
As the series saw Final Fantasy VI take on more mature and darker themes, similarly Uematsuís compositions began to explore a darker tone. However, instead of having an overall brooding soundtrack, the music ranged from playful and whimsical to downright menacing. This soundtrack feels like a collection of moments that work fine on their own merit but brought together offer the listener an experience unmatched in the world of video game music. Who can forget the sweet, sad sound of
Aria de Mezzo Carattere
as it played during the opera scene? Hum the first four bars in a room of gamers and Iíll bet you at least half of them will be able to pick it up and join in. In terms of boss music, nothing can ever top
Dancing Mad.
The opening build up of the organ playing spills over into one of the most complex and sweeping battle themes in the history of video games. Itís how Nobuo Uematsu was able to capture each moment so adeptly with song that has always impressed me. Each song tells a story; and even if you have never played the game you can get a feeling for what he was trying to convey in each track.
This is where it all started for me. Up until Final Fantasy III (VI, whatever) arrived at my house, playing video games was something I did for amusement. Then Final Fantasy III (VI, whatever) pulled me into the game and elevated gaming from a pastime to a passion. In all my years of playing video games, never has a soundtrack so perfectly complimented a video game. The role playing game that inspired a generation and showed us the emotional power the medium gave us a soundtrack that is as timeless as it is classic. This music has been with me for 16 years in some form or another. It comforted me while I drank cheap beer and stared at the moon on lost, lonely nights. It was
the
soundtrack to which I studied for my final exams in undergraduate and graduate school. Chances are theyíll play something from this at my funeral. This isnít just music; itís a gift, a realization of potential so profound than I and countless other gamers cherish it.
Summary:
Music that transcends that game it was intended for. Carry this with you all your life.
Personal Favorites:
Celesí Theme
,
Dancing Mad
,
Ending Theme
-Occam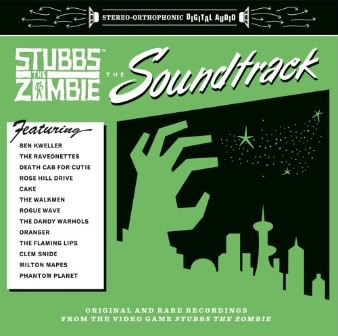 Album:
"Stubbs the Zombie" soundtrack
Artist:
Various artists (Ben Kweller, The Raveonettes, Death Cab for Cutie, Rose Hill Drive, Cake, The Walkmen, Rogue Wave, The Dandy Warhols, Oranger, The Flaming Lips, Clem Snide, Milton Mapes, Phantom Planet)
Label:
Shout Factory
Released:
October 8, 2005
Genre:
Mostly 1950/60's covers
Sounds like:
Pop hits from the 1950/60's
"
Stubbs the Zombie
", its many gameplay failings aside, was a delightful pastiche of the retro-futuristic aesthetic and sensibility often offered to 1950's culture. Those familiar with things like "The Rocketeer", "Sky Captain and the World of Tomorrow", or even "Bioshock" could certainly appreciate the playful approach to inventing such an isolated, utopian society and unleashing upon it a zombie with REVENGE on the brain!
So, what better musical backdrop for "Stubbs" than a smattering of hits from the 1950's and 60's? Better yet, why not have those very same hits covered by contemporary artists?!
Well, apparently somebody asked those very questions, and somebody else answered: "There's no good reason why not, you silly!"
Thus is "Stubbs the Zombie" the soundtrack.
Sadly, these songs were featured nearly not-at-all in game, save for an absurdly inappropriate (but immensely enjoyable)
face-off
against a police commissioner who has every intention of "dancing on your grave".
For the first ten or so years of my life, I was raised almost entirely on country and (what I then recognized as) oldies, so it's no surprise that I immediately took to the familiarity of some of these tunes. The album opens with Ben Kweller's take on "Lollipop" (orig. performed by Ronald & Ruby, popularized by The Chordettes) which does a wonderful job of recreating the soft and sweet harmonies of the original in what must be respectful homage.
From there we move onto The Raveonette's welcoming rendition of The Angels' "My Boyfriend's Back". Gone are the more upbeat "twist" tones, replaced instead with the kind of intimate, come hither "he gon' get you" sweetness that speak to a strange kind of female sensibility; the woman that's happy to neck in the back of your cadillac and then point her beefcake's fists in your direction.
Now, I'm not trying to do a track-by-track review here, but third on the album is "Earth Angel" (orig. released by The Penguins, also popularized by Marvin Berry) as sung by Death Cab for Cutie. It is absolutely worth mentioning that while I've never been a big fan of the original, and that my love of Ben Gibbard (Death Cab for Cutie / The Postal Service) has abated in recent years, his vocal stylings and the angelic quality of the song itself juxtapose beautifully. Those two were made for eachother, and it shows.
Next up would have to be the track that brought this album to my attention in the first place. Having long been a fan of both Cake and Frank Sinatra, "Strangers in the Night" was the siren song what lured me and crashed my ship into the rocks like so much whatever. If not for the fact that I was already so familiar with the tune, I'd have readily (and eagerly) believed "Strangers in the Night" to be a Cake original, with such apparently effortless ease do they make the song perfectly their own.
A quick mention, Clem Snide (sounding, strangely, not unlike Kermit the Frog at times) haunts Little Anthony & The Imperials' "Tears on my Pillow" with a vocal anguish and longing that gives me chills (don't be fooled by the bouncy instrumentation).
From The Dandy Warhols ethereal take on "All I Have to Do is Dream", to Rogue Review's acoustic lullaby of Buddy Holly's ever-so-playful "Everyday", to Oranger's most rockingest version of "Mr. Sandman" ever, to even The Flaming Lips appropriately crazy, Spike Jones-esque (it took me forty minutes and an exhaustive internet search to remember that bastard's name) rendition of "If I Only Had a Brain", I can't imagine anybody not being in some way endeared to and enamored of the variety and charm of the content on "Stubbs the Zombie"'s soundtrack.
Of special note is the inclusion of "The Living Dead" - the only original track on the album - performed by Phantom Planet. Primarily known for their song "California" (the opening theme to "The OC"), Phantom Planet was founded by actor Jason Schwartzman, who performed as drummer until he left to pursue his film career.
And now you know!
Personal favorite tracks:
"Strangers in the Night" -
Cake
/
Frank Sinatra
†"Tears on My Pillow" -
Clem Snide
/
Little Anthony
"Everyday" -
Rogue Wave
/
Buddy Holly
"Lollipop" -
Ben Kweller
/
The Chordettes
"My Boyfriend's Back" -
The Raveonettes
/
The Angels
"Lonesome Town" -
Milton Mapes
/
Ricky Nelson
Summary for lazy people:
It's kinda' like "out with the old, in with the new", only the "old" is actually coming "in", and the "new" is making "out" with it.
Alternate summary for lazy people:
COVERS OF SONGS FROM THE 50'S AND 60'S, YOU ATTENTIONLESS TWITS!
Love, Sentry
--------------------------
Edit: I almost forgot! It's Friday and we need Pancakes. I promise I wont forget again!
---
LOOK WHO CAME:
Stereotoid
Daxelman 1
RonBurgandy2010 1
Kraid 1
Sentry 1
Guncannon 1
Jack Maverick 1
KelvinG 1