LONG BLOG



With all the rumors and speculation going around about journalistic integrity not being up to par, its refreshing to see someone take their job seriously and really speak from the heart. I know it's not game related but I laughed and thought it needed to be shared.
---
About Silverback 55
one of us since 1:44 PM on 04.18.2007
Well, my name is Josh. I'm 24 and live in So Cal. After school I just ended up taking over the family business of t-shirts & sign making. Its a cool job, I spend most of my day on the interwebs and "doing the design work". At least thats what I tell the other employees.
As far as games go, I love all different types and styles, although lately I've been stuck in shooter territory. The running joke with my friends is I always picked the losing console. So this generation I went out and bought all 3 new systems.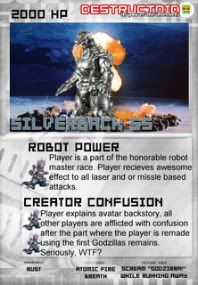 Favorite Games:
1. Super Mario Bros. 3
2. God of War
3. Uncharted: Drake's Fortune
4. Super Mario World
5. BioShock
Favorite Movies:
1. Gladiator
2. X-men 2
3. Grosse Point Blank
4. Dumb & Dumber
5. City of God
Things I hate:
1. Raiders
2. Red Sox
3. slow drivers
4. fanboys (its just a machine to play games, you can enjoy them all)
5. stupidity in general