LONG BLOG
The "giving of the business" is about 30-40 seconds in. Maybe Donkey shouldn't be doing that in front of Diddy.

---
About Silverback 55
one of us since 1:44 PM on 04.18.2007
Well, my name is Josh. I'm 24 and live in So Cal. After school I just ended up taking over the family business of t-shirts & sign making. Its a cool job, I spend most of my day on the interwebs and "doing the design work". At least thats what I tell the other employees.
As far as games go, I love all different types and styles, although lately I've been stuck in shooter territory. The running joke with my friends is I always picked the losing console. So this generation I went out and bought all 3 new systems.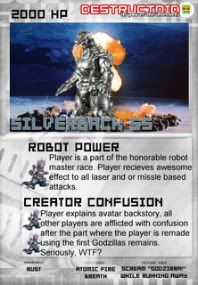 Favorite Games:
1. Super Mario Bros. 3
2. God of War
3. Uncharted: Drake's Fortune
4. Super Mario World
5. BioShock
Favorite Movies:
1. Gladiator
2. X-men 2
3. Grosse Point Blank
4. Dumb & Dumber
5. City of God
Things I hate:
1. Raiders
2. Red Sox
3. slow drivers
4. fanboys (its just a machine to play games, you can enjoy them all)
5. stupidity in general