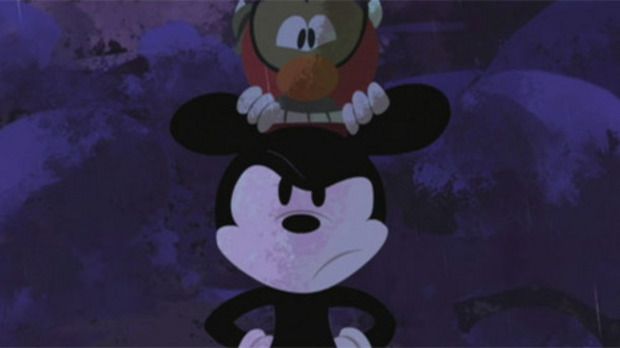 Please?!
I mean, I had to sit and muster through one of the worst experiences I've had as a gamer just yesterday, Christmas evening. It involved my 5 year old cousin, a 3DS and a truly horrible little game called Epic Mickey: Power of Illusion which I hope the developers are happy about because neither him or me are.
What could've been a simple, but magical game for one adorable little Colton quickly turned into a game he wanted me to switch out for something else. And you know what, he's not gonna try playing it again. I know it. And not because he thought the game itself was bad or because he didn't wanna play it in the first place. What made him simply uninterested, blew my mind.
This game, this Mickey Mouse game, thought it was appropri- nay,
OF THE UTMOST IMPORTANCE
, to explain the game's "heavily complex" exposition in the most boring and drawn out fashion possible.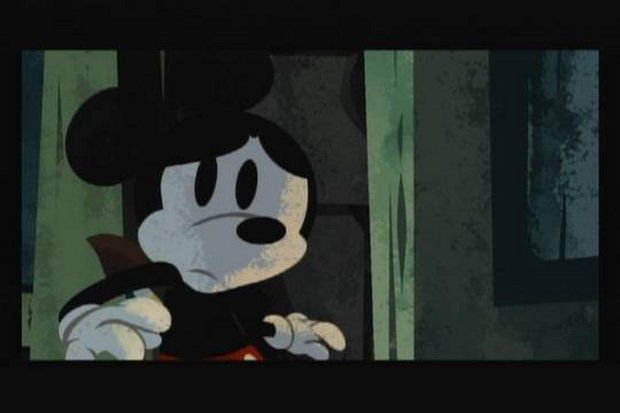 Thoroughly "eh"-enducing stills, music subtle and not worth mentioning, a huge black bar and small, basic white text (with no voice over work). Like Times New Roman basic. Like unruffled potato chips basic. What feels like an eternity or two, it goes on.
The poor bastard can hardly read and the developers are so confident in their design that YOU CAN'T SKIP IT.
Repeat: You. Can't. Skip. It.
Uuuuuuggggghhhhhhhhhhhhhhhhhhhhhhhhhhhhhhhh.
Now, I know both me and him have attention spans the size of my pinky nail, but this was seriously a test of endurance. I can't be the only one who thinks it just goes on and on and on (try the demo on the eShop yourself). How much longer do I have to keep telling him "It'll get better. The game part is coming."? Seeing a kid not wanna play a decent enough (at it's core) Mickey Mouse game saddened and, deep down, infuriated me. Enough to write a whole blog about it. And all they had to do was cut the crap, get to the game and these words you're reading would've never existed.
Nevermind that I had to explain to him how to forward jump and use the painting/thinning mechanic the best I could to a 5-year old. We know kids are dumb little things that will soon most likely grow up to be even dumber and way more bitter, but that doesn't mean you can act like you don't know what the fuck you're doing, big fancy developer guys. The least you can do is respect the kid's time and patience.
When I think back to the games that I loved as a 90's child:
Super Mario 64
Blast Corps
Donkey Kong Country
Stunt Race FX
Banjo Kazooie
Pokemon
Star Fox 64
... and I think to this moment that I just had, another reason why they were so good comes to mind: They didn't waste my time.
Super Mario 64 had Peach reading a short note to Mario aloud, an epic flyover of Peach's castle with rising music that ended with Mario leaping out of a pipe that descends into the ground and we're off. All this.. within less than a minute.
Donkey Kong Country does it even simpler. Skipable intro scene, straight to the world map.
Banjo Kazooie had more to it's intro, sure, but it was a billion times shorter than Epic Mickey's and was a trillion times more charming. And Pokemon had tons of dialogue, but it was all in short bursts. You got to play way before Epic Mickey would allow you to and, hell, at least they let you input your name and such. My name as "Dick" and my rival as "Poop.".
Dead Space had an awesome intro, so it's relevant, yeah?
Please don't take me for an old fart, "back in my day" kinda gamer. I think games are only getting better (overall) and the whole "Too many cutscenes" debacle people go on about these days is none of my concern even with games like Resident Evil 6 or Metal Gear Solid 4. As long as they're visually interesting/stimulating, you won't hear a peep out of me. I'll watch, shoving popcorn into my mouth, half of it falling into my lap, sipping from my silly straw like I believed it was a movie.
Just don't start your game with a 10-minute, still images, black/white text, non-voiced, mostly quiet intro. And when a big chunk of your audience is young kids, ESPECIALLY don't do that. Let me play your game already. Start strong, end strong and you can put in as many cutscenes that don't piss me off as you want.
The developers made one little mistake and now I don't feel like bothering with the rest of the game. A mistake they could've
easily
avoided. Any more interruptions for the story are gonna immediately send me into a barrage of sighs that even my neighbors may hear.
Maybe give Epic Mickey one more go, Warren? It can be awesome, so stop wasting all our time.
---
LOOK WHO CAME:
Seymour
Elsa 1
Master Snake 1
GeekyJuuu 1
BrowneyeWinkin 1
Roberto Plankton 1
Marcel Hoang 1
Travis Hardesty 1