The past four years I've been paying less attention to sports in general. I think my waning interest is largely due to this asshole.
I've been a Pacers fan since the 3rd grade, back when everyone was a bandwagon Bulls fan I latched on to Reggie Miller's Pacers. Watching Reggie make the Knicks suffer back on the NBA on NBC was a great past time. When the Pacers picked Ron Artest up in a trade with Bulls I was worried about his erratic behavior and rightfully so. Numerous incidents and suspensions later, in 2004 Artest single handedly crippled Miller's best chance at a Finals appearance since 2000. The Pacers limped to the playoffs with an exhausted team and lost to the Detroit Pistons in the Eastern Conference 4-2. Since picking up Artest the Indiana Pacers have turned into the Eastern Conference's Portland Trailblazers(of old) and have been plagued by character issues. Its 2008 and rather than improve the Pacers are drafting a lottery pick for the first time in 11 years. I havent been keeping up with the team as much since the brawl, Pacers aren't televised much to begin with. But the brawl created a growing apathy thats spread across all sports.
The NBA Finals are probably as exciting as they've been in years but I have no interest in checking it out.
Bad Segue
Thinking back to the shit I loved, makes me think of sports video games.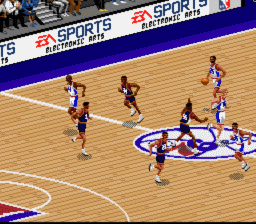 Still my favorite basketball game of all time, I played the hell out of NBA Live 96 for the Genesis. The introduction of create a player and create a team in the game were invaluable. The arcade style action ensured hi scores and while the graphics were still primitive, the gameplay was pretty nice at the time.
I've never been much of a tennis fan. But Mario Tennis for the Gameboy Advance was probably one of my favorite sports games ever. I liked the merger of sports action and a story(however marginal). Taking the role of a tennis prodigy in the land of Mario was pretty unique, I wish more of the Mario sports titles were like this.
Tecmo Superbowl and countless other 2d football games back in the day were the best. I havent played Madden since 2004 and not sure if I will in the near future. How is it possible you still cant hurdle in goal line situations yet? I miss the excitement and chance of the older games even though the 2K and Madden series' have brought video game football a long way.
Mutant League Hockey. 'Nuff said.
With the exception of maybe golf, baseball is a sport that is rarer for me to watch than a lunar eclipse. Base Wars for the NES is the only baseball game I've ever bought. I remember robots and fighting and a little baseball thrown in for good measure.
World Cup Soccer. I'd really like to see an updated version of this game. Definitely a sports classic, no rules soccer with special shots that really made each team unique.
Super Dodgeball
has been resurrected, I wish someone would do the same for this.
Deposed the aging Tony Hawk franchise as the best thing to play. First "sports" game I've bough since 04. skate was pretty entertaining and yet fairly true to life, I'm really looking forward to whatever improvements they're adding to the sequel.
Not sure if I'll be rid of my apathy anytime soon...