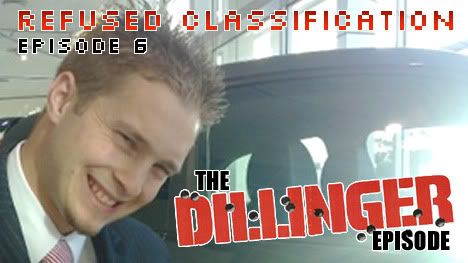 He who everybody wanted to STAB!
OI! We're recording Episode 6 tomorrow night, I'd post this tomorrow morning normally but my work situation tomorrow is quite demanding, so now's my best chance to post. Hey at least you lucky people get an extra day to spam us with questions. And we love us some questions yes we do.
As for this week's episode... allow me to explain.
On this podcast our hosting duties work on a rough and random rotational basis, each episode one of us will take the reigns and keep the show on track, and today that honor has been handed down to our resident lovable madman; Mr Dillinger. What will become of the show with Dillinger behind the wheel? Will everything run splendidly? Will the show become a monumental cockup? Or will the show be so offensive that it will get us all banned from the internet?
If Mr Dillinger had his way the answer would most likely be all of the above.
With that in mind we
should
talk about what we thought of E3, Mr Dillinger may share his thoughts on what it is like to work at a videogame store, and shenanegans and chicanery will most likely ensue.
We will also be answering questions as usual so fire any enquiries you have our way and we'll do our best to answer them/go horribly off topic. Extra points for whoever gets Mr Dillinger to lose his cool and go apeshit at something/someone, double extra points if he loses it at you.
It's all in good fun, now get cracking with the questions!
MAAAAAAAAAAAAAAAAAATES!
Your hosts for this evening shall be;
Puppy Licks
Mr Dillinger
DanMazkin