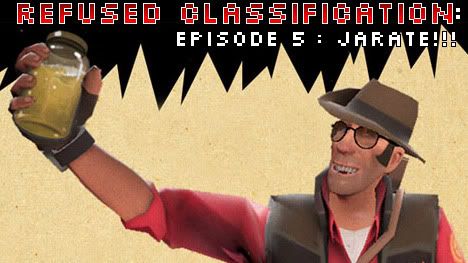 Behold the ultimate weapon, A JAR OF PISS!!
Happy fucking friday all you Rat Bastards! How spiffy is our new profile eh? If Saxton Hale saw it he would be proud, and then he would challenge us all to VB bottle chewing contests.
If you're getting sick of our Aussie accents you can have a little respite with our very special guest
Ali D's
sweet scottish banter that can lull you into a false sense of security and then he'll take advantage of you. Fucking awesome.
Shit we talk about:
- Kangaroos stalk Ali D in the night
- TF2 and zombie games
- Oh right, Puppy Licks is on the show too isn't he?
- More TF2, we miss detpacks, I miss napalm rockets
- Aussie videogame characters, also I get confused
-
An Australian Wolverine?
(and it's not Hugh Jackman)
- Turns out we're Australia's mexicans.
- Mr Dilinger created Knuckles, except he was a chick
-
JARATE!!!
- Fuck Chuck Norris, it's all about
Saxton Hale
now.
- Hideo Kojima is playing
Offal JimJam Cock or Balls
with all of us!
- E3 is almost on, so why do our expos SUCK?
- Fuck Leipzig, COME TO MELBOURNE! WE HAVE BEACHES AND WOMEN!!
- The RC Spotlight, Old school Quake deathmat- oh wait! inverted mouse and stick controls.
- Mr Dillinger gets pissy at ignorant mothers
- Listener Questions!
Intro Music: RAC Remix - A Link to the Past
Outro Music: Dog Fashion Disco - Mature Audiences Only
Download the Podcast HERE 61.3MB
(Right-Click and choose 'Save link as')