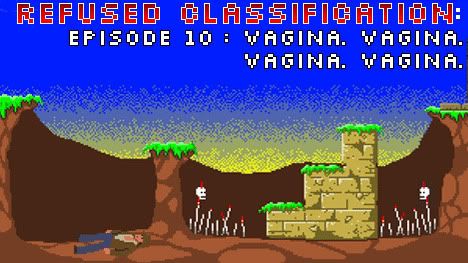 PLAY SPASM CHASM!
Episode 10. Who would have thought we would have made it this far? 4 and a half months of swearing, drinking and crying about delayed and banned game releases. A big thanks to everyone who has made it this far along with us, and to all of the newcomers to this illustrious podcast of a mess, uhhh, enjoy!
And sorry for all the vaginas, the intro song explains everything... sorta.
Delightful things that we talk about:
- Yes, we have to say
vagina
.
-
Spasm Chasm
, Game of the Year!
- Mr Dillinger has played Halo ODST, EMBARGO!! EMBARGO!!!
- Cave Fish fucking rock.
- PuppyLicks' and MrDillinger's adventures in COD4 griefing
- The PSPGO, how fucking much is it already?!
- Recession sufferers love their arcade titles. We sure as hell do.
- Hay doods! Calladoodie!
- BLAZBLUE COUNTDOWN!!
- Spasm Chasm break!
- DanMazkin thinks BBQ Shapes are epic.
- RC Spotlight: What games have taught us
- YAY LISTENER QUESTIONS!
- P.S.
Kyle Sandilands
is a cunt
Intro/Outro Music: RatherGood.com - He Bite Me
Break Music: Spasm Chasm! YAAAY!
Download the podcast HERE (64.4MB)
Right Click and select 'Save file as'