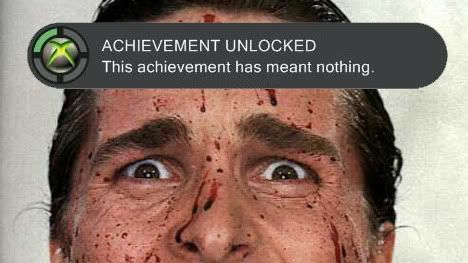 DanMazkin is Online
Chat invite sent
...
...
Come on, come on...
...
Page sent
...
fuck...
*Sniff*
...
Friends List
DanMazkin - At dashboard, away for 15 minutes
...
fuck fuck fuck!
...
Messages
Record message
DanMazkin, *sniff* it's Robot, Swift Robot.
You're on my friends list so I think you should know... I've whored a lot of achievement games. Some shovelware from the rental store uptown uh.. some downloadables maybe 5 or 10..
um that Yaris game I found on LIVE Arcade. I left it on my hard drive along with some doritos game.
I played King Kong, my old game, with 1000 achievement points, and some game.... some old
casual game
with cars last week! I beat another game with a cheat book...
*sobbing*
I had to, I almost didn't get the points, *sniff* and something else there I can't remember maybe a movie game... but that's beat too.
And uh Avatar. I played
Avatar
for five minutes straight, the disc is collecting dust on a shelf in a preowned store! I don't want to leave
anything
out here... I guess I've played maybe 20 shovelware games, maybe
40
. I have youtube videos of a lot of it, *sniff* uh some of the guys on my friends list have seen the videos. *sniff* I even, um....
*gagging*
I bought a hacked controller... and I tried to cheat a little.
*sniff*
Tonight I, uh, *laughter* I just had to
get a LOT of achievements!
And um... I'm not sure I'm gonna get away with it, this time. So I mean.... ah, I guess I'm a pretty uh... I mean I guess I'm a pretty cool guy....
So, if you get back tomorrow... I may show up on the forums, so... you know...
keep your eyes
open
.
Message sent
*Deep sigh*
...
...
Game Download Complete - Space Giraffe