So in the midst of playing Metroidvanias and RPGs so far this year, I took a small detour into the NES "Classic" Castlevania era. This is to say I played the original Castlevania and Ninja Gaiden last month. And yes, Ninja Gaiden pretty much is Castlevania with ninjas, it just replaces Medusa Heads and Axe Knights with jetpack ninjas and heat-seeking hawks with rabies.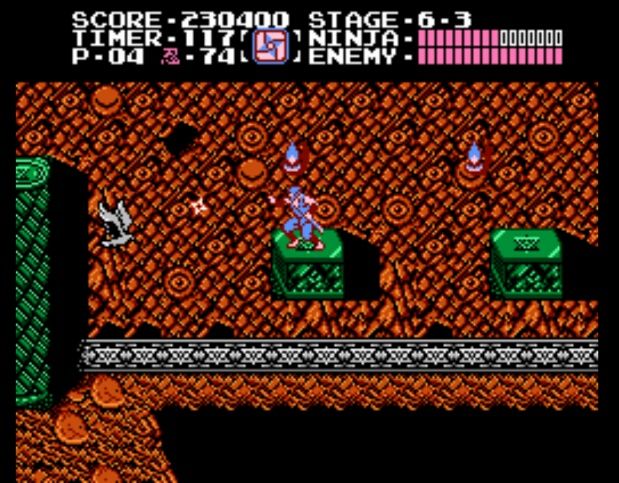 In fact, the Medusa Heads aren't really even pit-focused so much as those damned hawks are. The hawks always, always turn up when Ryu has a small ledge to land on or must make a perilous leap from a wallgrab. The jetpack ninjas and hyperactive Silver Surfer cosplayers with yo-yo axes only had one level, hawks appeared from stage 3 onward.
In both games each step forward is a fight to secure the next safe step forward, really. Vampire Killer and the Dragon Sword - along with your subweapons - are more defensive measures than offensive ones. Castlevania and Ninja Gaiden are platformers at their core and very defensive ones at that.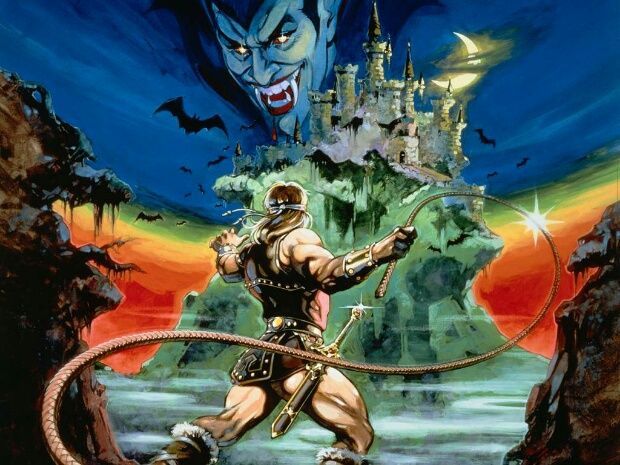 I guess the key difference between them is that in Castlevania your every action is a commitment of sorts. Everything is fast in Ninja Gaiden, but the classic Castlevanias are more slow and methodical about what they do. You can't tweak your jumps and once you extend the whip you're committed to the strike you're attempting to make, whether its to damage an enemy or bat away a projectile.  This even carries into the later Metroidvanias where weapon swings are concerned, as I could be found cursing myself for choosing Hammers glyphs over Nitesco (that green skeleton laser thing). Any weapon strike or spell would root me to the ground, but an air jump with Nitesco and then landing would let me retreat as I dealt damage more reliably from a distance than other weapons could (crucial if you want to tally up damage quickly on Dracula's face).
And more recently in playing Julius Belmont's mode in Aria of Sorrow, I was again cursing myself for getting a little too snap-happy with the whip as I went up against Death. That whip swing roots you just like it would Simon and a few frames of animation can make all the difference in the world between evading and receiving damage in Castlevania. If you're not watching the attack patterns of your enemies closely, you can prepare to be pummeled, tossed into a pit or destroyed by a boss.
Another small difference is Castlevania liked to throw in occasional booby traps, Ninja Gaiden didn't really bother with them. They were rare in CV games but there just enough to be of note.
All of this got me to thinking - classic Castlevania is a lot like Dark Souls.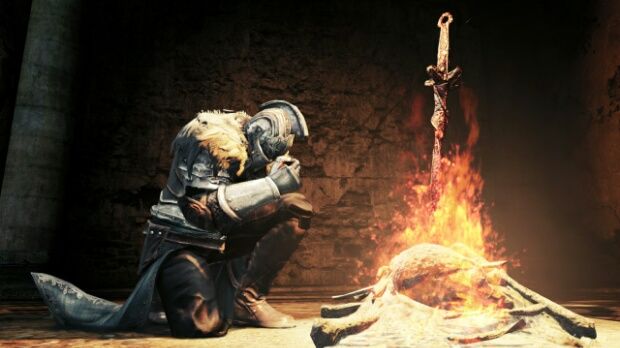 Dark Souls is a very methodical game. Its not much for platforming but there is something to be said for watching your step and defending each step forward you've earned. I often found myself stocking up on arrows and pyromancy as early as I could just to make sure I could wear down or take out enemies before I had to move in with my sword. If I didn't watch my step or my enemy's movements getting pummeled or knocked into a pit was often the reward. What it lacked in Medusa Heads and Hawks it made up for in Skeleton Archers and Blight Town mosquitoes. 
I'd actually say Dark Souls amps things up on traps, though. Arrow traps, the odd rolling iron ball, the poison bogs and more. All great fun before you throw in phantom invasions and the magma-vomiting spider witches.
With the Lords of Shadow series and the 2D era of Castlevania likely behind us - the 2D legacy now resting with Igarashi's new studio and indies - that perhaps Dark Souls is something Konami should consider drawing inspiration from for the next Castlevania game. The Dark Souls series definitely has more classic Castlevania in it than the Lords of Shadow games did. 
I'm not saying straight-up copy Dark Souls, either. I don't think CV needs online co-up or player invasions, but there is something to be said for adopting its combat sensibilities and atmosphere, even some of its very light Metroidvania elements.
I'd even argue to throw a little of Order of Ecclesia in there, as it very much realized what Simon's Quest wanted to be and was also the most difficult of the later 2D Castlevania entries. It also bore a strong sense of risk and reward worthy of the Souls series. It was a game that took the player through the countryside and the nightmarish creatures set upon it before taking you to Dracula's doorstep to deal with the vampire himself. 
And if CV is to start anew, rebooted, perhaps we could just bring it all back to Simon Belmont for a bit. While I generally dislike the Lords of Shadow series, I did like how they handled Simon. Maybe I just liked the revised look inspired by Castlevania Chronicles and the Scottish accent, but he had a big oafish charm about him that could be fun to explore again - preferably without Mercury Steam and their "dark, gritty, emotional" storytelling involved. 
It will be interesting to see what, if anything, Konami does with Castlevania in the future. I probably won't like it because it will be none of what I've listed above. They're probably looking to make Contra a Gears of War clone with an emotionally-gripping tale of human loss at he hands of some evil alien empire. 
I'm hoping Castlevania's best days are still ahead of it but for me much of what I liked about the series ended in 2008 and hasn't been back in "classic" or "Metroidvania" flavors since. Though I'm more partial to the entries in the vein of Metroid I'd rather not see either type die off as both have a great deal of merit to them. Gamers clearly want things so grossly incandescent as Dark Souls and Castlevania once had that spark before. Time will tell if Konami gets wise to it.
---
LOOK WHO CAME:
Pixie The Fairy
Batthink 1
EdgyDude 1
Nic Rowen 1
ShadeOfLight 1
SirNode 1
long john 1